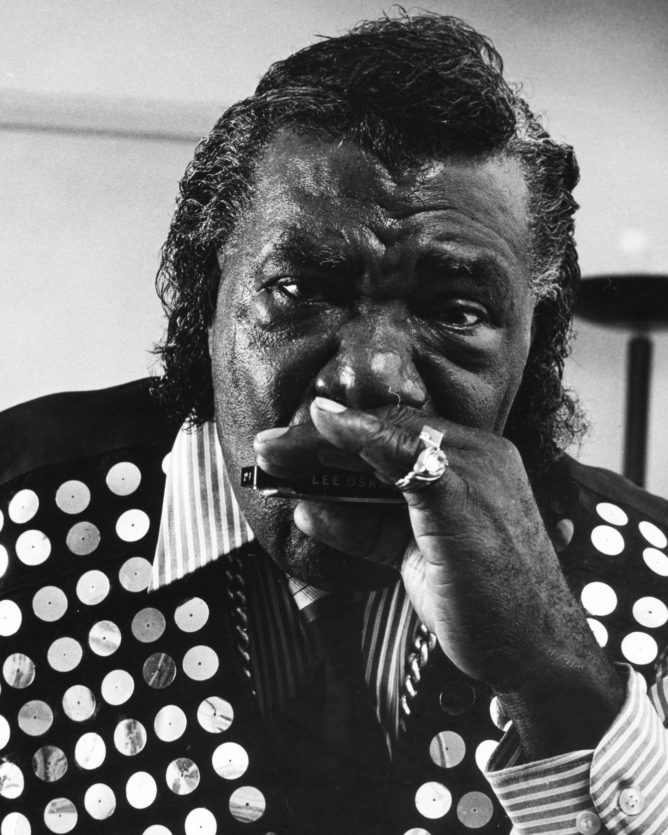 Neal Pattman
Blues
Nobody made moonshine, worked a cakewalk, chopped wood, or played harmonica like Neal Pattman.
"66 years ago the Blues knocked on my door and they

wouldn't leave."
Neal Pattman
Neal Pattman was a blues harmonica virtuoso with a voice as strong as his spirit. His style drew from old country blues (listen to his rendition of "Shortnin' Bread"), as well as the work songs and oral storytelling traditions of enslaved African Americans in the antebellum south ("Neal's Testimony"). Influenced by his predecessor Sonny Terry, "Mama Whoopin' Blues" showcases Neal's talent for incorporating whoops and field hollers into his music, which is as lively as he was on stage.
Born in Madison County, Georgia, in 1926, Neal Pattman was one of 14 children. At the young age of nine years old, a wagon wheel accident caused Neal to lose his right arm. Neal's father taught him how to play the harmonica, and Neal busked on the streets of Athens as a teen to make himself a living. "I couldn't get jobs like other people, but I started playing the harp and got to making lots of money with it."
By his early twenties, Neal had a family to support and found work in the kitchens at the University of Georgia in Athens. Throughout the years, he continued to play gigs on the side. "It really helped me out earning my living," said Pattman. "Any time I felt like going, I can make a hundred and some dollars a week blowin' my harp."
In 1989, Neal was invited to New York City to play at the Lincoln Center for the performing arts and, soon after, he began booking festivals. It was 1991 at the Jazz Charlotte festival when he crossed paths with Music Maker's Executive Director, Tim Duffy. From there, Neal joined the Music Maker family in '95 and went on to record an album with longtime Music Maker supporter, Taj Mahal: Music Makers with Taj Mahal. 
Neal became an integral part of the Music Maker Blues Revue and toured extensively with them in 42 cities throughout the United States and Europe. "I always got a kick when he broke into a gospel song every time we were on a plane," says Tim Duffy. "Just as the doors were closing and everyone was getting ready for take-off, Neal would break out his harmonica and entertain all the passengers. He was a true performer."
Neal passed away in May 2005 at 79 due to bone cancer.
Neal was born on January 10, 1926. He died May 4, 2005.