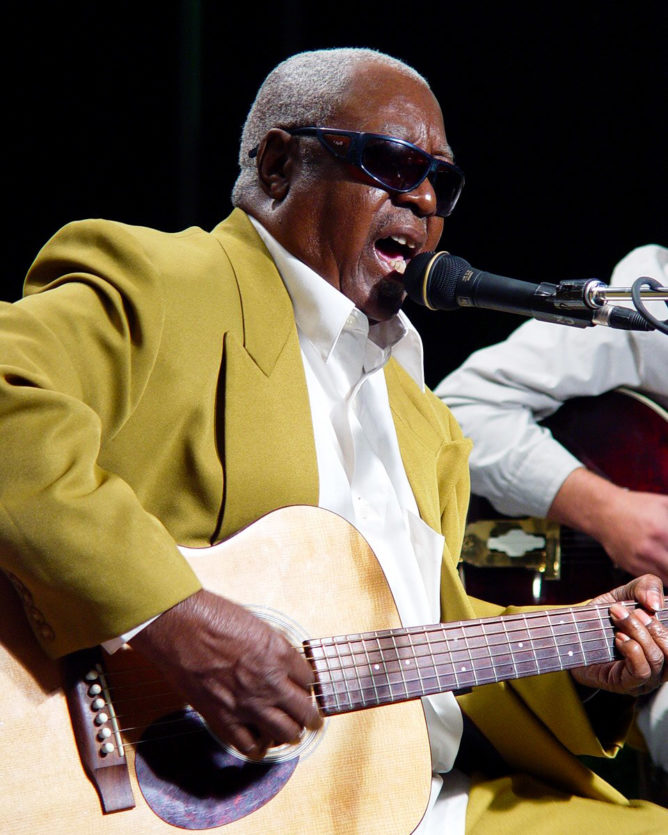 Cootie Stark
Blues
Cootie Stark recorded his first album "Sugar Man" when he was in his 70s, but he had played on street corners all across the South since he was a teenager.
The Older You Get, The More Fun You Gonna Have
When Music Maker co-founder Tim Duffy met Cootie Stark in the mid-1990s, Cootie was pushing 70 with more than a half-century of playing the Piedmont blues behind him. Since he was a teenager, he had been playing on street corners. In his late 20s, he lost his eyesight. Still, he traveled, playing the blues on the streets of Asheville, Knoxville, Greensboro, Columbia and other Southern cities. He often played with widely respected pioneers of the Piedmont blues, including Baby Tate, Pink Anderson, Walter Phelps and Chilly Wind.
But for most of his life, Cootie Stark played in obscurity, never making a record. Still, he never let go of his dream of making it big with his music. 
Cootie got his due after Tim saw him playing electric guitar and singing Fats Domino songs in South Carolina. 
"The blues is a deep testimony. The blues is something that you can express yourself. Yes,

you can."
Cootie Stark
"I realized by the way he was playing the guitar that there was something more there than a Fats Domino copycat," Duffy later told writer Peter Cooper. "I started asking Cootie, 'Do you know any older songs?' He said, 'Oh, you like those old songs? I had an uncle named Uncle Chump, and I knew this guy named Baby Tate. He taught me thousands of songs. You want to hear some of those?'"
Before long, Cootie had recorded and released his first album, "Sugar Man," and had hit the road on tours arranged by Music Maker. Before his death in 2005, Cootie had played throughout Europe and the United States. He toured with Taj Mahal and played landmark gigs at Lincoln Center in New York, the Portsmouth Blues Festival in New Hampshire, the Charleston Blues Festival in South Carolina, and Taj Mahal Fishin' Blues in Costa Rica.
"They say the older you get, the more fun you gonna have, and I believe them now," Stark told Peter Cooper. "I just wish I'd had some of this a long time ago. I've had a lot of wasted time, a lot of time gone. But that was just an old, bumpy road."
Cootie Stark was born
Johnnie
Miller On December 27, 1927. He died on April 14, 2005
Top photo by Axel Küstner.