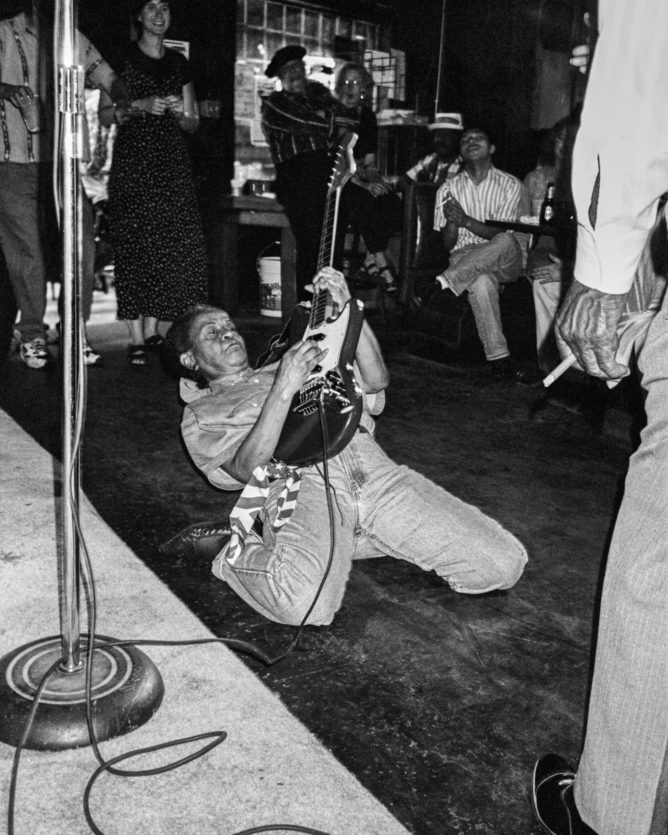 Beverly "Guitar" Watkins
Blues
Beverly "Guitar" Watkins recorded her first solo album at 60, but she since her teens, she'd been shredding the guitar on stages with the likes of James Brown, B.B. King and Ray Charles.
The Guitar Slingin' Grandma
Few people outside Atlanta, Georgia, remember a rhythm and blues artist named Piano Red. But those who do know of him believe that Red's barrelhouse piano style paved the way for the success of artists like Ray Charles. Red was the first blues musician ever to hit the pop charts with his 1950 recording, "Rocking With Red."
Beverly "Guitar" Watkins was Red's guitar player beginning in 1959. "I was a senior in high school when I started playin' with Piano Red," Watkins once said. "I started travelin' before I graduated. Piano Red would go to the principal and get permission so I could take my lessons on the road." Beverly played with Red until 1965, when Red's band, which had gone by several different names as they toured nationally, broke up. In the years that followed, she played with a host of different musicians, including greats such as James Brown, B.B. King, and Ray Charles.
"My style is real Lightnin' Hopkins lowdown blues. I call it hard classic blues, stompin' blues, railroad

smokin' blues."
Beverly "Guitar" Watkins
It was in 1995 when Music Maker first crossed paths with Beverly. She was playing one of her regular gigs in Underground Atlanta, an entertainment district built in the viaducts beneath the center of downtown. Beverly's style was extraordinarily flashy, and one of her trademarks was playing her guitar behind her head. Soon after, Music Maker began working with this fierce Southern grandma, and got her touring and playing package shows, including a 1998 revue called Women of the Blues: "Hot Mamas." A year later, we released her first solo album, "Back in Business." When the great Taj Mahal heard Beverly he fell in love with her playing and took her on a 42-city tour with him. We'll always remember Beverly "Guitar" Watkins' flash, her sass, and her extraordinary guitar playing.
Beverly Watkins was born on April 6, 1939. She died on October 1, 2019.
Top photo by Tim Duffy.