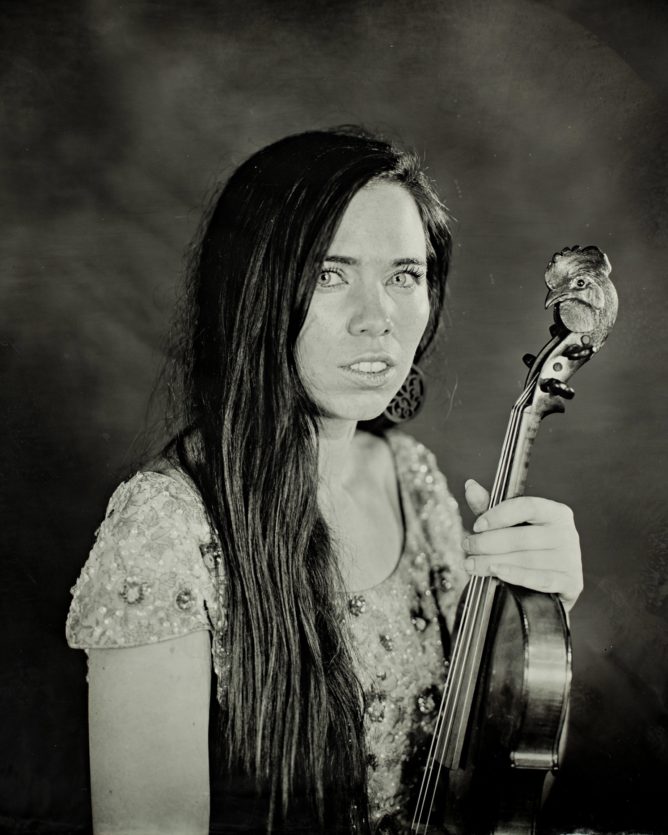 Martha Spencer
Folk
Martha Spencer brings her family's Appalachian roots music forward, mixing traditional country, old-time, and original music. Her ethereal voice and incredible musicianship create a powerful force, sure to captivate.
Martha Spencer grew up on the slopes and hollows of southwest Virginia's rugged Whitetop Mountain, where a rich tradition of old-time Mountain music has endured through many decades of changes. She began playing music and dancing from a very young age with The Spencer Family, and studied old-time fiddle under her father, Thornton Spencer, through the Virginia Foundation of the Humanities Folklife Apprenticeship Program.
"I think a lot of people who have passed on live on through song. If you're singing a song on stage somewhere far away that they taught you or teaching somebody else the tune they taught you, a little piece to their kindness and generosity, their love flows on through the art and music. I hope I'm a part

of that."
Martha Spencer
A full-time career as a musician was the natural evolution of Martha's upbringing. "Music was a part of life," Martha shares "Then, I started traveling and really enjoyed that; meeting people and how music can bring so much joy, whether you're playing it or teaching it." Her talent and vibrant stage presence have brought her to venues across the USA, UK, New Zealand, and Australia. She performs as a solo act, as well as in the Whitetop Mountain Band, The Blue Ridge Girls, Old Time Country Roadshow, and Spencer Branch, to name a few of her projects.
A jack of all trades, Martha is a singer-songwriter, plays guitar, banjo, fiddle, bass, and mandolin, and is additionally well known for her flatfoot dancing. Martha describes flatfoot dancing as Appalachian step dancing: "It's a traditional type of dancing folks do in the mountains," she shares. "A lot of people will come out to venues and dance every weekend, so it's a big part of the culture. There are Scotch-Irish, African-American, and Native American roots within it. It is a big part of our musical culture and I think it's just fun, too," Martha laughs.
When she's not traveling the world to perform, Martha carries on these traditions by teaching young musicians. She collaborates with Junior Appalachian Musicians (JAM) and provides one-on-one instruction as well. "It's a great way for kids to connect with their local traditions," she says. "I know growing up for me, it was definitely something that gave me confidence, ways to connect people from different backgrounds, and it opens up the world for a lot of people. I think music's just good for anybody, no matter how old you are, it's really a good thing to bring joy into life."
We began working with Martha's band, Spencer Branch, in 2015. "Music Maker has been a great ally for so many musicians. They helped us with videos and photos for our album. And in a lot of different ways; they've reached out and made a lot of connections. Whether it be shows or different types of support. I really appreciate all they do and think they're wonderful folks."
There's a joy in being part of something bigger than oneself that permeates Martha's musical ethos. "I think a lot of people who have passed on live on through song. If you're singing a song on stage somewhere far away that they taught you or teaching somebody else the tune they taught you, a little piece to their kindness and generosity, their love flows on through the art and music. I hope I'm a part of that."