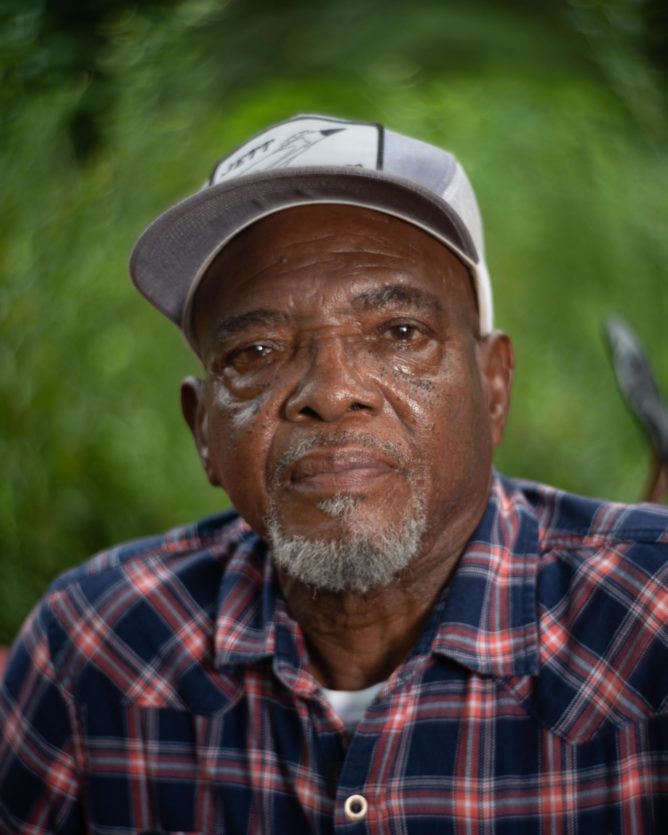 Clarence "Bluesman" Davis
Blues
Born and raised in the Black Belt of Alabama, Clarence "Bluesman" Davis summons the sounds of his ancestors in his music. A lyricist and one-man band, Davis weaves rhythmic electric guitarwork with a thumping bass pedal and rugged voice.
King Cotton built the city of Eutaw, Alabama. In the aftermath of the Civil War, the prominent Gosa Plantation became a sharecropping farm, called the Gosa Quarter. Here, in 1945, Clarence Davis was born into a family with nine brothers and three sisters.
His family spent their days in the fields under the sun, working for $2.50 a day. "There was always something to do," says Clarence. "If you were old enough to work, you did something. Mom and I was out in the field, chopping, picking cotton. Or I'd go get water and bring it to them. We raised hogs for salted pork, we had cows for milk and butter, chickens on the farm, we ate those. We grew everything we ate."
In the heat of the afternoons, the children escaped to the porch for a nap. Clarence would tune into WRAG Carrollton's Rhythm & Blues program on their battery-operated radio. For 15 minutes, he was transported by the sounds of Jimmy Reed, Lightnin' Hopkins, and Muddy Waters. "I got it into my mind that I wanted to play guitar," he recalls. "I used to keep all those beats in my mind. I'd be jumping around the house and playing in the yard and all these beats would be in my mind – I didn't know what'd be done to whip them out."
By a twist of fate, his Uncle James had gifted his cousin an acoustic guitar that sat neglected, so he offered the instrument to Clarence. Elated, the 10-year-old brought it home and worked in the fields to buy a set of strings, which cost $2.50. From then on, Clarence wouldn't put it down. "My fingers would be so sore I couldn't pick cotton," he recollects. He'd sit on the porch, or when his Dad shooed him away for the racket, on a swing under a sweetgum tree and practice for hours, until he taught himself how to improvise.
"You got to have the feeling of it. Those words come in, you just put them in place. It never fills up; there's always a space for some more. You always want to learn more or do more all the time, that's the way

it goes."
Soon enough, Clarence proved his talent and started accompanying the church choir on Sundays. By 15 years old, he was playing in juke joints with a band, Little Whit and the Upsetters. At 20, Clarence left home walking, hitching a ride to Tuscaloosa to live with his sister. There, his brother-in-law helped him purchase his first electric guitar, and he became Clarence "Bluesman" Davis.
The Bluesman's style has evolved over time. On a trip to New Orleans many years ago, he encountered a musician on Bourbon street playing with a bass pedal and tried his hand (or rather, foot) at it. He acquired his own and masterfully plays the 13-note instrument as he simultaneously strums and sings. Davis writes all of his material. Every song starts with a feeling, he explains. "You got to have the feeling of it. Those words come in, you just put them in place. It never fills up; there's always a space for some more. You always want to learn more or do more all the time, that's the way it goes."
In the half-century span of Clarence "Bluesman" Davis' career, he's been on the same bills as T-Model Ford, Sam Lay, Bobby Rush, and many other talents. Clarence is loyal to his home and was part of the team that founded the Black Belt Roots Blues Festival, which has celebrated the bearers of the folkways, traditions, and culture of the West Alabama region for over 35 years.
Clarence lives with his family about three miles down the road from his childhood home, in a house built in 1879. Eutaw's slogan is "The Gateway to the Black Belt." Sixty-seven percent of its population of 2,859 is Black, however, the median income for a Black household is 79% lower than that of a white household*. His music evokes his lineage. "I think about when they was out there on that farm like we were. They were down in the bottom of those fields, they were hollering and whistling and singing, having a good time, singing and getting their work done. It made their life better. So I say, 'Well, I keep singing the blues, I'll do better."
Clarence Davis was born on February 17th, 1945.