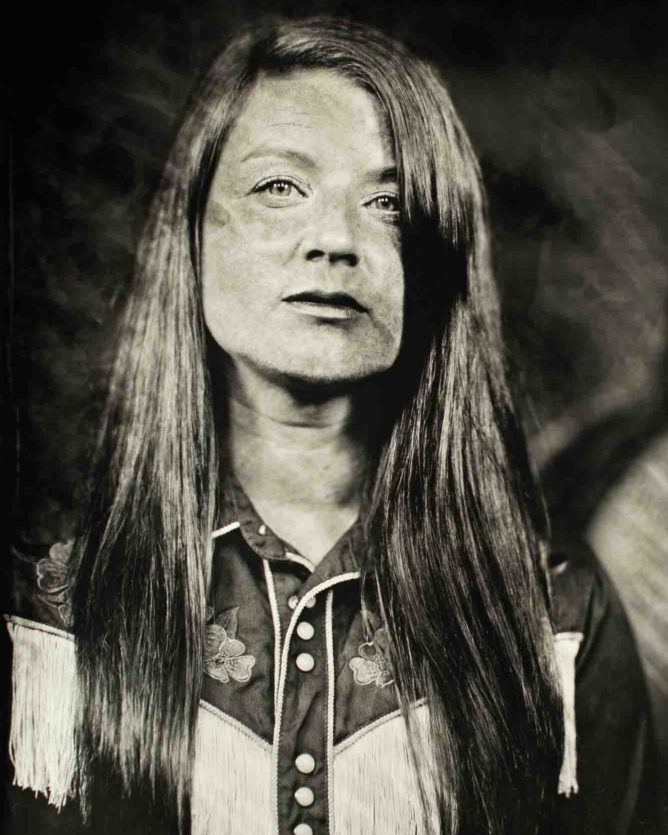 Kelley Breiding
Folk
Multi-instrumentalist and singer Kelley Breiding grounds her music in the communities surrounding it and is well-versed in the old-time music of northwestern North Carolina.
"When I was young," says Kelley Breiding, "we listened to the music my parents loved, from the fifties and the forties. All we did was go in antique shops all the time; it was all about the value of old things. With music, it's a similar thing. Part of that is it's well made, built to last. And there's another aspect where the music has a cultural situation where it's not just music; it's music of a place, music of a kind of way that a particular place feels and the way those people are. It's part of the fabric."
Kelley Breiding is a multinstrumentalist and singer originally from Charlotte, North Carolina. After graduating from Western Carolina University, she lived in Mt. Airy for just over a decade, and now resides in the Blue Ridge mountains of Ashe County, NC. She is a jack of all trades; a guitarist, fiddler, banjo player, bass player and singer-songwriter. Breiding grounds her music in the communities that surround it, and is well-versed in the old-time music of northwestern North Carolina. "That's why they call it 'roots' music," Breiding explains, "it is in fact deeply rooted somewhere."
As someone who believes music is meant to be transmitted through community experiences, Kelley belongs to many dynamic musical projects. She's a banjo player and singer for the old-time band, Crooked Road Ramblers, she's led her rockabilly band Kelley and the Cowboys since 2004, and participates in a Blue Ridge National Heritage Initiative called Fine Tuned, which connects seasoned musicians with a select group of emerging artists in Western North Carolina. Through Fine Tuned, she works with the Allen Boys, a sacred steel group out of Mt. Airy. On top of this, directs the Blue Ridge Opry, a variety show inspired by the era of the Ernest Tubb Show with a rotating cast and crew. 
If she's not out on stage, Kelley's teaching guitar and fiddle with JAM (Junior Appalachian Musicians), a nonprofit that recruits artists to teach children traditional music in a classroom setting. "I try to explain to my students that in this old time music, the bad songs don't get passed on," Kelley elaborates: "For hundreds of years, people have bothered to teach someone these tunes. They're not passing on the bad ones. So you've got a filtered set of music that has resonated with humankind for hundreds of years."
When asked how she keeps up with it all, she shares that she finds the challenge invigorating. "I'm much more experimental when I'm doing all these different things," shares Breiding. "When I wasn't, everything was compartmentalized. Now, I ask more questions and try more new stuff.  I've learned to go with the flow a little bit. If something's not as I expect it, that could be good too. Problems are not necessarily problems."
Kelley began working with Music Maker Foundation in 2015, on her project with Martha Spencer and Kilby Spencer, Spencer Branch. Music Maker launched their debut album, booking the group a performance at the Kennedy Center. Kelley has performed at the annual Freight Train Blues Concert Series several times, and her tintype portrait was featured in Music Maker's Blue Muse exhibit and book. She says of her partnership with Music Maker, "they always want to do something weird. They want to take a metal picture or send you to Washington DC or have you try something with your show. It's out of the ordinary. I mean, it's fun. I know they have good intentions, so it's easy to jump on whatever they're wanting to get going."
The music industry values mass appeal over handtailored music evoking a specific time and place. Rather than appeasing to this trend, Breiding centers her career around what feels meaningful to her. "I respect people doing what they're into," she shares. "So it's not that I don't see any value in what these people are up to. For me, this is what means something to me and is what I can get behind. And I like supporting other people who it also means something to, and helping people feel like what they're doing is worthwhile. 
"I think in music, you do stuff and there is a total ability to feel like, 'what is the point of any of this?' And when you have the community and the people who support your music around, you don't have to ask yourself any questions; you just do your thing. It's great. Everybody's in the circle between the dancers and the musicians and the listeners, and everyone has their part. It's about connecting people together."