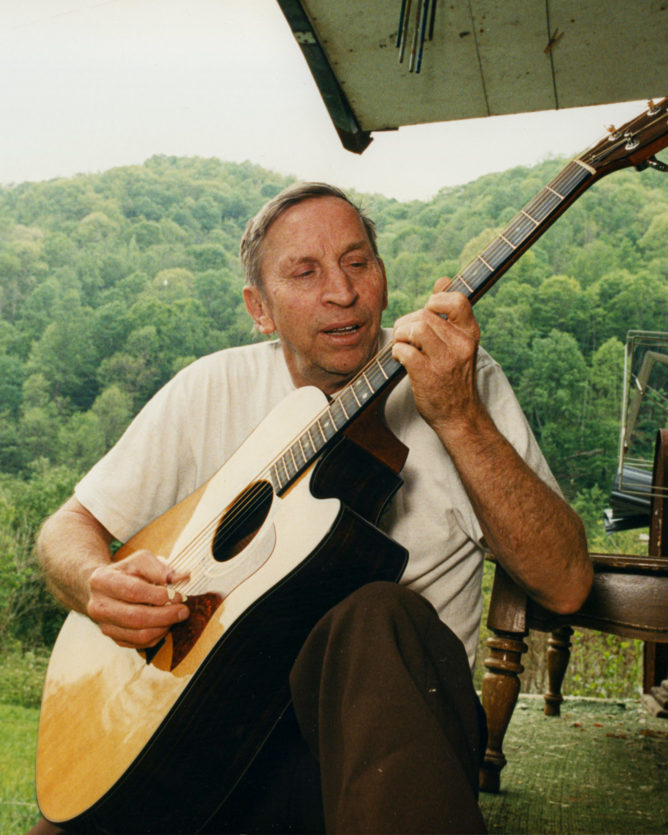 Carl Rutherford
Folk
Carl Rutherford was born in War, West Virginia, to a father who was a coal miner and a union organizer. Steeped in every form of music native to his mountain home, he fought to preserve it in his travels from West Virginia to California.
A West Virginia Mine Worker and a Dedicated Preserver of Mountain Music
Carl Rutherford was one of the most remarkable artists Music Maker ever partnered with. We met him in 1995 through a friend, the German photographer and blues scholar Axel Küstner. Carl grew up in War, West Virginia. His father was a coal miner and a union organizer. By the time we met Carl, when he was 66 years old, he had a life history filled with countless twists and turns.
Even though he had spina bifida, Carl went to work in the mines for the Olga Coal Company at the age of 18. Only two weeks after he started the job, he witnessed a deadly accident in the mines and had to spend a week attending the funerals of his co-workers who died. The event traumatized Carl. He didn't want to return to the mines, but went back anyway for two years to help his father pay off a debt on a piece of land. Check out his song "Turn Off the Fear" for a vivid and chilling description of work in the mines.
'"I was at a state gathering in West Virginia, and somebody said, 'Carl, make a blues tape.' I said, 'What is blues?' They said, 'Carl, you

are blues.'"
Carl Rutherford
After finishing his two years in the mines, Carl decamped for California, finding work in the logging camps near Redding. And in his off hours, he became determined to preserve the mountain music he'd grown up hearing. He performed in honky-tonks in California and became a masterful player, so good he could legitimately be compared to the great Doc Watson. He came back to West Virginia, when his mother became ill, in the 1970s. He'd been home in the West Virginia mountains for 20 years by the time we met him. He had set up a music school in his hometown, teaching music to kids, all the while remaining an activist for the poor and disenfranchised in the West Virginia coal country.
Carl was a master guitarist, singer and Dobro player who blended the styles of traditional mountain music, gospel, blues, and country music. But after all his years of mine work, he suffered from black lung and emphysema, and after his final recording session with Music Maker in the mid-2000s, he headed back to California to spend time with his children and first wife. He then returned to West Virginia, where he passed away under the care of his beloved second wife, Frankie. Music Maker helped to honor Carl's request that his body be donated to Duke University for medical study.
Carl Rutherford was born on April 25, 1929. He died January 28, 2006.
Top photo by Axel Küstner.