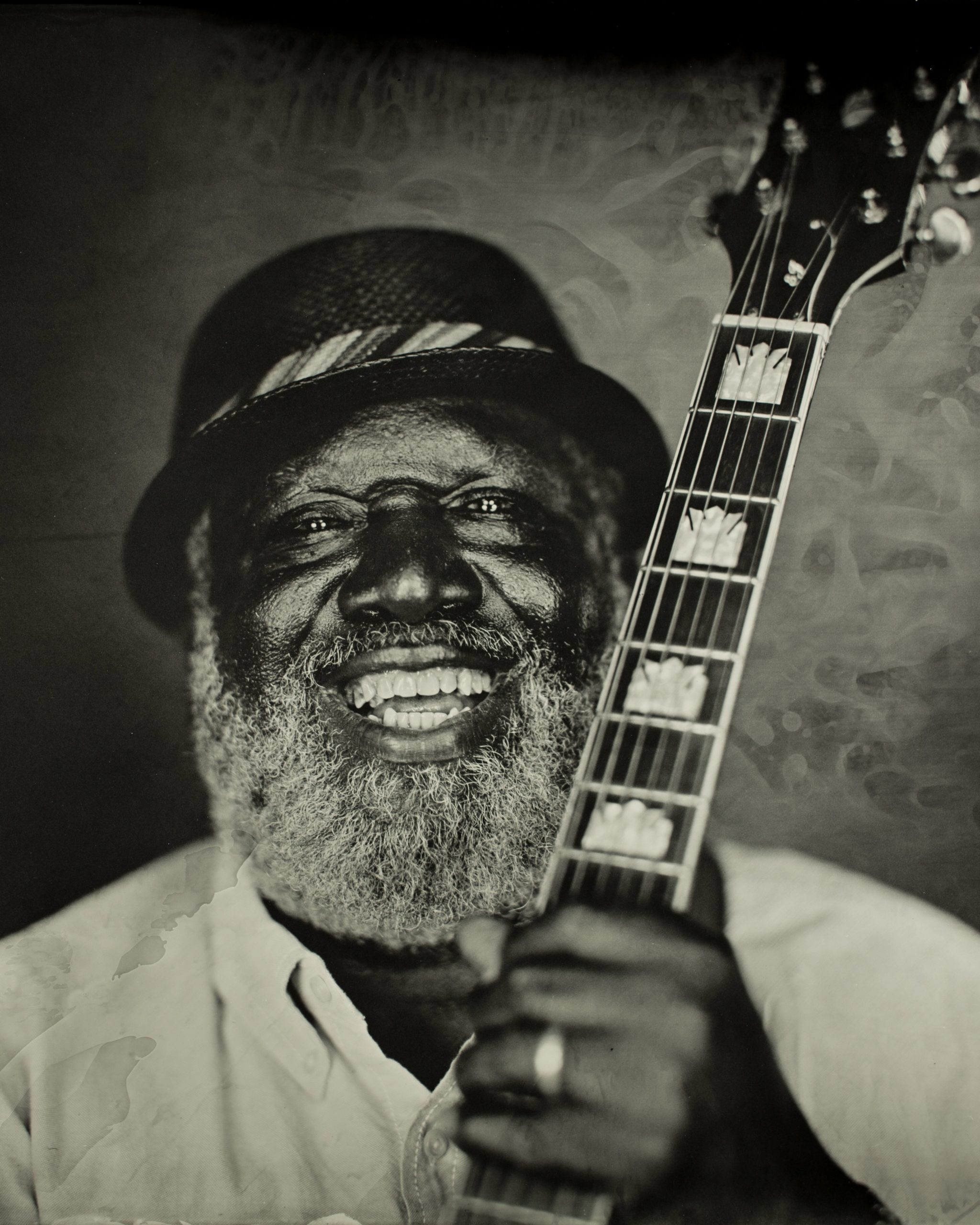 Big Ron Hunter
Blues
Ron is the world's happiest Bluesman. He owns a voice that gives people chills. It's the kind of voice that carries tenderness, a voice that is unmistakably his own and embodies everything that's raw, pure, and beautiful about the blues.
Ron Hunter was born in Winston-Salem, NC in 1953. His father, who was a sharecropper, taught Ron how to sing and play the guitar at a young age. Ron cherished evenings on the porch of their log cabin, following along as his father played, "I Hate to See the Sun Go Down."
He recalls the sounds and smells of his childhood home as though it were yesterday; "My mama used to have her apron on, she'd be drying her hands off on her apron and she'd be walking through the house singing, 'Walk with Me, Lord'. And the kitchen would be smelling so good." 
"Cornbread and cabbage, pork chops. Especially in the mornings. She used to fix ham in the mornings. You could smell that ham all the way through the house. And hot biscuits, they'd melt in your mouth. We had a well and an outhouse, chickens, hogs, and goats."
The red banks of North Carolina and the fruits of its land are Ron's musical muses. His style pays homage to the traditional Piedmont blues sound, but with his own take. "My dad, he always told me to pick, but I developed my own style." As Ron puts it, he plays "the red-clay-squirrel-scratching blues. When you hear my music, you can hear the scratching of those squirrels running up and down the trees, chasing each other." 
As someone who lived through schools integrating in the South, he used music as a way to bring his friends together, regardless of race. "What happened when we got to school that first day, everybody split up. They split up the Blacks on one side, the whites on one side. So I started bringing people together, especially with music," Ron shares. 
"Everybody started joining up, started really enjoying each other and having a good time. We forgot all about this separation of colors. We all got together and joined up and everybody made friends. And we still friends today. All of us." 
Ron has a serenity about him that comes from a deep place of love, the same source his music draws on. When asked about this, he credits his faith, "I had a lot of fear and a lot of things I could have done, a lot of places I could have gone. But I didn't take those opportunities because I had a lot of fear in me. 
"But I went to church, and I got saved, and I got born again, and I got filled with the Holy Spirit. And so I wasn't afraid to do anything. I wasn't afraid to go anywhere. And I had a type of love in my heart that made me happy, that made me be able to talk to anybody from the heart.
"Anybody who called me to come to play, I could come and play, have a good time and just share what was on the inside of me. And the more I shared it, the bigger it got, the bigger it got, and happier it made me."
"Right when I'm down at my worst, they come when I

need them."
Big Ron Hunter on

Music Maker
According to Ron, sometime around 1985, he was driving along through downtown Winston in his pickup truck when he passed by a man sitting in his yard, playing guitar. He hopped out of his truck to listen, and the man asked Ron if he played as well. Ron brought out his guitar from his truck bed, and the two started playing together. 
That man was Guitar Gabriel, a founding member of Music Maker Foundation. The two became friends and continued playing gigs together. From Gabe's advice, Hunter developed his unique sound all while raising a family and working a day job. As a maintenance man, you could find Ron locked up in his closet-sized office, plucking away at his guitar and pouring out the blues.
Through Guitar Gabriel, Ron was introduced to Music Maker in 2003, and has been a partner artist since. He's traveled to Costa Rica, Europe and Australia with Music Maker, and has lasting friendships with many of the artists. "Captain Luke was like a father to me. And I talked to Cool John a couple of days ago. I spoke to Albert White a couple weeks ago. I've been calling Ironing Board Sam. But we keep playing phone tag," he laughs. I have to catch him early in the morning, 'cause he gets up early and he has his bicycle riding."
Thanks to our supporters, we were able to help Big Ron with his recent move. "I get a feeling of it [my childhood home] here. Especially when I walk out on the back in the backyard and out on the porch. I get that feeling. I'm so grateful for Music Maker. Right when I'm down at my worst, they come when I need them."