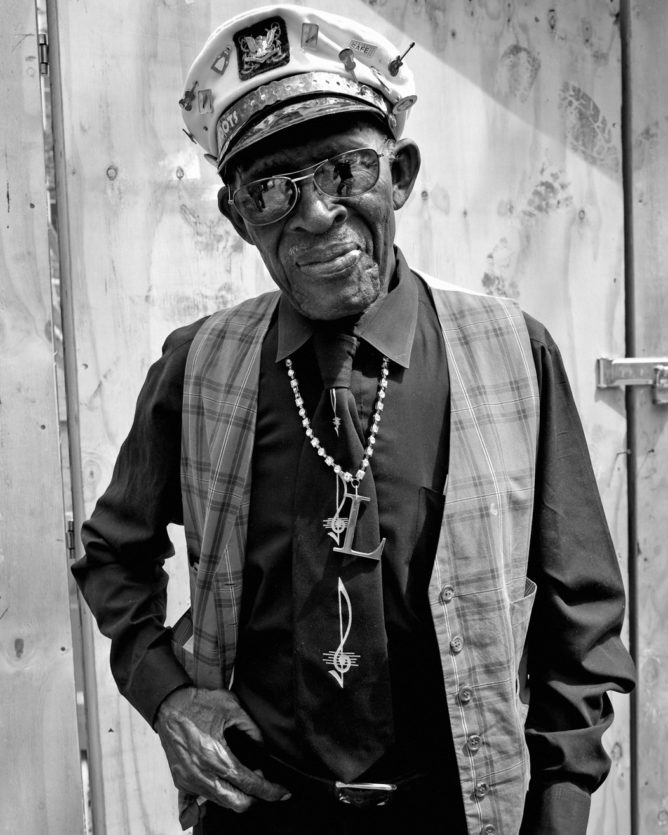 Captain Luke
Blues
With his profoundly deep bass voice, this consummate entertainer carried on a longtime association with Guitar Gabriel, whose country-blues playing was a perfect match for Captain Luke's singing style.
A Voice "Like Honey Dripping on Hot Chocolate"
Luther Mayer was shopping one day in Miller's Variety Store in Winston-Salem, North Carolina, when he spotted an admiral's hat. Forever after, Mayer had a new name: Captain Luke. If there was ever a Music Maker artist who deserved to wear an admiral's regalia, it was Luther.
His voice was miraculous — a profoundly deep bass that never failed to amaze listeners. Music Maker co-founder Tim Duffy says Captain Luke had a "voice like honey dripping on hot chocolate."
The voice came from a combination of natural talent and what he learned in his youth. Born in Greenville, South Carolina, in 1927, he grew up on his grandparents' farm in nearby Clinton. As his Uncle Jesse plowed the fields, Luke would walk barefoot behind him in newly turned soil, listening to his uncle sing to his mule. In the evenings, he listened to Uncle Jesse play on his porch.
His mother and sister moved with Luke to Winston-Salem, North Carolina, when he was 14. Soon, the family's economic situation forced Luke out of school and into the workforce. At 17, he went to work for LaSalle Bell, a junkman who demanded a full day's work from his junior employee. LaSalle was a large man, and Luke soon learned to lift his own end of a scrap motor and heave it onto a flatbed truck without pause or complaint.
"The Captain's smooth voice was capable of soothing the most savage beast in a raucous barroom or charming the prickliest country-club scion. They were all the same to Luke, because he didn't know any strangers. He thought everyone deserves a song and a

good laugh."
Denise Duffy
While he built his muscles, Luke also developed his singing voice, and early on he developed a talent for imitation. He sang all the songs he heard on the radio — everything from the big band singers to hillbilly ballads.
"Back then I had eleventeen voices," Luke once told us. 
With his deep voice, Luke was already carrying the low parts in his church choir, and his abilities soon caught the attention of Otis King, who taught him how to hold the low notes and make them rise and fall. Soon, Luke was singing bass professionally in King's Gospel Quintet. 
A chance encounter in the early 1970s led to a long association with Guitar Gabriel. Gabe was a master of the country blues, and the style fit Luke's voice perfectly. The two became fixtures in the Winston-Salem drink-house scene.
He was a consummate entertainer, whose singing style was basic and sophisticated at the same moment. He spoke to listeners with the canniness of Louis Armstrong in his prime, and he swung with the effortless grace of a young Dean Martin.
Captain Luke was born Luther Mayer on November 27, 1927. He died July 5, 2015.
Top photo by Tim Duffy.