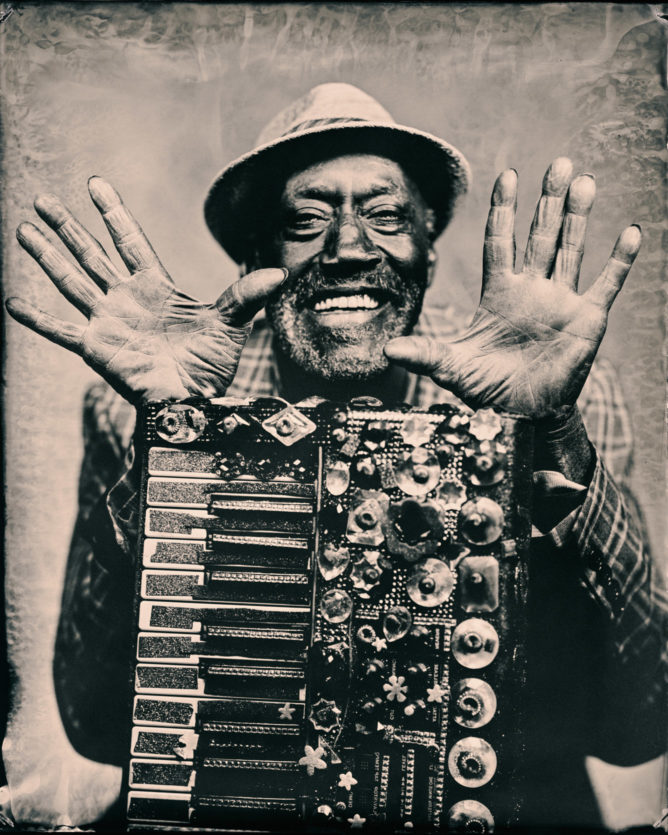 Ironing Board Sam
Blues
Whimsical, creative, a true genius, Ironing Board Sam played in hot-air balloons and underwater in his own giant aquarium, all the while amassing a staggering repertoire of both originals and classic blues and R&B songs.
One of the South's Greatest Showmen
To say that Sammie Moore — better known to his fans as Ironing Board Sam — is inventive just doesn't cut it. The word lacks the depth to capture his genius, his whimsy and his creativity. 
He became legendary in the early 1960s for inventing the first portable, electronic keyboard. He called it the "button board." It was made from upholstery tacks wired to 64 radio tubes and was mounted on a 2×4 that sat on an ironing board. 
In his longtime hometown of New Orleans, he played while floating above Jackson Square in a hot-air balloon, played underwater in his homemade giant aquarium, and rode around in a Cadillac he had fitted with crystal chandeliers. One of his spangled keyboards now sits in the National Museum of African American Music in Nashville, donated by Music Maker.
"He really left his mark on people's memories."
Michael Gray, National Museum of African

American Music
Ironing Board came into the world in 1939 in Rock Hill, South Carolina. He began playing shows on piano and organ when he was only 14. In the late '50s, he moved to Miami — where he got his stage name: He didn't own a stand for his button board, so he mounted it on an ironing board. From Miami, Sam moved to Memphis, where he was once backed by a band that included a young Jimi Hendrix. But finally, he settled in the Crescent City, where he was a regular at the New Orleans Jazz & Heritage Festival and became one of the city's most beloved characters.
Sam retired after playing professionally for more than 55 years, during which he amassed a staggering repertoire of both originals and classic blues and R&B songs. A truly gifted and engaging performer, Sam's voice was powerful and soulful, and his piano prowess was remarkable. After Sam joined the Music Maker family in 2010, he relocated to Hillsborough, North Carolina. We booked gigs for him — on the legendary Blues Cruise and the New Orleans Jazz and Heritage Festival, as well as performances throughout North Carolina — until he retired from playing.
 In his heyday, Ironing Board Sam was nearly a total obscurity — working primarily in local scenes around the South. He toured minimally and recorded infrequently. But those who got to see him, whether in person or on the groundbreaking R&B television program "Night Train," remember him well, for Sam could put on a show.
Ironing Board Sam was born Samuel Moore on July
17, 1939.
Top photo by Tim Duffy.