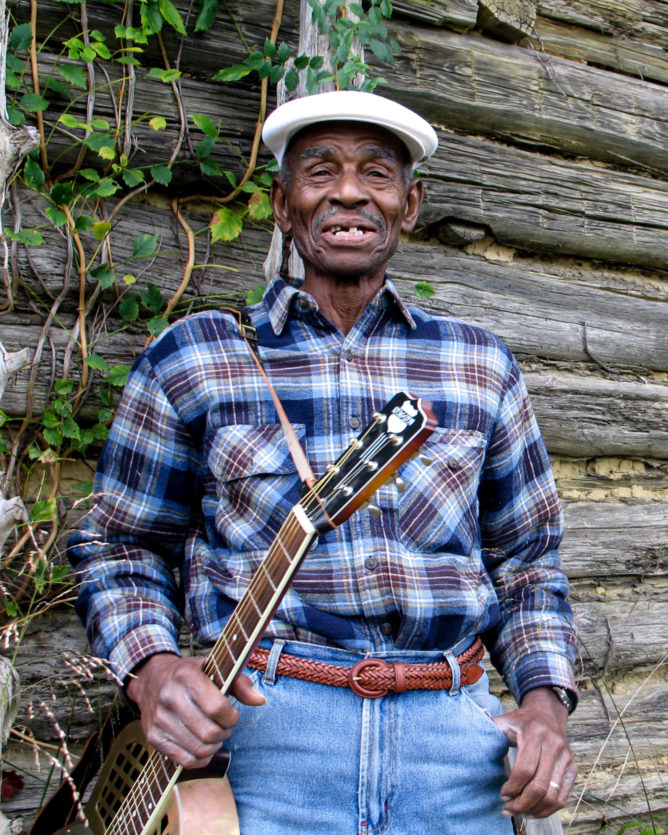 John Dee Holeman
Blues
John Dee Holeman was the epitome of a Piedmont bluesman, firmly rooted in the style and tradition. He explained how he inherited the style and his knack for the blues this way: "I caught it from my cousin who caught it from his uncle."
From Pig Pickings to the National Folk Festival
John Dee Holeman was the epitome of what it meant to be a Piedmont bluesman. He played in the tradition of pioneers such as Blind Boy Fuller, though his style was much broader, encompassing electric, acoustic, and fingerpicking. He could bring deep feeling in Muddy Waters' slow but hard motif. And he had a great saying about how he learned to play the blues: "I caught it from my cousin who caught it from his uncle." That uncle he speaks of actually played with Blind Boy Fuller in the early 20th century. John Dee grew up just a stone's throw from Fuller's home in Durham, North Carolina.
For most of his life, he worked in construction, looking at his music as a side job. The great University of North Carolina folklorist Glenn Hinson was the first to bring John Dee's music to wider public attention in the late 1970s. Holeman had often played his guitar at private functions — local pig-pickings and parties — while keeping his day jobs. But when Hinson asked him to play at Durham's Bicentennial Festival in 1976, John Dee wasn't so sure he could do it.
"When John Dee and I sat down and played together the experience was like coming full circle back to my roots. His music took me straight back to a gentleman named Lynwood Perry in Springfield, Massachusetts, the only person I ever learned to play guitar from. As it turns out, Lynwood was also from Durham, North Carolina!"
Taj Mahal
"He said there would be 500 or 5,000 people," John Dee said. "I told him, 'I can't face that many people. I'm not that good.' He said to do the same thing that I do at my house or at a pig-picking, to do what I know. He just about begged me. I went out there, and everybody like to have a good time. It made me feel real good." Soon after, John Dee began his touring career, playing the National Folk Festival at Wolf Trap in Virginia and Carnegie Hall in New York City. He also went to more than 40 countries around the world as part of the wide-ranging musical revues staged by the government's now-defunct United States Information Agency. 
Along the way, he won a National Heritage Fellowship from the National Endowment for the Arts And a North Carolina Folk Heritage award.
Everywhere he played, he presented himself in the style of his musical forebears like Fuller. He always dressed impeccably. He was always a great conversationalist. And he was never less than a stellar guitar player.
John Dee Holeman was
born on April 4, 1929. He died April 30, 2021.
Top photo by Tim Duffy.