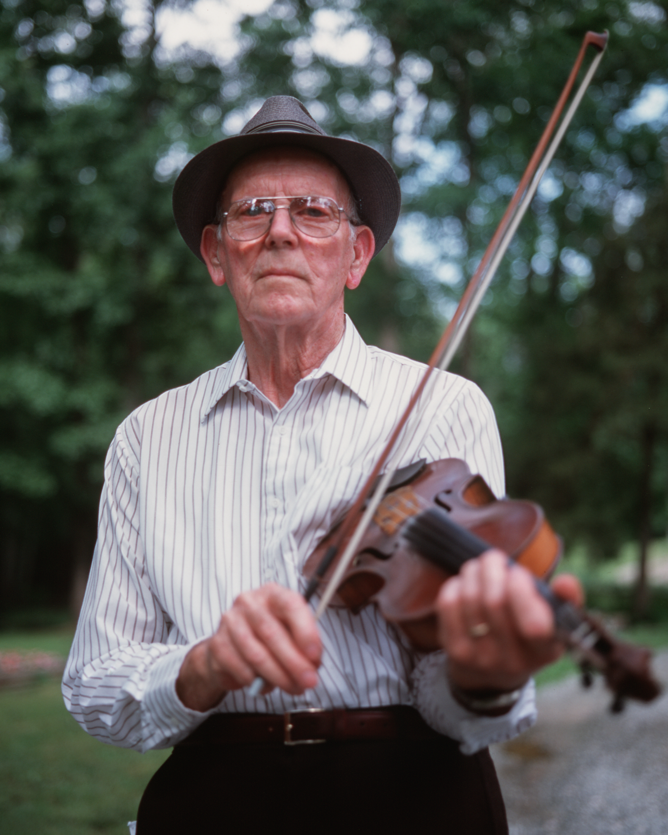 Benton Flippen
Folk
Fiddler Benton Flippen snuck slides and drones into steady bowed rhythms, making himself a Surry County old-time music legend.
And some guy come up and said, "They told me nobody couldn't play a fiddle with three fingers." Said, "I know it ain't so."
Seven-time winner of the Galax Old Fiddler's Convention, Benton Flippen had a unique style. While in dialogue with the rhythms of Surry County legends like Tommy Jarrell, he uniquely gripped the bow tightly at its base and fretted with only three-fingers. Both his music and technique would give Franco-Belgian and Russian violin purists headaches, but what do they know?
Flippen's didn't subvert fiddling tradition so much as insinuate new touches, seamlessly, into its framework. He experimented within tradition: you can call it an individual talent's revision of the classics, or chalk it up to the folk process, but it's probably best just to listen to the music. Brief drones and slurred transitions punctuate Flippen's renditions of even the hoariest old-time standards — North Carolina state folklorist Wayne Martin rightly noted that Benton's sound was immediately recognizable to listeners after hearing only a few notes.
Flippen's home of Mt. Airy was the basis for TV's Mayberry on The Andy Griffith Show, and he wouldn't have been out of place on the show. Despite the subtle modernism of his music, Benton's character was that of an old-fashioned, downhome, and standup guy. A devoted husband, he didn't play his beloved fiddle for months after his wife Lois passed in 2007.
A generous mentor to a generation of younger old-time musicians, he made lifelong friendships with players across the generational divide. As Tanya Jones, executive director of the Surry Arts Council put it at a memorial service: "For the kids, it was like having an icon in their presence." This, after all, was a fiddler who'd performed on legendary Mt. Airy AM station WPAQ on its first day transmitting, 1948!
Music Maker provided Benton Flippen with a monthly stipend for prescription medicine. Additionally, we made two records (Fiddler's Dream and 270 Haystack Dr.) with the man, and helped him book tours and appearances.
Despite declining health, Flippen was fiddling even in the week leading up to his passing: a true lifer. To this day, his spirit lives on in many forms: "Benton's Dream" is now a standard you'll hear at most old-time conventions; his technique echoes on contemporary recordings; his example lives on in the spirit of loved ones, friends, and mentees.
Benton Flippen was born July 18, 1920. He died June 28, 2011. 
Photo by Tim Duffy.