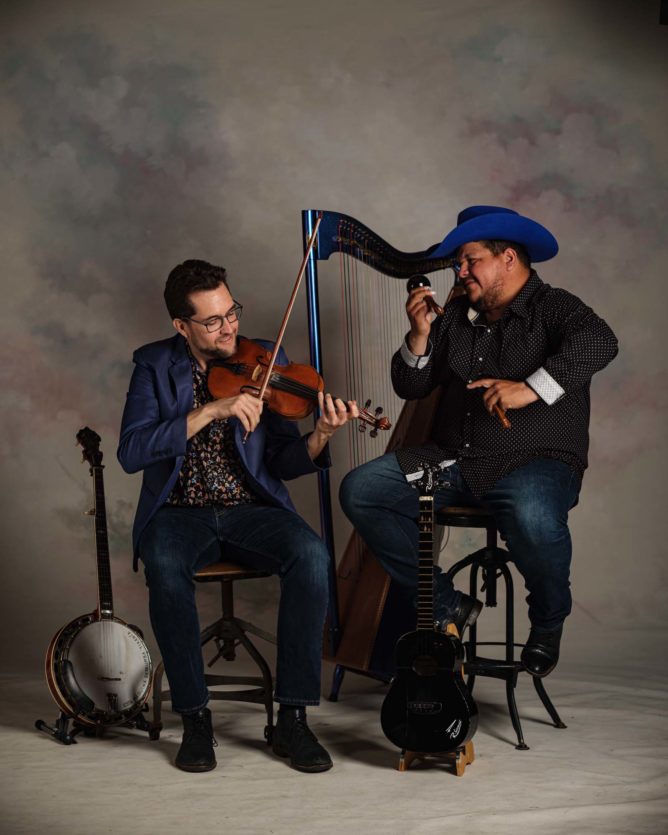 Larry Bellorín & Joe Troop
Folk
Larry Bellorín, legend of Llanera music, & Joe Troop, GRAMMY-nominated bluegrass and oldtime musician, perform a fusion of Venezuelan and Appalachian folk music on harp, banjo, cuatro, fiddle, and whatever else they throw in the van.
The last place you'd expect to hear one of the world's finest Llanera harpists is in a dimly lit warehouse in Durham, North Carolina. Just how did a man whose three-decade musical career started on the dusty streets of a small Venezuelan city wind up on a gig in the Piedmont foothills?
Larry Bellorín grew up in Punta de Mata in the state of Monagas, Venezuela. His mother, a poor farmworker, raised him. By age 6, he became a shoe shiner and built a faithful clientele by singing as he polished, taking requests for the popular Vallenatos of the day. He eventually caught the attention of a local music educator who invited him to study at the city's premiere music school.
Larry's first instrument was the cuatro, a 4-string guitar with Spanish roots central to the Venezuelan identity and typically the first instrument a folk musician is taught there. Cuatristas strum out complex polyrhythms at dizzying speeds as accompaniment for vocalists and harpists. Larry quickly excelled and by age 11 was supporting himself through music alone. He soon became proficient on guitar, electric bass, mandolin and maracas as well. By age 13, he was well-versed in the folk music of his region (valse, pasaje, joropo, música oriental) and was honored as first cuatrista for the local Casa de Cultura.
After filling in on cuatro for a friend on a gig at a local pizzeria, Larry met internationally acclaimed harpist Urbino Ruiz, affectionately known as the King of the Strong Harp. He began studying Llano harp with him and after only a month had a repertoire of 40 songs. "I played so much, I would wake up hunched over my harp," he recalls.
In 1999, Urbano invited Larry to perform with him alongside Venezuelan cultural treasure Renaldo Armas at the Punta de Mata's Parque Ferial. After playing, Armas, a GRAMMY winner and the country's most well known champion of Llanera music, introduced him to the crowd of more than 8,000 people as "el maestro Larry Bellorín." From that point forward, Larry was respected as such.
Larry went on to accompany countless Venezuelan musical luminaries including Cristina Maica, Teo Galindez, and Rumi Olivo. While touring the country as a performer, he and his wife opened Casa Vieja, a school dedicated to teaching Música Llanera. In three years, he taught nearly five hundred students and launched Monagas' first Musicá Llanera festival.
In 2012 Venezuela began to collapse, and it became impossible to maintain a music school. Poverty and violence reached unprecedented extremes, and new political realities threatened Larry and his family's lives. He decided to go to the United States in search of work and asylum for his family. He arrived with only thirty dollars and slept on the floor of an unfurnished room while doing construction day labor. His wife and young daughter eventually joined him. Having faced political persecution, they were able to open a case for asylum. Larry has endured wage theft and several work site injuries but continues to look to the future with hope.
Prior to the pandemic, Larry was beginning to find work as a musician in North Carolina, playing bass in Salsa bands and booking his own Venezuelan folk group across the state. But the pandemic's restrictions on social gatherings ended those opportunities, and Larry returned to full time construction work.
In late 2021, between Covid surges, Larry met North Carolina Bluegrass evangelist and human rights activist Joe Troop. Joe, who counts Béla Fleck, Tim O'Brien, and Abigail Washburn as frequent collaborators, is a highly regarded bluegrass musician dedicated to carrying his tradition forward. He has long drawn connections between Appalachian roots music and folkloric traditions from Central and South America. His life's work has been connecting those dots for audiences as an act of historical revision and an earnest pursuit to dissolve borders and relieve the world of the violence that they inevitably inspire.
Troop had recently returned to North Carolina after living in Argentina for a decade, where he taught bluegrass and launched the GRAMMY nominated group Che Apalache. After spending the pandemic engaged in activism at the Southern border and working with Farm Labor organizer Baldemar Velásquez, Joe accepted an invitation to a month-long residency at The Fruit, a warehouse artspace in Durham, North Carolina. The criteria for the residency was open-ended, and Joe used the opportunity to showcase a handful of stellar musician friends.
Joe invited Larry to perform at the first installment of the series. What was intended to be a single guest spot turned into three. Joe and Larry quickly formed a tight musical bond. Aaron Greenhood, one of the organizers of the residency, texted a clip of Larry's performance to Music Maker president Timothy Duffy. The next morning the two were discussing ways to support Larry's musical ambitions including featuring Larry and Joe on a record.
Larry's life and music are representative of the New South, its evolving traditions and core identity. Larry and his family of now four are still waiting for their asylum case to be reviewed. In the meanwhile, they are legal residents and have protections including work permits and social security numbers. Larry's experience echoes the generations of immigrants who have made new homes in the South. Along with their ambitions of safety and opportunity, immigrants bring their unique cultural traditions, and in Larry's case, a musical lineage that is the pride of Venezuelans. Larry is excited at the opportunity to work with Music Maker. He has dedicated his life to mastering the musical traditions of his homeland, sharing it with audiences and teaching eager students. With Music Maker's support, he intends to continue that work here in the United States.