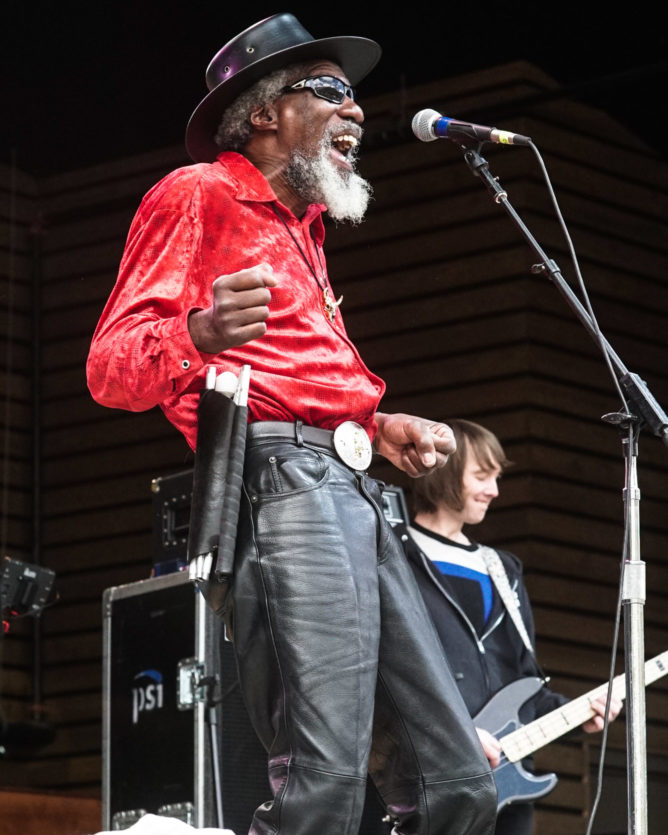 Robert Finley
Blues
Robert Finley honed his performance skills as a bandleader and musician in the U.S. Army when he was 17, but his major musical success came later in life.
For Robert Finley, "Age Don't Mean a Thing"
"Put me last on the bill," Robert Finley says, "because the party's going to go as high as it's going to go when I'm playing." From someone else's mouth, that might be braggadocio, but when Finley says it, he's just telling the truth. Onstage, he has the whole package — his sound, his songs, his energy, his look. Robert is gangly and graceful with an indomitable smile that radiates beneath his black ridge-top hat.
"I don't believe in doing a lot of holding back," Finley says. "I'm going to give you everything I've got."
Finley was raised singing gospel, the only music his parents would allow. But at 11 years old, he used some money his father had given him to buy shoes to buy a guitar instead, and he has been writing songs ever since.
"Once I get the music, the lyrics just come natural," Finley explains. "All you've got to do is look around. Just about anything you'd want to write about, somebody's going through it. Every day is a song, really."
As a performer, Finley cut his teeth in the Army. He enlisted at 17 and was stationed in Germany, where he worked on helicopters. He got a secondary MOS (Military Occupational Specialty) as an entertainer and started leading his own band. The band specialized in soul and R&B — songs by Joe Simon, Tyrone Davis, Isaac Hayes, and Marvin Gaye. Both the U.S. servicemen and the European crowds loved it. During these years, Finley honed the art of capturing and keeping an audience.
"Without the fans, you're nothing really. It doesn't matter how good you are; you've got to be able to convince the people that you're worth

their investment."
Robert Finley
After he was discharged and back in his hometown of Bernice, Louisiana, Finley found that leading a band — without the strictures of the military keeping everybody on time and in place — was thankless and unsustainable. So he sharpened his solo act and played out whenever he could. He also began working as a carpenter, a profession he maintained for decades. Now legally blind, Finley can no longer build houses. He can still tear them down though. In 2016, Finley made a splash playing with the Music Maker Revue at the prestigious Globalfest in New York City. In 2017 and 2021 Robert released his solo albums, "Goin' Platinum" and "Sharecropper's Son," respectively, both produced by Dan Auerbach of The Black Keys.
"Here I am at my age, just now fulfilling my childhood dream," Finley says. "It's like the song says, 'Age Don't Mean a Thing.' See, you've got to hold to your dream; don't ever let somebody tell you what you can't do."
Robert Finley was born on February 13, 1954.
Top photo by Tim Duffy.