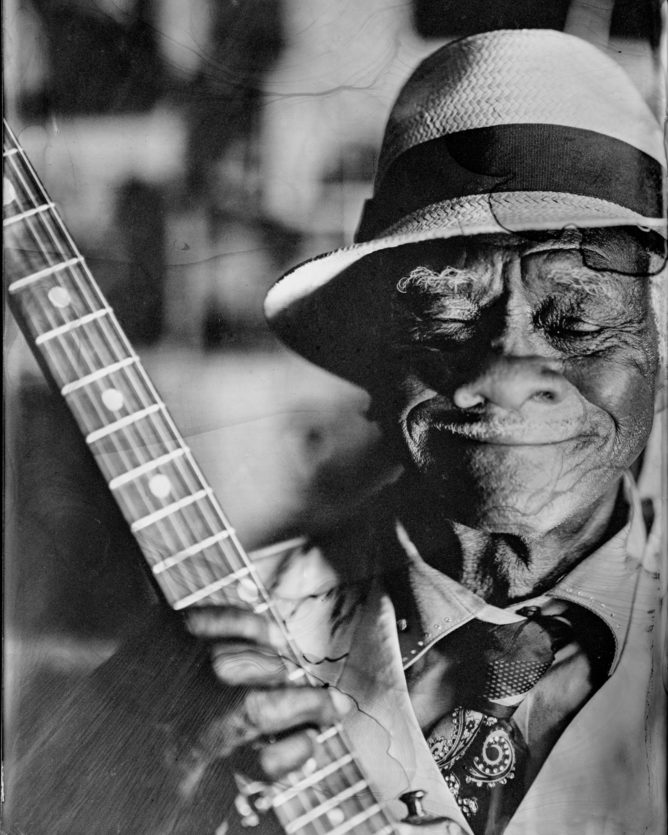 Little Freddie King
Blues
Although Little Freddie King is a hardcore blues player in a city where traditional jazz and brass band music dominates, he's become one of New Orleans' most beloved figures.
A Patriarch of New Orleans Blues
Little Freddie King is from McComb, Mississippi. As a teenager, he hopped a train to go to New Orleans with his guitar and his music. He's been there ever since, and he's become a vital part of the city's culture. Little Freddie is one of the few performers who's played every single New Orleans Jazz and Heritage Festival. Even though he is a hardcore blues player in a city where Dixieland and other forms of jazz dominate, he's become one of the city's most beloved figures.
"If you want the real blues – and I'm not talkin' about some long-haired hippy beatin' on a National Resonator guitar or a mustachioed, Italian-suited slickster blowin' on a chromatic harmonica – baby, you'd better call Little

Freddie King."
Dr. Ira

Padnos, musicologist
Little Freddie earned his bones in New Orleans the hard way, playing tiny clubs and juke joints where the music came with a helping of danger. He particularly remembers his nights in the 1960s at the Busy Bee on Perdido Street. After playing his first shows there, through an entire weekend, Little Freddie had to make a call to the club's owner.
"I called up Willie (the owner) and said, 'Why did you name this place the Busy Bee? You gave it the wrong name,'" Little Freddie told the New Orleans Times-Picayune in 2015. "He said, 'Why is that?' I said, 'I'm gonna give it the right name. I'm gonna call it the Bucket of Blood, because ever since I been playing here, somebody's been shot, stabbed, or cut.'"
Little Freddie has long since graduated from clubs like that. Still active, riding his bicycle around town, and playing, Freddie is known as one of the patriarchs of the blues in New Orleans. He's a beloved character in that city, always dressed to the nines and ready to sling his hot guitar whenever he has the chance.
Little Freddie King was born on July 19, 1940.
Top photo by Tim Duffy.
"The blues is better than any doctor's medicine."
- Little

Freddie King