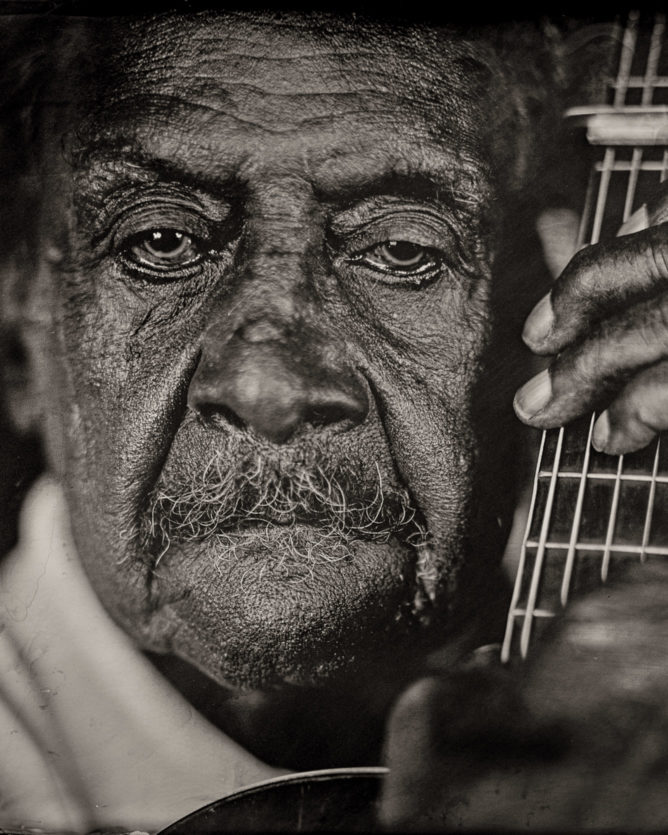 Boo Hanks
Blues
For most of his life, Boo Hanks only played music in his rural hometown of Buffalo Junction, Virginia, but his musical repertoire reflected his global, multi-ethnic heritage.
A Dynamic Sound Built Close to Home
In the early years of Music Maker, co-founders Tim and Denise Duffy met a great many artists who played in the lyrical Piedmont style — most of whom lived in North Carolina, where the style originated. But wanting to expand their geographical reach, Tim got in touch with Tony Young, an early Music Maker supporter, who was from a very rural part of Virginia just north of the North Carolina border, hoping he might know some players worth meeting. Tony didn't have anyone in mind, but his mother did. She told him about Boo Hanks.
When Tim and Denise traveled to meet Boo in his hometown of Buffalo Junction, Virginia, he had many stories to tell. He and his family had lived and farmed tobacco on the same piece of land since the days of slavery. He spoke about a man named Colonel Hargrove, the original owner of this tobacco plantation, who had bought Boo's great-great-great-grandfather as a wedding gift for his wife, to be her house boy. Ever since, Boo's family had worked as sharecroppers on this land.
"Most people, when they hear me play, they think it's two guitars, because I play the bass and the other strings at the same time. They say, 'Man, that's two guitars,' and I say, 'No, me, it's just me by myself.' They say, 'Don't believe you, it sounds like two guitars

to me.'"
Boo Hanks
As a young man in the 1940s, Boo earned pocket change playing guitar at barn dances with his cousins accompanying him on mandolin and spoons. His rich musical repertoire reflected his multi-ethnic heritage (his ancestors were white, African American, Occeenneechee Indian, and family folklore holds that they are descendants of Abraham Lincoln's mother Mary Hanks.)
But when Music Maker first connected with Boo, he was already in his late 70s, and he'd never recorded or played his music further than a stone's throw away from his home. However, not long after, Boo came to Music Maker's studio in North Carolina, sat down with Dom Flemons and Justin Robinson of the Carolina Chocolate Drops, and recorded nearly 25 songs. Sixteen of those songs — plus a four-minute clip of Boo talking about his family's history — became his very first album, "Pickin' Low Cotton." Boo went on to perform throughout the Southeast and in Europe and recorded his second album in 2012 named for his hometown, "Buffalo Junction."
Boo Hanks was born James Arthur Hanks on April 30, 1928. He died on April 15, 2016.
Top photo by Tim Duffy.