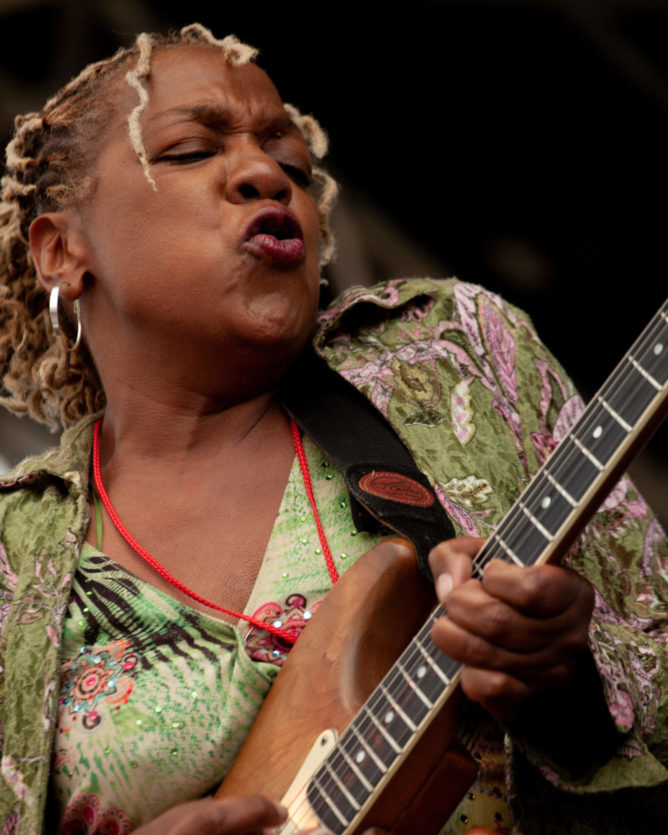 Pat Wilder
Blues
This San Franciscan blueswoman is a forerunner for female musicians who write their own rules. She is an inimitable performer with her virtuosic guitar skills, husky contralto, and powerful stage presence.
Pat Wilder was born into a family of artists. San Francisco in the sixties was the backdrop of her childhood. As a hub for the Civil Rights Movement and the home to Haight-Ashbury hippies, SF's rich culture laid fertile ground for becoming an artist herself. "Music was in my blood," she recalls. She danced between the piano, the congas, and the plastic guitar her mother bought her from Woolworths, jamming with her harpsichord-strumming, harmonica-humming grandmother.
The bluesman Taj Mahal, a family friend, bequeathed Pat her first electric guitar, and taught her his "Ain't Gwine Whistle Dixie (Anymo')." Singing and playing simultaneously was difficult at first, so Pat began writing her own songs. "There's no way to mess up when you're the one writing it!" Her family home was full of records, and she credits her upbringing with her versatility as a musician; "Being young and having fun, there's the funkadelic music. Taj comes in and brings the delta blues. My favorite record was Mr. Herbie Hancock, so that's where I got my soul and my urban. Gospel is just a given feeling for me. All of it is rooted in gospel. That's what keeps it all in balance, too: loving what I'm doing with the music, keeping it all in balance. I don't know how it works, but it works for me."
She followed the music when she graduated high school and realized, "playing the guitar was the only thing that satisfied me." Journeying to her auntie's juke joint outside of Houston, Texas, Pat played in bands and figured she was doing something right— "I ain't never seen folks dance like that!" she reminisces.
Her pioneering spirit has led her across the globe, touring in funk, blues, and rock bands over decades of musical exploration. Wilder has been nominated in the Traditional Blues category for a WC Handy Award (now called Blues Music Awards), and received Honorable Mention for the Billboard Songwriting Contest Award in 2009. Working with Music Maker stands among these as one of her proudest accomplishments, she shares.
"I feel fine just loving everybody."
Pat Wilder
Pat is known for her inimitable presence on the stage; her husky contralto and skillful, percussive guitar work are matched by her ebullient dance moves. "You got all these people up there and all they're doing is just standing up and playing. I'm not cool with that. You gotta move around for me! C'mon, dance! Entertain me!"
Undeniably, Wilder's primary motivation is to create joy. When asked how the identities she holds have shaped her experience as a musician, she laughs easily and heartily. "Honestly," she says, "I feel like the youngest kid in the family, in the world." There is a lot of competition in the music industry, but Pat does not go for any of that. "I feel fine just loving everybody."
Pat Wilder was born September 11th, 1957.