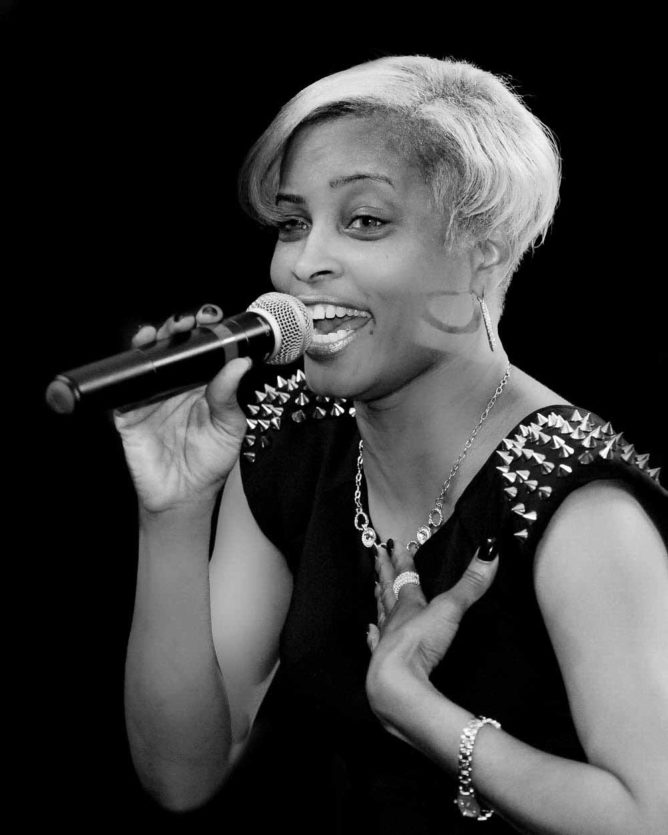 Aretta Woodruff
Blues
With her powerhouse vocals and an indefatigable spirit, Aretta Woodruff is taking charge of the Birmingham blues music scene.
Raised in the dirt-road town of Wellington, Alabama, Aretta Woodruff found her voice in the Hopewell Baptist church choir at five years old and has not stopped singing since. A force to be reckoned with, she brings her indefatigable spirit and powerhouse vocals to every performance. Aretta's talent and commitment to her art have propelled her into fame within the Birmingham Blues and R&B music scene.
Aretta holds her Baptist upbringing close to her heart. She belongs to a lineage of Black vocalists whose strong spiritual connection to music began in the church communities that raised them; "Musicians like Aretha and Whitney and Denise LaSalle, we all share a testimony of where we come from and how we got to where we are today," she explains. Aretta describes her musical expression as a blend of these legends' styles, some old-school R&B and Blues, and a little bit of everything. Her versatility across these genres sets her apart—she brings as much creative fervor to her rendition of "Tennessee Whiskey" as she does to the jazz standard, "Summertime." When asked where she draws her inspiration from, Aretta doesn't hesitate, "I credit God and I give him all praises."
Though her church helped her realize her talent, Aretta did not venture beyond gospel music until the age of 28, when her brother encouraged her to try out Karaoke and her repertoire expanded into R&B and soul. Soon after, she successfully auditioned for background vocals for several artists including Eleanor Spencer, gospel and soul legend Roscoe Robinson, and Mose Stovall. The confidence she earned through her forays into the spotlight made her determined to step onto center stage and assemble her own act. In 2000, she performed her first solo gig and reminisces, "I had more butterflies in my stomach than I've ever seen in a field! But my mom [a vocalist herself] said to me, 'I'm proud of you. You're living my dream.' And that gave me the confidence I needed to succeed."
"That's my sanity, being on that stage. Any thoughts, any problems, they just go away. Now, I'm in my element, I'm doing what I love. I'm focused on these people having a good time, whether it's 5 or 1,000 [fans in

the crowd]."
Twenty-plus years into her solo career, Aretta has been inducted into the Alabama Blues Hall of Fame by the Blues Hall of Fame (2018), in addition to being elected the Blues Female Artist of the Year by the Alabama Music Awards in 2020. She has opened for artists including Denise LaSalle, Betty Wright, the Love Doctor, T.K. Soul and many more.
Aretta's career has come with its share of trials and tribulations. In 2017, Aretta suffered a harrowing stroke that left her temporarily incapable of speech and made walking extremely difficult. "I laid in that hospital bed praying and asking God not to let my kids take care of me like this. Asking, 'You know what I love, you know my passion.' God wanted me to keep singing. Every time I want to give up, God wants me to keep singing."
Through the support of her family, friends and physical therapy, Aretta has fully recovered and is dancing and singing with as much passion as ever. "That's my sanity, being on that stage. Any thoughts, any problems, they just go away. Now, I'm in my element, I'm doing what I love. I'm focused on these people having a good time, whether it's 5 or 1,000 [fans in the crowd]." When she's not performing, she's busy hosting blues jams and karaoke nights to shed the spotlight on up-and-coming artists in the Birmingham music scene.
Aretta tells us, "The way you all make sure you take care of artists, and make sure that we don't need for anything, going or coming. I am humbled because I've never had that and to have that now and to be with Music Maker, it makes me so proud to be a part of the organization. I am so thankful for you guys because now I feel like my work is being more appreciated than it was before and that gives me the inspiration to continue."
Aretta Woodruff was born on 11/13/1967.
Top photo: Aretta Woodruff, Birmingham, Alabama. Photo by Roger Stephenson.