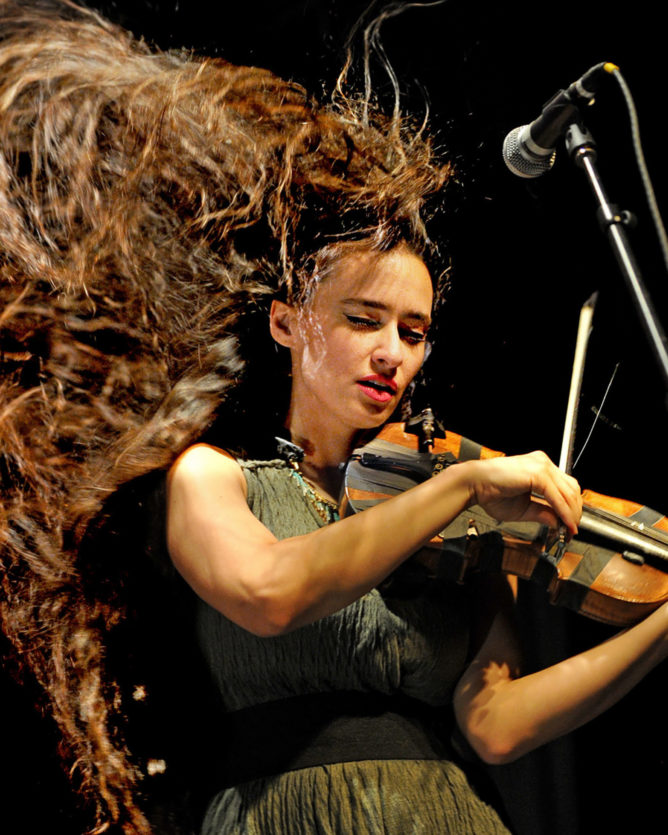 Rachel Ammons
Blues
Multi-instrumentalist Rachel Ammons brings rock and the delta blues to the next generation of Music Makers. With a snare drum, a milk crate, her electric guitar, and gritty vocals, she creates worlds of sounds from a single source.
Rachel Ammons has always marched to the beat of her own drum. Raised in Fort Smith, Arkansas, she is the firstborn of German immigrants. A rebel and tomboy in her youth, she refused to wear dresses and follow rules. She spent afternoons hiding in tall grasses on snake hunts with her father or learning the names of plants with her mother. At recess, she dug her nose into 400-page books instead of playing catch.
On Sundays, her family went downtown to the German-American church her Oma (grandmother) started. The service was more often under the shade of trees than inside the run-down building with faulty air conditioning. "The big thing was choir, and everyone could sing, but especially my mom. She has this Aretha Franklin voice." She inherited this gift; singing felt as easy as breathing to Rachel.
In school orchestra, Rachel found she had a knack for the violin–a talent that earned her a scholarship for classical violin. Instead, she pursued a degree in psychology. After graduating from Hendrix College in Conway, she returned home to apply for a Ph.D. in psychology while working at a mental health unit. Wanting Rachel to keep music in her life, her father encouraged her to sit in with the bluegrass band down at the local bar and meet his friend, Smilin' Bob.
"I was real timid at first," she recalls, "but he [Bob] saw something in me and encouraged it." Smilin' Bob, a grizzled Vietnam Veteran, and Rachel became unlikely friends, and her life changed forever. "From that first week, I was back every week. Some people call it being bit by the music bug," she laughs. What was a hobby quickly became Ammons' livelihood. Bob played in his own one-man band on the side and introduced Ammons to the slide guitar. It was love at the first note, and from then on, she was hooked on the blues. They formed a band, Tyrannosaurus Chicken, and began booking gigs and playing at festivals.
The same thing that drew me to psychology is what draws me to writing songs. I write to process an event. Sometimes I don't understand what I'm writing 'til I've

finished it.
What draws her to the genre? "It's tapped into something different," says Ammons. "The originators of the blues were people in the pit of suffering and loneliness. They came up with the most beautiful art form I've ever heard and it shows the resilience of the human spirit. Music sung on a chain gang or as a field holler can give strength to your body and mind and take you away from the pain you're feeling. It was music made out of necessity, to keep people feeling alive and human and connected."
After almost a decade of friendship, Bob grew ill and Rachel knew she wanted to carry the torch. With Bob's blessing, she learned to hold her own as a one-woman band. Now, she takes the stage as a No-Man Band (the title of her album). "Bob's philosophy was that you don't have to be good to have a good time. If you try to get perfectionistic, you can't do it. It takes the performance anxiety away when it's not a performance; I'm expressing myself. I've learned to just go with it, just play!"
Being a solo act comes with its challenges, however. Booking gigs, loading the van, and engaging with fans all fall on her shoulders. Her partnership with Music Maker lightens the load: "It's given me wind in my sails. There's people who have seen it all and they think I'm worth something. I can go to them for advice, and it's nice to feel like somebody's on my team. Music Maker has done stuff for me like I'm in the big time. I hadn't had a computer for a few years, and Music Maker helped me out with that. Every little thing like that gives me more momentum. These people in the Music Maker community are the real thing, and getting to be a part of that is something special."
Ammons follows the music to find healing. "I work on transcending pain a lot. The same thing that drew me to psychology is what draws me to writing songs. I write to process an event. Sometimes I don't understand what I'm writing 'til I've finished it. When I've been in a real bad place sometimes just playing a note over and over is something to hold onto. You can get jamming and escape the bonds of sadness and thought. The self-editing, inhibitory neuronal pathways literally shut down when you're just improvising. It's a gift that humanity is able to tap into that."