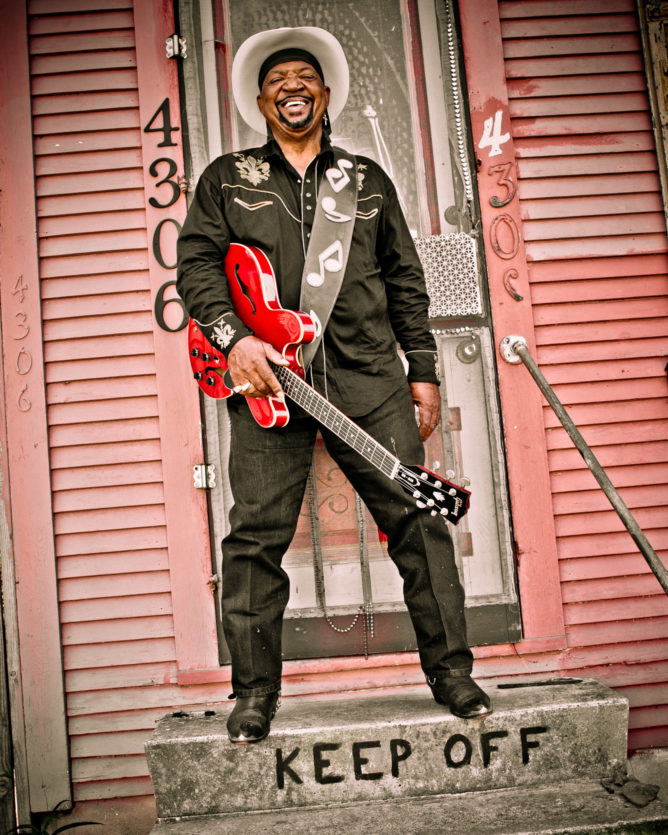 Guitar Lightnin' Lee
Blues
A native of New Orleans, LeRoy Williams — aka Guitar Lightnin' Lee — plays rhythm and blues with the exuberance of a man half his age. And he does it with a band of men who are half his age.
An Exuberant Example of New Orleans Rock and Blues
When he was in his 60s, Guitar Lightnin' Lee, a multitalented rhythm and blues purist, defied all rational logic by assembling a band with a bunch of rock and rollers half his age. In 1997, Lightnin' found a young drummer, Paul Artigues. They played together for years working on their sound. With the addition of slideman Ted Mathews and bassist Marvin Hirsch, they formed the Thunder Band, and began recording and performing.
Lightnin's talent, lyrics, powerful voice, and boisterous personality match perfectly with his backup band. They play a raucous, supercharged style of New Orleans rock and roll and blues. The band filles the music with a youthful exuberance, and you can't just credit the younger members of the band for that — Lightnin' is the most buoyant of all.
"We were all little busboys or porters back then, in the '50s. And I met this friend from Eunice, Louisiana — Murphy Washington. Him and his brother, Ray, had guitars, and they loved Jimmy Reed. They started teaching me Jimmy Reed songs, and that's how it

all began."
Guitar Lightnin' Lee
Lee radiates the spirit of New Orleans music, and he comes by it honestly. Raised in the Lower Ninth Ward in New Orleans, Lightnin' had music all around him. After learning from New Orleans blues great Boogie Bill Webb, Lightnin' went to Chicago to search out his inspiration, the electric blues pioneer Jimmy Reed. When Reed wasn't throwing Lightnin' out of his house or telling nim to go back to New Orleans, he was showing Lightnin' his style of Delta blues via electrified Chicago.
After moving back to New Orleans, Lightnin' played with and around such New Orleans legends as Earl King, Fats Domino, Ernie K-Doe, Little Freddie King, and scores of other brilliant New Orleans musicians. Lightnin's ears were wide open to the sound around him and he soaked it up like a sponge. For years he listened, learned and honed his playing and songwriting skills in the best company.
With a little assistance from Music Maker, Lighnin' was able to win a bout with cancer in 2019, and now he's gigging again with the same exuberance that has always marked his music.
Guitar Lightnin' Lee Was born Leroy Williams on August 23, 1942.
Top photo by Greg Roth.