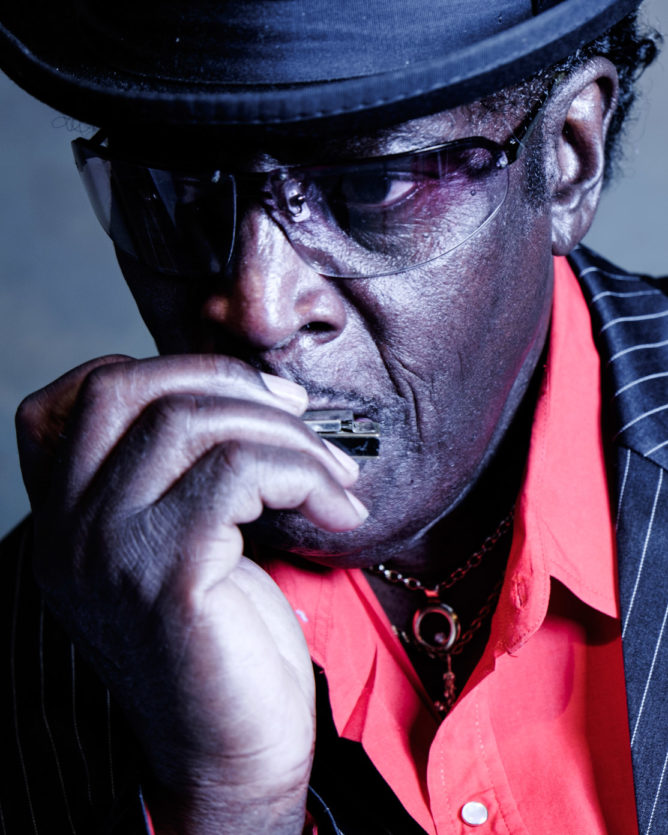 Sam Frazier Jr.
Blues
At the height of the Civil Rights Movement, Sam Frazier Jr. performed regularly on "The Country Boy Eddie Show," a television program with a predominantly white audience.
An Unlikely Country Star in Birmingham
In 2015 a manila envelope arrived at the Music Maker office containing a letter of praise for Sam Frazier Jr., written by his niece for her favorite uncle. The package also included posters from Sam's music career over the years and photographs from his performances — her uncle, a large African American man, performing country music. Not the blues, not R&B (although Sam ventured into those genres in his career) — but country.
Sam had grown up in the blues tradition because his mother ran a juke joint in Edgewater, Alabama — one that was frequented by the likes of blues legends Sonny Boy Williamson, Jimmy Reed, and Slim Harpo, who taught young Sam to play the harmonica. But Sam grew up loving country music as much as he loved the blues. Listening to the "Grand Ole Opry" on the radio, he came to love the music of Hank Williams and other country greats.
His first venture into the music business came in the late 1960s when he and his sister, who played under the moniker Carolyn & Sam, traveled to New York City to record an R&B single, "Congratulations Honey." The tune only got moderate airplay in New York, and the Fraziers quickly came home to Birmingham, Alabama.
"When Sonny Boy and Slim got those harps, there wasn't no sleepin' for me. Nothing but just them and a harp and pattin'

his foot."
Sam Frazier Jr.
Sam was working in a car dealership when a salesman on the lot introduced him to a country musician named Eddie Burns. Eddie was the host of WBRC-TV's long-running show called "The Country Boy Eddie Show." At about the same time, the great African American country artist Charley Pride was breaking through on the country airwaves and appearing on the "Grande Ole Opry." So, when Eddie met Sam, he encouraged Sam to follow his love of country music. Soon thereafter, Sam became a regular on Eddie's TV show.
That was how Sam Frazier Jr. — at the height of the Civil Rights Movement, living in a city known for its white supremacist violence — came to play country music every Saturday night on a television show aimed squarely at a white audience. Sam is a perfect example of how the musical culture of the South can so freely hop across racial barriers.
Sam Frazier Jr. was born on August 8, 1944. He died on March 23, 2021.
Top photo by Tim Duffy.