A Sacred Soul Showcase For Record Label Executives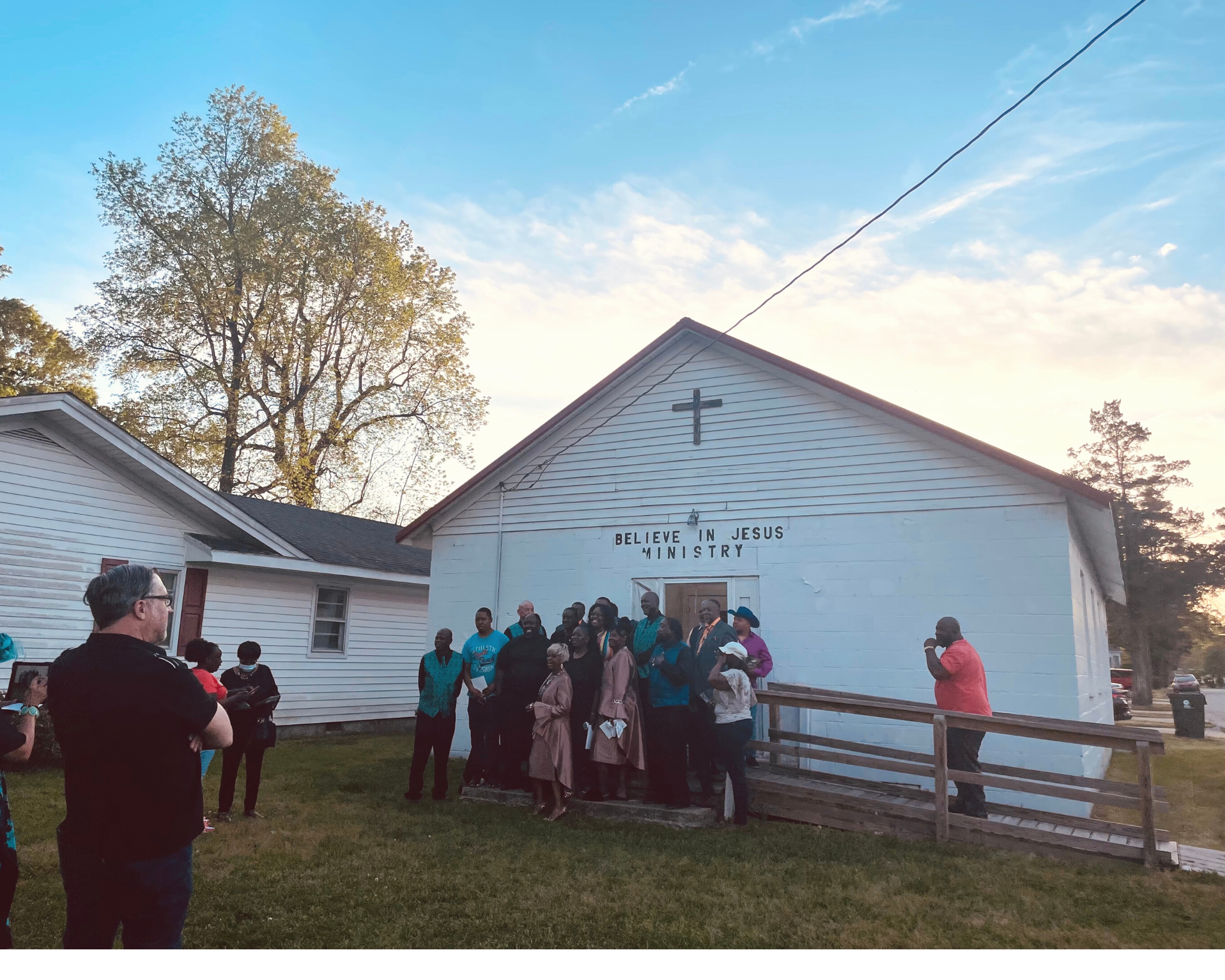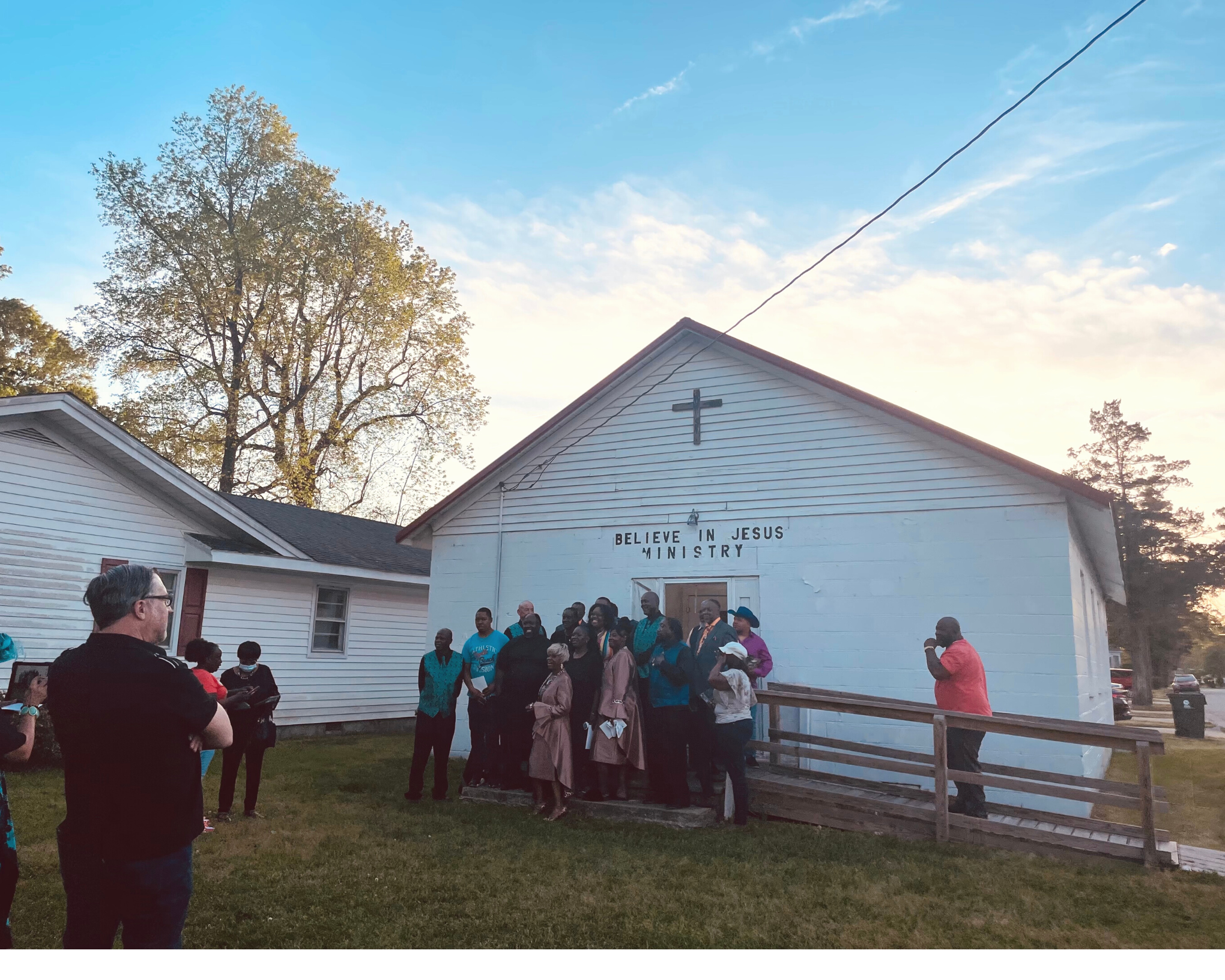 On a peak-bloom mid-April afternoon, Alice Vines — of the Glorifying Vines Sisters — corrals gathering neighbors and musicians up a wooden ramp and through the front doors of her church hall, situated on a quiet residential corner in Farmville, North Carolina. The late-day sun illuminates a stenciled sign across the entrance of Believe in Jesus Ministries. 
Like Alice herself, this cinderblock structure serves as a fulcrum of the surrounding community — a gathering place where worship is synonymous with the sound of what is best described as Sacred Soul music. This distinctly regional tradition dates back to the 17th century in this sector of the Southeast and spills effortlessly from past generations to the next. 
The Vines Family's roots run deep through Eastern North Carolina. The Glorifying Vines Sisters is a family affair; All six of the Vines daughters have joined at some point since 1958. The women learned to sing from their father, who learned from his mother. Often accompanied on instrumentals by their brothers, the infamous Gospel quartet has insulated a revered musical tradition. In partnership with Music Maker, the Glorifying Vines Sisters' legacy will sustain for future generations. 
Music Maker's partnership with the Glorifying Vines Sisters, and their brother, bluesman and guitar maker, Freeman Vines began in 2017. Together, they formed a synergetic relationship with a shared mission to ensure their voices are heard and their stories are told. 
Creating cultural equity means connecting regional acts with opportunities to expand their imprint. Education is a pillar of the Music Maker Foundation that works to provide access to musical treasures often hidden by history or poverty. 
Events like this one require both Vines' regional knowledge and relationships, and Music Maker's broad industry network. As the founder and beloved pastor of Believe in Jesus Ministries, Vines' reach as a community matriarch is wide.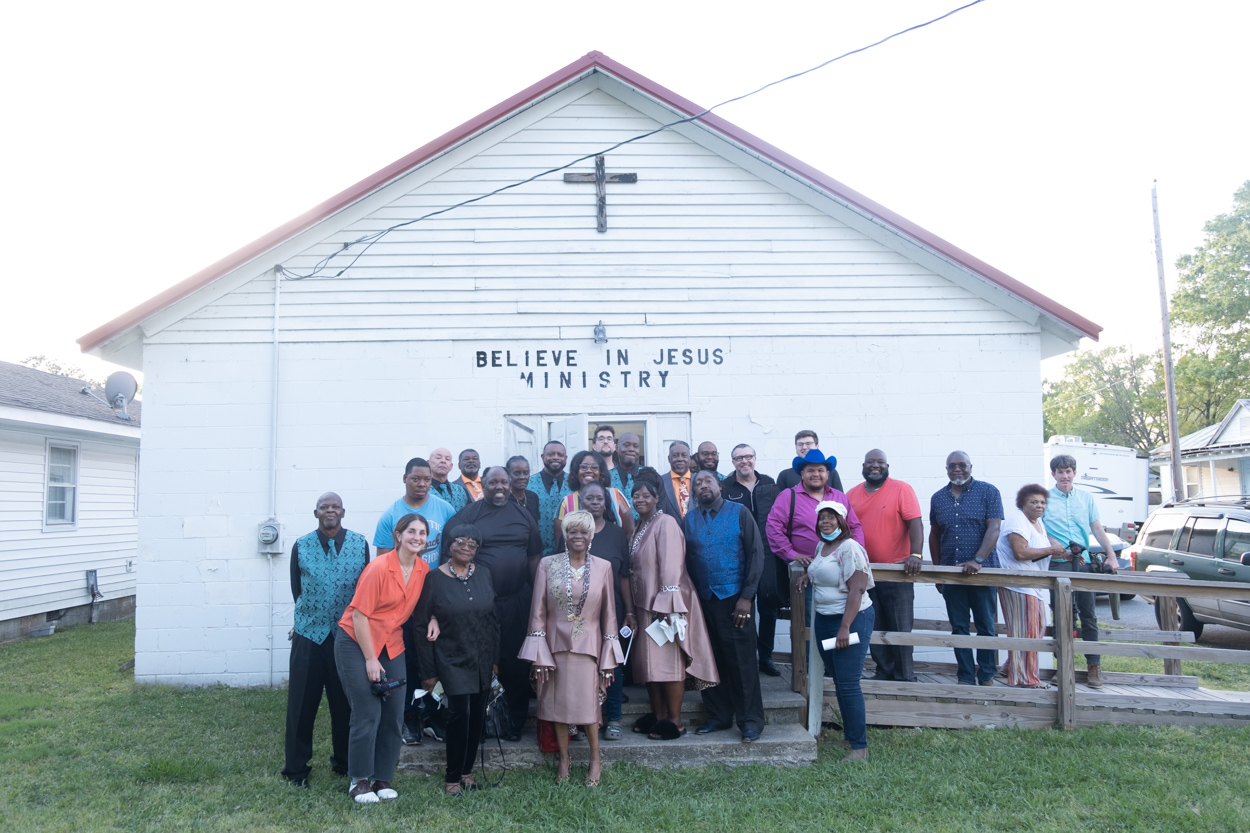 On this particular Friday afternoon, a hand-selected batch of local Gospel talent gathered to perform for a special guest: Bruce Watson of Oxford, Mississippi's Fat Possum Records. 
Watson arrived from Memphis with his counterpart Will McCarley to scout talent for their new sacred soul record label, Bible & Tire Recording Co. — a Music Maker partner. With room on the annual docket for one more album, the industry vet brought an open ear to listen to five groups perform four songs each. 
Here, in the epicenter of Gospel music, Watson is sure to find his match. 
"Y'all know you've got the best Gospel music here in Eastern NC, but the rest of the world doesn't know

that yet."
Denise Duffy
But why would Watson trek over 800 miles to this town with a sub-5,000 population? Music Maker's co-founder Denise Duffy explains in her introductory greeting to the group: "Y'all know you've got the best Gospel music here in Eastern NC, but the rest of the world doesn't know that yet."
Through Bible & Tire, Watson hopes to export this regional commodity, further sanctifying the musical tradition by bringing it to popular attention. 
Despite the high stakes, Vines encouraged friendly competition among the participating talent. "There are some Gospel singers out there that try to outdo each other, but that's not what it's about," she explains. "It's about love."
Vines continued with an opening prayer — thanking the Lord for bringing this group together, Music Maker for their continued support, and Watson for traveling to her hometown for this exciting event. Her prayer, in seemingly typical fashion, escalated, combusting into song and dance, rousing most attendees out of their chairs.
These five groups encouraged each other throughout the showcases, clapping along and calling out an "Amen" every so often in earnest agreement.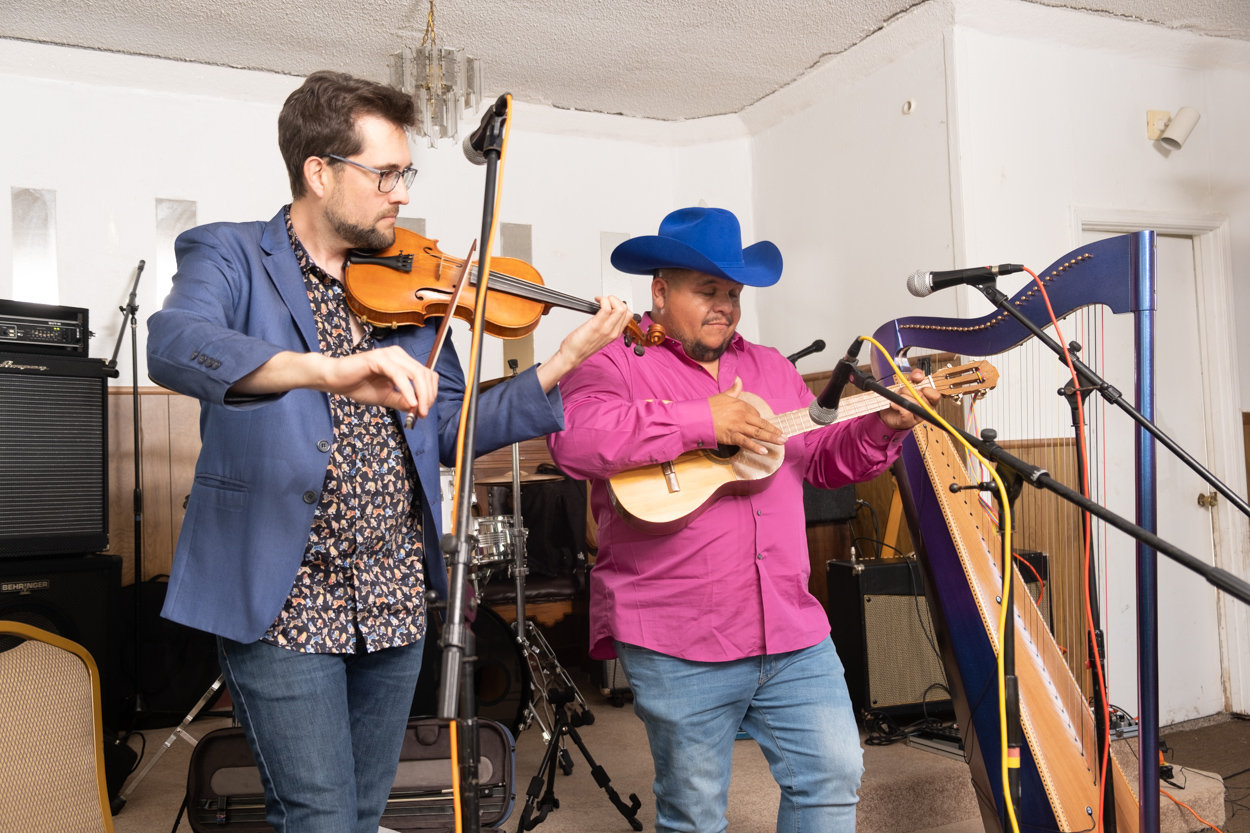 To begin, the Music Maker team introduced a new partner-artist duo, Larry Bellorín and Joe Troop. Bellorín hails from Monagas, Venezuela where he is a legend of traditional Llanera music. Troop is a North Carolina native and GRAMMY-nomiated bluegrass and oldtime musician.
Together, they performed a fusion of Venezuelan and Appalachian folk with Troop on the fiddle and cuatro and Bellorín on the harp — a recent gift from Music Maker's programs.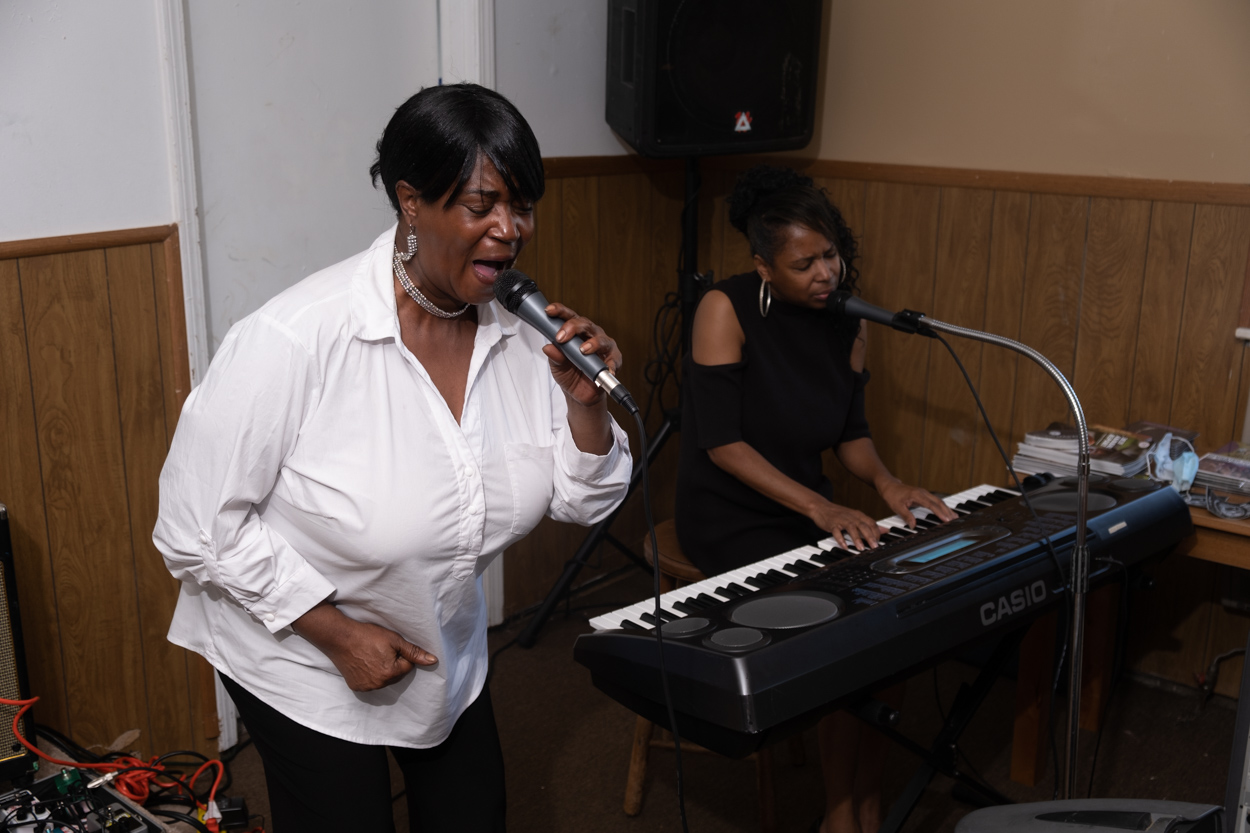 First up from the gospel groups was the female vocal-and-piano duo, Trin Divine. Their climbing harmonies reach heights capable of closing the vertical distance between this church and heaven. The two women — Penny and Alice — exhibited an endearing dynamic as they reached out to hold hands for their final performance.
Their combined vocal strength negated instrumental accompaniment, as their soulful messaging rang out loud and clear through hymns like "Amazing Grace." 
Hailing from an hour north,  "Lil' Buck" & The Disciples set up next with a starkly contrasting sound. The drummer kept perfect percussive time as three electric guitars swayed along the five-piece group's rollicking selections.
The back beat on their breezy "Gentle Like A Tree" elevated the harmonic chorus lines for a groove-driven approach to Gospel.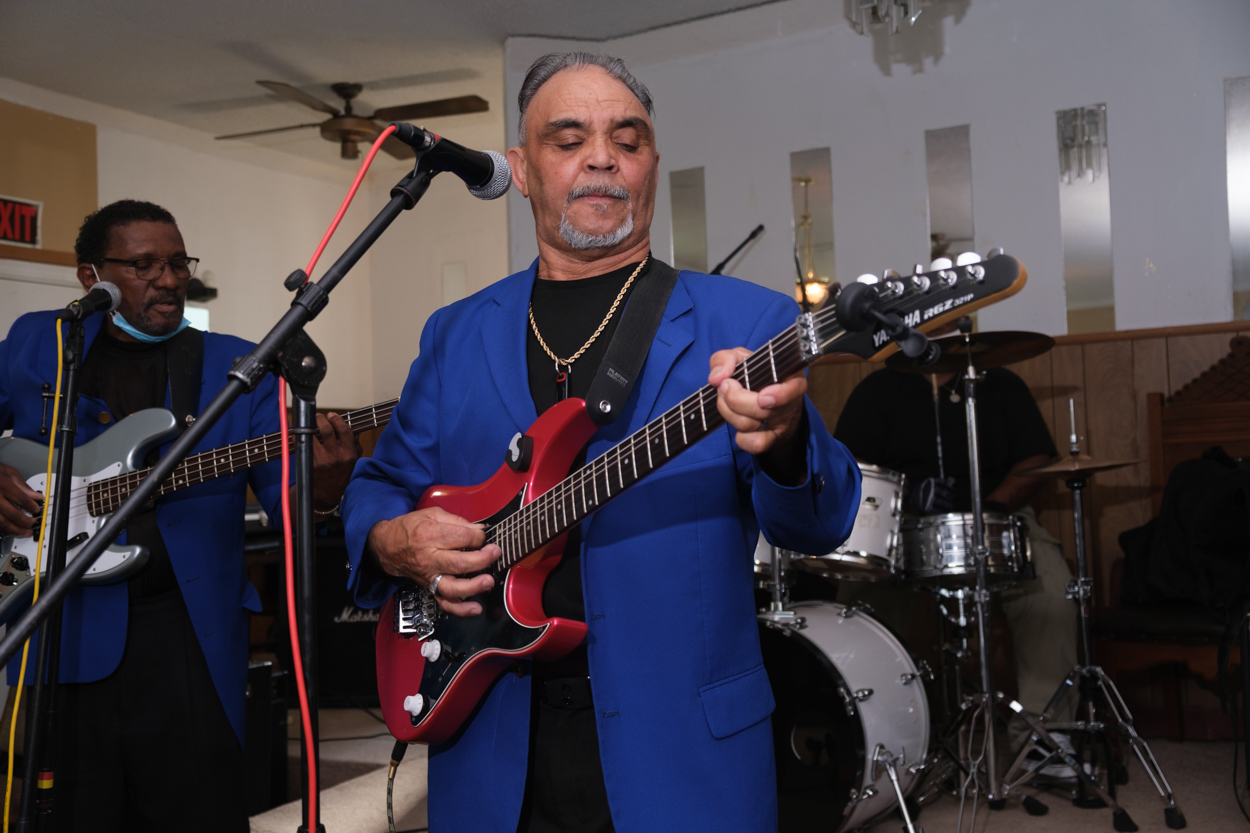 Led by Shirley McNeil — Vines' "favorite dance partner" — the Gospel Singers of Faith strutted down the aisle, adorned in decadent regalia; pink satin skirt suits with a tasteful touch of animal print. The five women helmed the stage on vocals, with a drummer behind them, and two pianists on bookend keyboards. 
Vines clapped along with glee for their "A Change In Me," bringing much of the room to their feet in praise.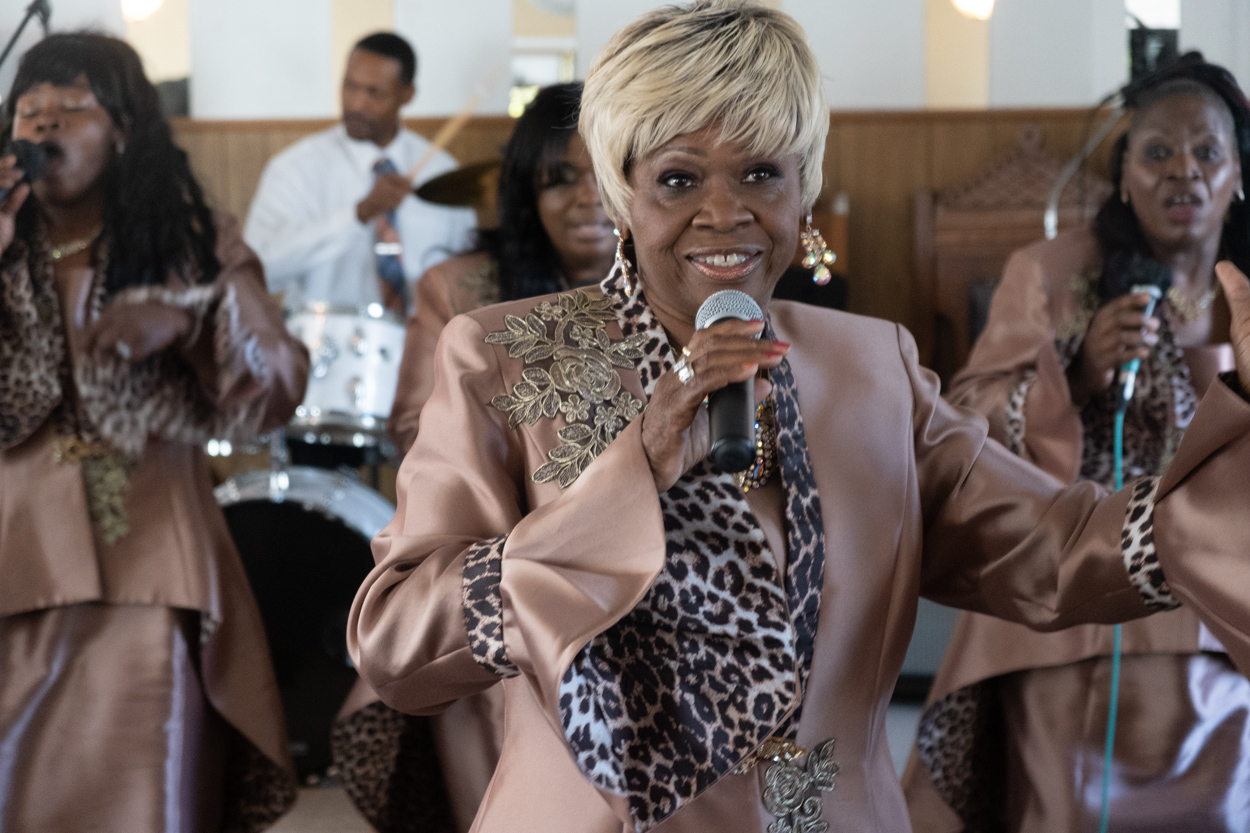 Next up is a four-piece group — outfitted in orange down to their orange velvet dress shoes — helmed by Bishop Jerry Harrison, who declares himself "of the old school Gospel quartet." 
He is a storyteller in every sense of the term, wielding music and spoken word to illustrate a place in time he holds dear. 
Raised in a country church, Bishop Harrison reflects on his religious roots in a searing recitation song about his Sunday morning ritual.
The lyrics describe a long walk through the woods to a modest church house with his grandmother. He recounts with admiration the no-frills place of worship, where they would arrive early to "jack the windows up" in place of air conditioning. 
Employing sharp guitar licks and a resounding "ch-ch-ch" sound from behind his teeth, Harrison brought to life the vision of his grandmother strumming across the ribbed surface of her washboard — a makeshift worship instrument she would tote with her on their journey.
With the same animation, the band lead recalls a recent battle with COVID-19 he feared would take his life. Over the course of six days in bed, he lost nearly 45 pounds. With this close call in mind, he offered, "I don't have no friend like God," because "he never gave up on me."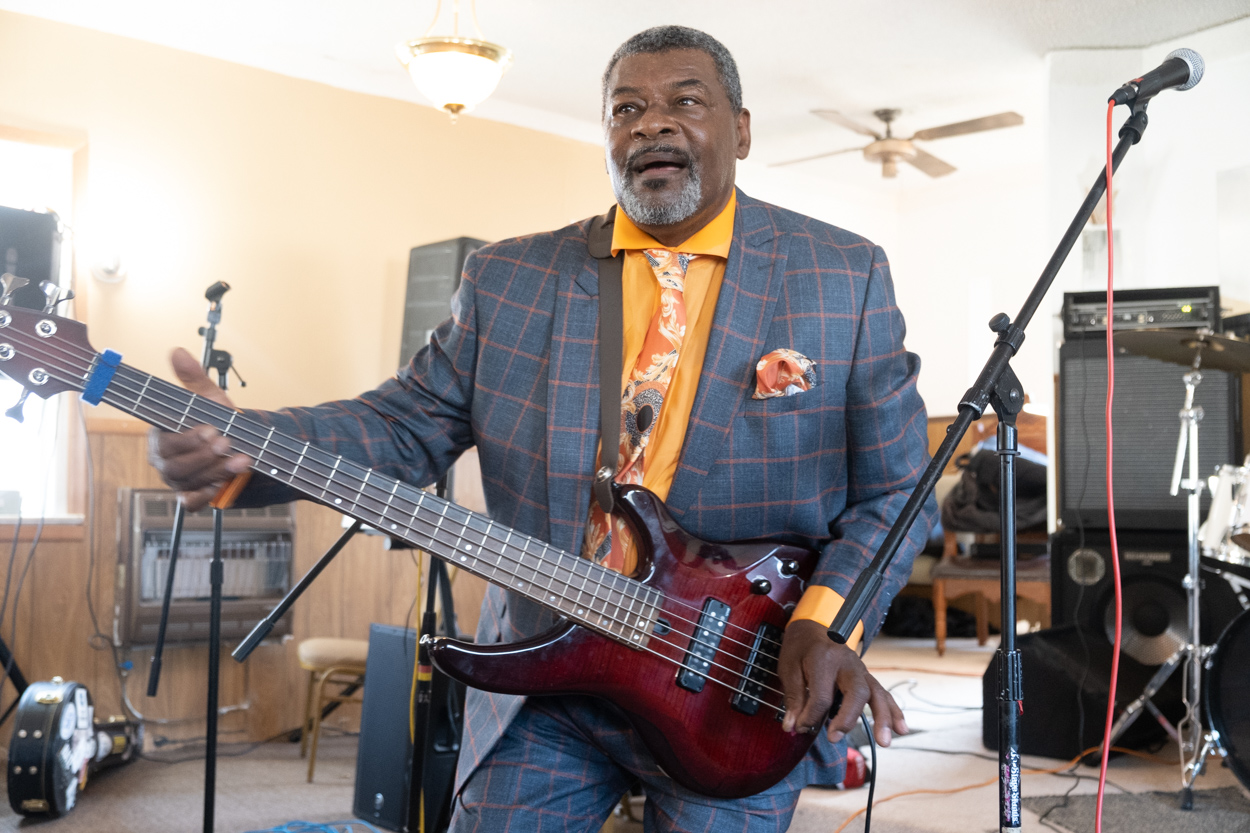 Outfitted in sharp teal tie-and-vest suits, Another Spiritual Level kicked up an arena-rock effect with their seven-man set. The floorboards were nearly bending as the percussion-driven blues band pressed the listeners with the rhetorical: "Will you be ready?"
The final act, Long John and the Silver Stars, shut down the showcase with a congenial clap-along set that drew the most audience involvement of the evening. Long John, their charismatic front man, hosts a kinetic energy that captures the listener for an out-of-body experience.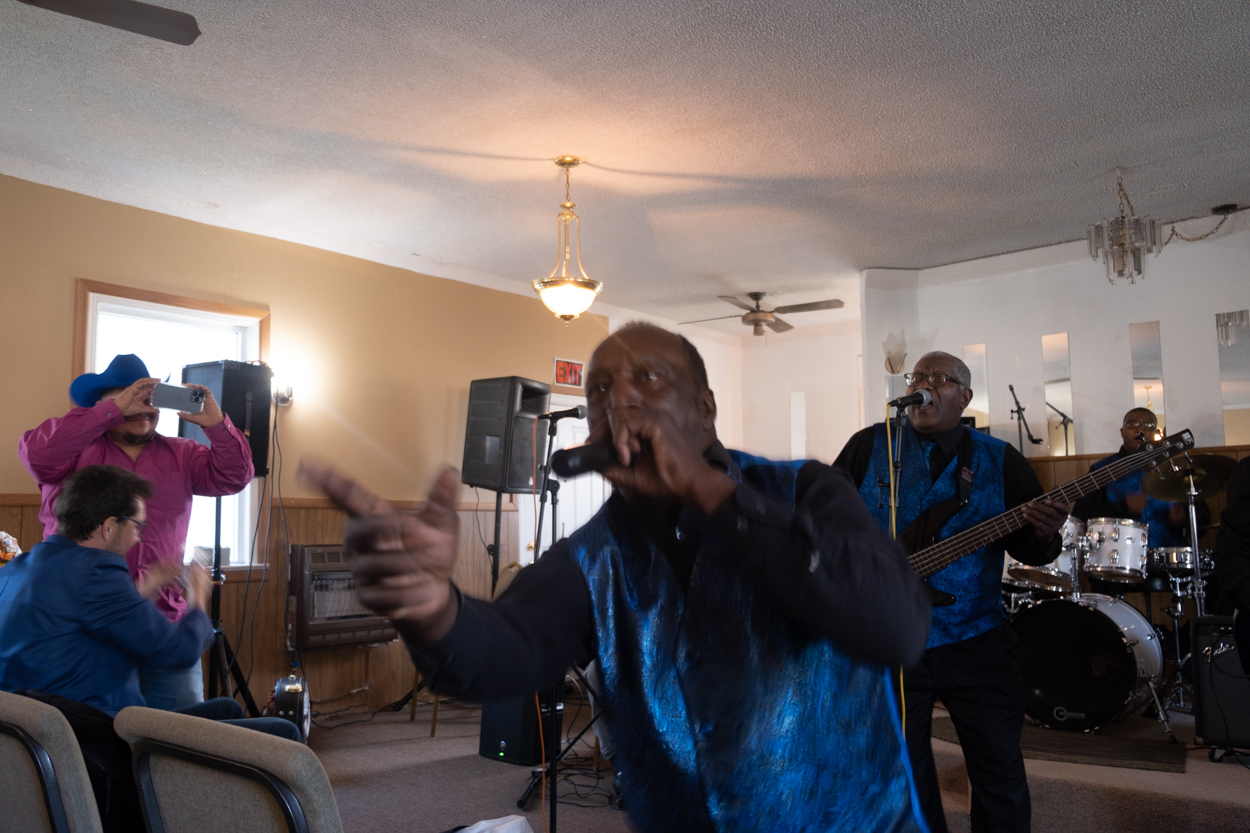 There is a celestial component to performing in a sacred space, such as this community church. And the joy derived from this practice emanates through each group as they take the stage. Beneath their palpable faith, each of these musicians reveals a layer of sheer talent that transforms a humble church hall into an acoustically sound space for a transcendental performance experience. 
The sonic diversity across these five groups suggests the genre label of 'Gospel music' is broad. But listening along, the influence this age-old tradition played in the formation of modern rock 'n' roll and rhythm and blues is undeniable. This large-scale imprint necessitates the type of documentation that an album, distributed by a major label like Bible and Tire, could provide. 
In partnership, Music Maker works to bolster Vine's unique ability to shepherd communities through Gospel music. The foundation's role is that of the connector — bringing key industry players like Watson into the regional fold of hidden treasures. Bridging these two worlds sets cultural equity into motion.