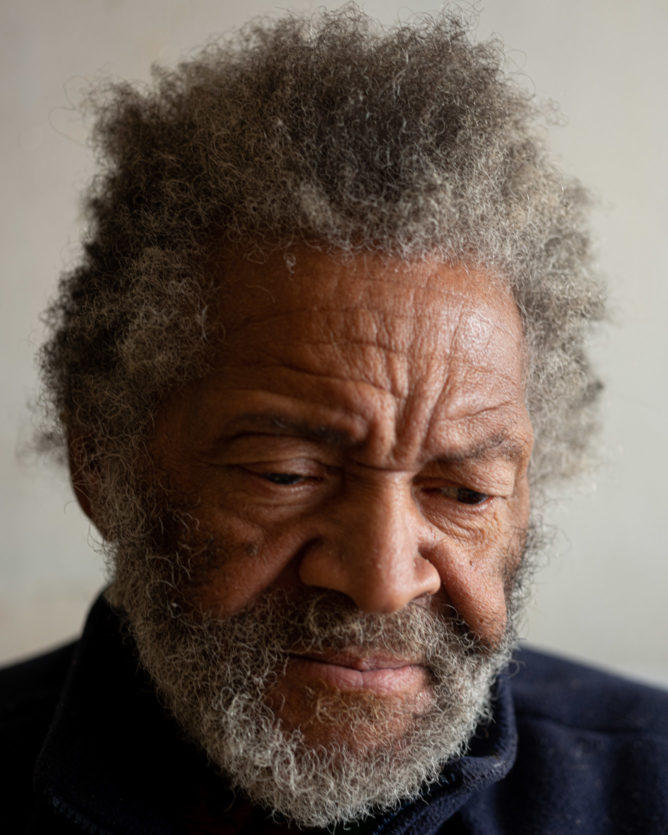 Freeman Vines
Blues
He once heard a guitar tone that stuck in his brain, and he spent decades building guitars in the hope of reproducing it. Along the way, he became one of America's greatest 21st century artists.
An Artist Whose Work Embodies America Itself
Freeman Vines played the blues, and he made his first guitars because he was searching for a sound he heard once and then never heard again. Assembly-line Fenders and Gibsons were too conventional to give voice to the music he imagined. Over the course of his life, he has worked with all kinds of materials in search of that sound: the steps of an old tobacco barn, the soundboard of a disassembled Steinway piano, and, most famously, wood from a hanging tree.
The first time Music Maker co-founder Tim Duffy met Freeman, he pulled out some black-walnut planks from a batch of wood he had not yet worked with. Freeman said he's gotten the wood from a man named Mr. Jefferson.
Freeman says that when he arrived to get the wood from Mr. Jefferson, he said, "Vines, I'm gonna tell you now. You're black, and I'm white. That wood there came off a hanging tree."
"I don't even believe that," Freeman replied.
Jefferson said, "I don't give a damn what you believe. They used to hang people on that tree."
"Each of his creations seems to embody a dance between life

and death."
Ted Scheinman,

Smithsonian Magazine
That's when Music Maker went to work, digging through libraries and old newspaper clippings to discover that the tree stood outside the home of a man named Oliver Moore, who, in 1930, had been pulled from the Edgecomb County jail to be lynched on that tree.
Freeman's long working relationship with Music Maker has taken his work into museums in America and Europe. It also became a book called "Hanging Tree Guitars." A companion CD of Music Maker artists was named the best album of 2020 by Robert Christgau, the "dean" of music critics.
Perhaps the best explanation of the forces that drive Freeman's work comes from folklorist Zoe Van Buren, who wrote the text of "Hanging Tree Guitars":
"To meet Freeman Vines is to meet America itself. … He has been broken and healed, and traversed the American spiritual realm from Christianity to voodoo to the occult in the pursuit of knowledge and answers. Raised in the Jim Crow South to a family of faith and long memory, Vines has experienced firsthand the interrelated systems of free labor on which his country operates, from the postbellum plantation economy of sharecropping to forced labor of chain gangs. He is a citizen, and a man removed from citizenship."
Freeman Vines was born On September 15, 1942.
Top photo by Tim Duffy.