Larry Bellorin & Joe Troop: Music of the Nuevo South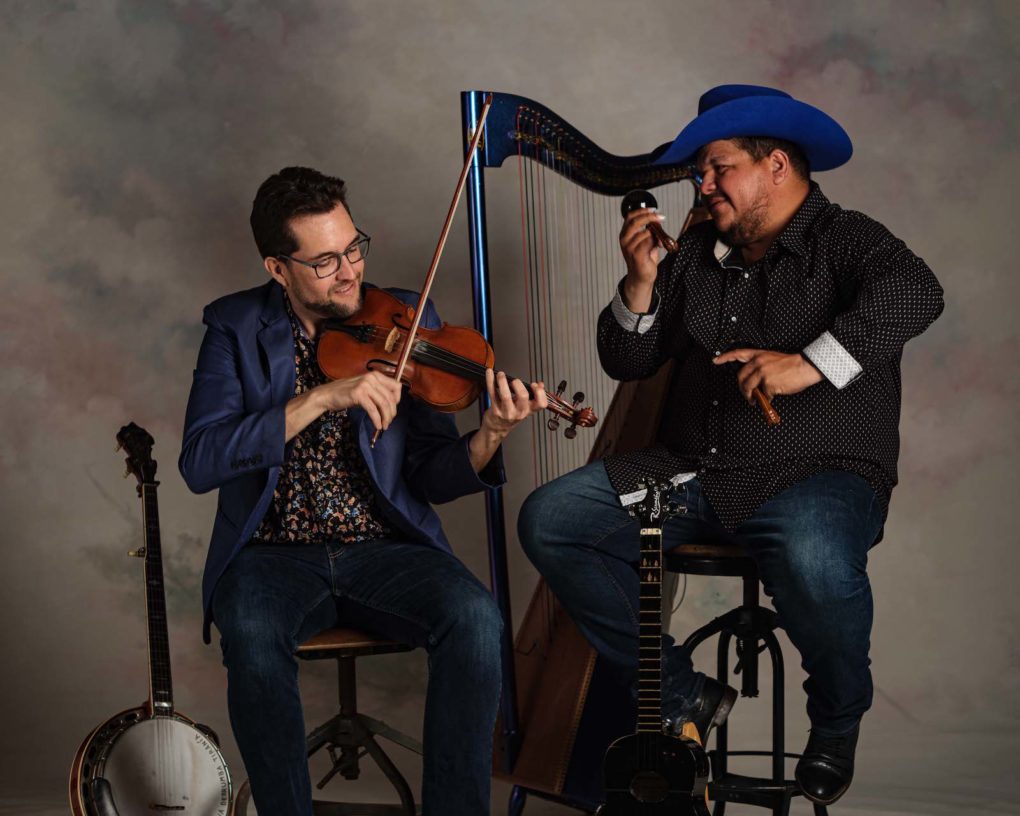 by Sophia M. Enríquez
Across central North Carolina, a network of Latino-owned mercados, or supermarkets, sustain many local households with Latin American food staples—fresh tortillas, tropical fruits such as mangoes and guayaba, and cuts of meat ideal for a weekend carne asada. In the window of La Plaza Latina (a popular market in Raleigh), flyers advertise upcoming music events in the local Latino community: a rodeo and banda concert in Lumberton, an Aztec dance festival in Durham, and a Latino arts festival in Apex. One flier in particular advertises the Atardecer Llanero–an annual event in Graham organized by the Venezuelan Cultural Association of North Carolina, and features an unexpecting musical duo—master Venezuelan harp player Larry Bellorín, and bluegrass banjo player and singer-songwriter Joe Troop. Since late 2021, Bellorín and Troop have been collaborating on a project that explores Venezuelan-Appalachian music, a new paradigm that's challenging our ideas of roots music in the South. But this duo's work isn't just musical—as the pair gains momentum across Appalachia and the South among both Latino and non-Latino listeners, their music raises important questions about our relationships to one another, Latino migration to the South, and the shifting musical footprint of the United States. Amidst widespread anti-immigrant rhetoric in the region and unjust migration policies nationwide, Troop and Bellorín show how joy and creativity through music-making persist and offer a healing path forward.
From Winston-Salem, North Carolina, Joe Troop recently returned to his home state after spending a decade in Buenos Aires, Argentina. Troop learned the banjo as a teenager and was a well-established touring bluegrass musician by the time he started language studies as an undergraduate at UNC Chapel Hill. His interest in Latin music was sparked through his time in the UNC Charanga Carolina ensemble and through study abroad opportunities. His connections and interests eventually led him to Argentina. There, he worked as a musician and educator teaching Latin American musicians Appalachian string music traditions. In 2013 he formed the group Che Apalache, and the group's album Rearrange My Heart, produced by banjo legend Béla Fleck, landed a GRAMMY nomination in 2019. Che Apalache's 2020 tour of the U.S. came to an abrupt halt at the onset of the pandemic. His bandmates returned to Argentina and Mexico, and Troop decided to ride things out in North Carolina. Now based in Durham, he's spent the past two years connecting to cultural organizers, social justice advocates, and roots musicians across the state, as showcased in the video series "Pickin' for Progress", filmed and produced by Iximche Media.
I first connected with Troop in 2018 while completing my doctoral dissertation about Latino music, migration, and community in Appalachia. As a daughter of an Appalachian mother of Scots Irish ancestry and a Mexican-American father from Mississippi, the confluence of Latin American and Appalachian cultures has been central to my own story. As I became increasingly interested in Appalachian music as an undergraduate student at West Virginia University, however, the absence of contemporary Latino voices in these traditions was alarming. I began to ask questions about why the stories of Latinos in Appalachia and the South (such as that of my own family) have been erased or forgotten, and how uncovering these stories might help us to better understand the growing southern Latino community and the creative practices they bring with them. Along the way, I encountered Troop's "latingrass" band among a broader network of musicians connecting regional Appalachian, Southern, and Latin American music.
I crossed paths with Troop again when I moved to Durham amidst the tour of his 2021 solo album, Borrowed Time. Produced by Jason Richmond, the album features Fleck, Abigail Washburn, Tim O'Brien, Charlie Hunter, and showcases Troop's talents as a vocalist, songwriter, and multi-instrumentalist. Amidst the ever-shifting COVID protocols for live performances, what was supposed to be a ticketed show in Raleigh turned into a house concert in Durham. Troop's new album was a hit, bringing crowds of all types to their feet and offering messages of solidarity in the wake of ongoing social and political strife–like in the song "Hermano Migrante" ("brother migrant"). Several months later at a Día de Los Muertos, "Day of the dead", event in Raleigh, I was introduced to Larry Bellorín. There, he performed a set of traditional Venezuelan tunes on the harp—melodies that stirred me to the edge of my seat and left me wanting to know more about Bellorín and his music. Bellorín expressed to me his interest in the folk traditions of the U.S. and of connecting to more local musicians. A few weeks later, Troop shared his plans for a month-long residency at the Fruit, an arts venue in Durham, in which he planned to feature musicians from the Latino community. I connected Troop to Bellorín, in hopes the two might find some common musical ground. They did: Bellorín captivated the crowd at Troop's residency in December, every one of whom jumped to their feet with a standing ovation.
Bellorín grew up in Monagas, Venezuela, in the eastern plains of the country, but took an interest in the traditions and culture of the western plains from a young age. Known for cattle raising and crops such as cacao, sugarcane, sorghum, corn, coffee, tobacco and wheat, the western plains of Venezuela are also home to the joropo music tradition, also referred to as música llanera (literally, "plains music"). Like most folk traditions of Latin America, llanera music evolved through the interaction of African, Indigenous American, and European musical practices in the context of the enslavement of African peoples and the Spanish colonization of Latin America. Central to llanera music is the cuatro—a small four-stringed guitar that provides the harmonic foundation of most llanera song forms and allows for a wide range of percussive effects that give way to the tradition's driving rhythmic core. Llanera music also features the melodies of the llano harp (distinct from other Latin American harp styles found in Paraguay, Mexico, Ecuador, and Peru), the Venezuelan bandola (a mandolin-like stringed instrument), and the maracas, typically handcrafted from a tutomo gourd. By the time he was a teenager, Bellorín was well-versed on the cuatro, which paved the way for his study of the harp under the renowned llanera harpist Urbino Ruiz.
Bellorín cultivated a successful career teaching and performing music throughout Venezuela. He gained national attention for founding the Casa Vieja, a music school dedicated to llanera music, and for first place wins in all four vocal styles at El Silbón, an annual contest of llanera music. For 24 years Bellorín was able to live exclusively off of music. But the election of president Hugo Chávez changed his and millions of other Venezuelans' life trajectories. A polarizing figure with uncompromising anti-western views, Chávez's presidency ignited widespread humanitarian and economic crisis—hyperinflation, heightened crime, mass emigration, and the murder of thousands of Venezuelans who voiced opposition. Continued threats under the rule of Chávez's successor Nicolás Maduro led many more to flee the country in the 2010s, including Bellorín. In 2016 he arrived in North Carolina, where his family later joined him. According to the Migration Policy Institute, by mid-2020 nearly 3.6 million Venezuelans had been displaced globally. Today, the U.S. Venezuelan population stands at over 550,000, with the Census Bureau reporting 57% of Venezuelan migration to the U.S. in the last twelve years alone.
Though many Venezuelans in the U.S. come from a middle-class background and have extensive professional experience, the U.S. seldom recognizes non-domestic training and certifications without status of legal residenecy, making it difficult for undocumented or asylum-seeking migrants to find work in their respective fields. Upon his arrival in Raleigh, Bellorín joined the 4.2 million migrants who have applied for asylum in order to achieve legal status in the U.S. He currently works as a heavy machine operator for a construction crew while he waits for his case to be reviewed.
Bellorín is already the Triangle area's most in demand salsa bassist, and he plays regularly with several orchestras. He is also the co-founder of Son Latinos, a group he started with other Venezuelan musicians. Bellorín has pursued several recording projects while in the U.S., including the albums Color de Mí Folklor and Palabras Vivas. Not until Bellorín's collaboration with Troop, however, has his music reached English speaking audiences and been included in programming alongside other folk music traditions. Troop and Bellorín perform on a variety of instruments including the cuatro, maracas, fiddle, bass, and guitar guitar–a majority of the duo's repertoire, however, is showcased on the banjo and harp. Troop's mastery of the banjo and sensibilities toward South American melodies act as a complement to Bellorín's command of traditional Venezuelan rhythms and song forms. This relationship is reflected in the duo's version of "Caballo Viejo" (old horse) by mid-twentieth century Venezuelan composer Simón Díaz. "Caballo Viejo" tells of a horse who is nearing the end of its life, but finds hope at the prospect of love, eventually traveling across the plains to build a new life. In Troop and Bellorín's arrangement, the pair trade off singing verses as the banjo and harp take turns playing the melody, anchored by the polyrhythmic patterns of the pasaje (a quick 3 song form). The overarching rhythmic effect mimics the gallop of a horse–many llanera tunes reflect the herding tradition of the plains, with lyric and rhythmic references to place, home, and the natural world that are similar to the lyric themes of much traditional Appalachian music.
Troop and Bellorín's version of "Caballo Viejo" doesn't just demonstrate how Latin American and Appalachian musicians might build relationships through the merging of musical styles, instrumentation, and lyric possibilities, but also demonstrates how to build better relationships with and among Latino communities in Appalachia and the South. As of 2021, Latinos accounted for nearly 13% of North Carolina's total population, and nearly 30% of Latino migration to the U.S. in the past decade was shown to be concentrated in the South. Historian Perla Guerrero has referred to this demographic shift as the Nuevo South (New South), arguing these changes show that Latino communities in the South are no longer emergent, but have been rooted in the region for several generations, bringing their music, dance, craft, and food practices with them.
In a 2019 editorial for the North Carolina Arts Council, David Garcia, professor of music and founder of UNC Chapel Hill's Latin Music ensemble, even traces the history of Latin music in North Carolina back to the 18th century. Garcia tells of how Venezuela-born exile Sebastián Francisco de Miranda traveled the eastern coastal United States from 1783-84: Miranda documented his observations about emerging regional U.S. culture as well as some of his own activities as a flute player in his journals. Considering Miranda's travels, Garcia asks: "How many more Mirandas, both men and women, traversed the mountains, plains, and coasts of North Carolina from the 1800s through the early 1900s? And, how many of these early Latinos in the state were musicians or participated in music making and dancing with North Carolinians?". Thinking through the questions Garcia raises, we might view Bellorín and Troop's creative work not as an exception or novelty, but as indicative of the cultural, musical transformations of the Nuevo South that connect Venezuelan musicians Miranda and Bellorín from the 18th century to today. These historical and contemporary relationships allow us to understand that Latin American and Southern traditions are anything but contradictory, rather, they are in deep, close relationship to each other.
Latino experiences in the South are diverse and complex, irreducible to a single voice, perspective, or musical tradition. In the Nuevo South, music remains at the center of how many communities understand their relationship to place and allows us to approach these various lived experiences and stories with greater care. Troop and Bellorín's work is an important part of this larger musical project that brings previously overlooked stories to the fore through new musical friendships. When the pair isn't on the road, you might find them rehearsing in Troop's Durham home, or enjoying arepas with Bellorín's family and friends in Raleigh. Wherever they go, the duo is threading together new sounds in the South–a Venezuelan Appalachian tapestry that offers the promise of music's meaning across borders.
—
Sophia M. Enríquez is Assistant Professor of Music at Duke University and teaches in the program for Latino/a Studies in the Global South. She is currently writing her first book titled "Canciones de Los Apalaches: Latino/a/x Music, Migration, and Belonging in Appalachia"