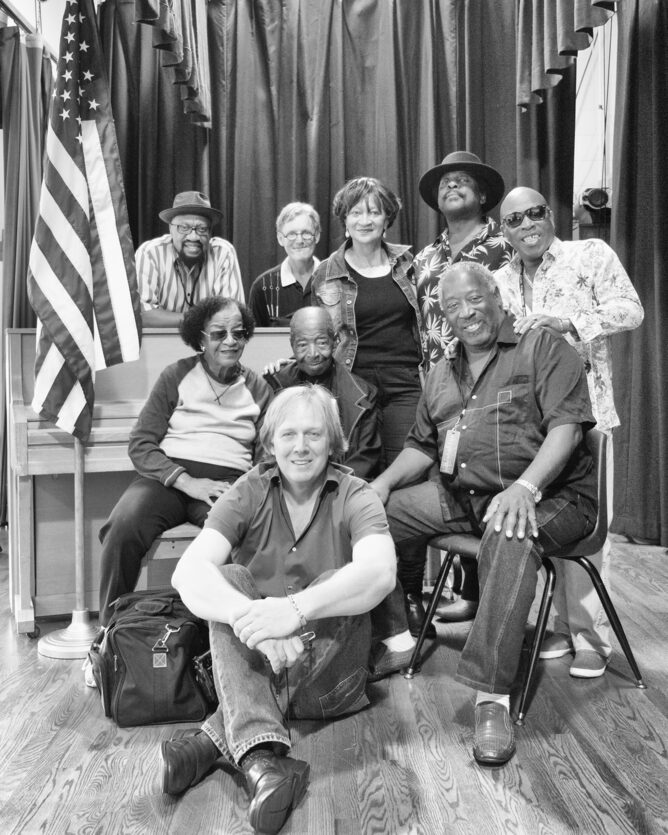 Music Maker Blues Revue
Blues
From hole in the wall honky tonks to Carnegie Hall, the Music Maker Blues Revue has backed every variety of MMF singer, from jazzy to rockin' and points in-between.
"We have to have players that can adapt to each style and sound like a different band behind each artist during a

single show."
Ardie Dean
The Music Maker Blues Revue is as long-running as Music Maker itself. The group, which now has played Carnegie Hall and Roman amphitheaters, started as Brothers In The Kitchen. They've began in what Ardie Dean calls "little honky tonks, house parties, and small affairs." This Ur-lineup was Tim Duffy (guitar) and Ardie Dean (drums) backing Guitar Gabriel. Decades later, they are now Music Maker's all-star house band: the group has since provided steady support for countless MMF singers and players over the past three decades.
Many talents have rotated in and out of the revue's lineup since 1993, Sol Creech, Michael Parrish, Eddie Tigner, Mark Levinson, Nashid Abdul Khaaliq, not to mention Etta Baker, Macavine Hayes, Robert Lee Coleman and Pat "Mother Blues" Cohen.
And the current incarnation's a crackerjack. On bass is James Brown's longtime rhythm-man Fred Thomas, and on guitar is Albert White, who's supported everyone from Ray Charles and Hank Ballard to Piano Red and Joe Tex. Bassist Rob Harris sometimes holds down the low-end when Thomas can't make it, and a rotating cast of sidemen also supplements the crew for select Southern shows.
Dean, the group's de facto group leader, says its versatility is the key to its success: "Each frontperson's totally different. No two blues players alive, really. Alabama Slim is raw, stripped-down, John Lee Hooker-style. Aretta Woodruff's hardcore R&B, and Albert White's a more rockin', hepped-up B.B. King-style. So we have to have players that can adapt to each style and sound like a different band behind each artist during a single show." This means the Music Maker Blues Revue always has to be on its toes, ready for every twist and turn any frontperson might throw their way.
White, who takes turns as sideman and lead singer at many Revue shows, says he enjoys both roles equally: "I like to be in the band and in the limelight sometimes, too, but it doesn't matter. I've been out there a long time, going both ways." It's this attitude that has kept the Revue's sound and spirit together for coming on thirty years: focus on the music, don't chase vainglory, and get the damn job done.