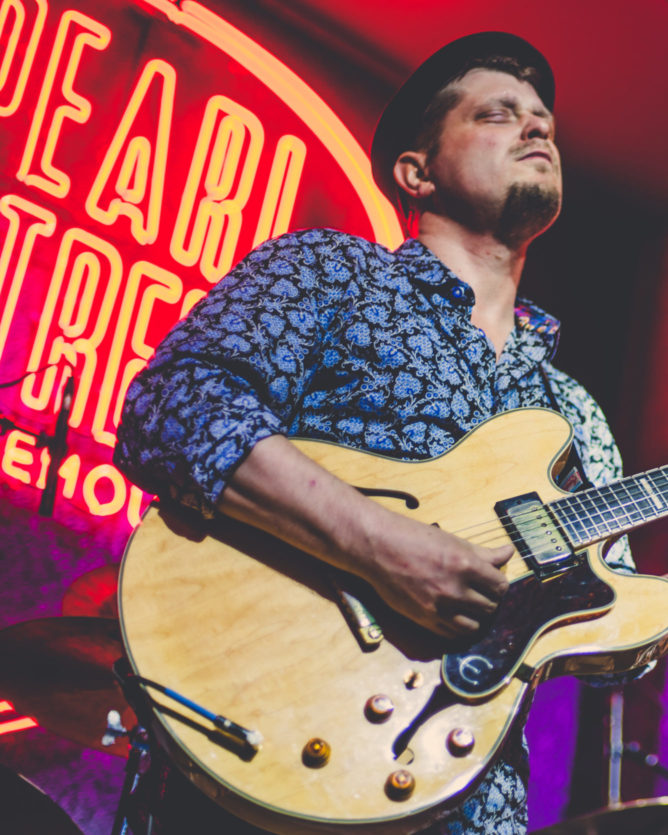 Sol Roots
Blues
Sol Roots has been a part of our family since the beginning, serving as a recording engineer, producer, featured artist, and backing musician for many of Music Maker's artists.
Raised by Music Maker
Sol has been part of the Music Maker family since our beginning. Sol's father, the guitarist and harmonica player John Creech, played with Guitar Gabriel and Music Maker co-founder Tim Duffy in Guitar Gabriel & Brothers in the Kitchen, which took Gabe on his first European tour.
That initial connection made young Sol a part of our family, too. In 2020, he told Big City Rhythm & Blues magazine, "Captain Luke, he would always say that he raised me from a pup. I feel that way about pretty much all the Music Maker artists. It's pretty much a family, musical grandparents and aunts and uncles and brothers and sisters."
"Music Maker is pretty much a family, musical grandparents and aunts and uncles and brothers

and sisters."
Sol Roots
Over the years, Sol has become a rare, one-of-a-kind musician. His talent stretches from fiery rock to heartfelt jazz, and from funky innovative grooves to soulful ballads, always drawing on a deep background in the blues.
Sol has a degree in Recording Engineering from Middle Tennessee State University and for many years has worked with us on recordings, including traveling with our co-founder, Tim Duffy, to do field recordings in Mississippi, Alabama, Georgia and North Carolina. And his association with Music Maker gave him the opportunity to perform with many of our earliest partner artists, including Cootie Stark, Lee Gates, Beverly 'Guitar' Watkins, John Dee Holeman and Jerry "Boogie" McCain.
Sol has gone on to perform with many more artists including Beverly "Guitar" Watkins, Albert White, Taj Mahal, Albert Castiglia, Mac Arnold, Johnny Rawls, and Victor Wainwright. The Sol Roots band has been recognized for their unique blend of deep blues, raw funk, energetic rock, greasy soul, and hypnotic rhythms. Sol regularly brings in other top musicians to fill out the band, keeping the concerts fresh and entertaining, creating a powerful blend of traditional blues mixed with flavors of the musical future.