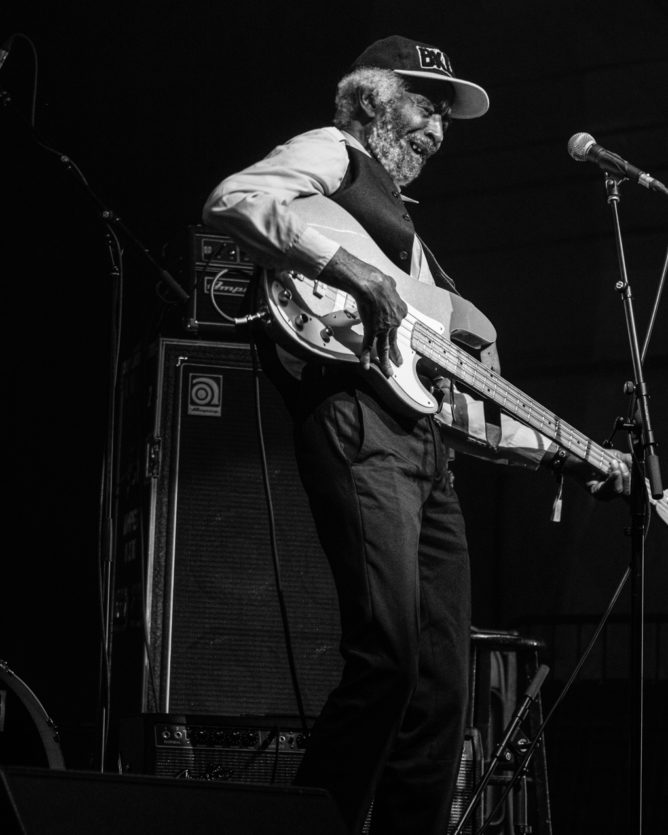 Fred Thomas
Blues
One of the originators of funk music, playing bass with James Brown & The JB's for 3 1/2 decades, longtime New Yorker Fred Thomas has now stepped up to the mic himself.
"Just apply your own soul, man, the spirit, and you got blues," says Fred Thomas, three-and-a-half-decade bassist for of James Brown & The JBs and now a member of Music Maker Blues Revue, as well as leader of his own band in Brooklyn. "I'm a funk person, man. I play some jazz, you know, old school jazz, 'Girl from Ipanema,' 'Watermelon Man,' stuff like that. I play all that kind of stuff, but I never really played a whole blues gig."
Thomas is one of the men who originated funk music, most notably during Brown's creative foment of 1971-74—and has a firm grasp on the blues that he brings to the Music Maker Blues Revue.
Brown first hired Thomas after he walked into Small's Paradise in Harlem in 1971. The crowd demanded that he sit in, but he had doubts about whether the band — which included Thomas — could keep up with him. Still, Brown agreed. By the time he walked out, he had told his manager to hire the whole band. "He said we killed it!" Thomas recalls. "We had a good unit, ever since we started playing with my band, a tight unit from '66 on. We had a special thing, you know what I mean."
To illustrate how the JB's worked with Brown, Thomas recalls the making of "Get on the Good Foot": "Mr. Brown says he wants this, he wants that, I just put my thing on it. My thing was, whatever he gave me to play, I found a way to make it groove," Thomas says. "Sometime I did my own line, overhaul it."
Thomas has played all over the world but his favorite city in the world is the one he has called home for five and a half decades, New York. After Brown's passing in 2006, Fred was determined to get a band together in NYC and he relishes the role.
"My call is my demand," Thomas says. "I need you all to play for me. I got to do the singing, playing, talking, moving, directing." His current band includes Jimmy Hill, who shared bandstands with Wilson Pickett, the Intruders, the Shirelles, and the Marvelettes. Trumpeter and vocalist Tyrone Cox has played with Pickett, Ben E. King, and the Isley Brothers. Famed drummer Daru Jones band judged the band good enough for him to sit in at a recent show.
"When I started trying to play, I started playing the blues. We'd try to do little gigs down there in the woods, little juke joints in the woods. That was the beginning of me really trying

to play."
Fred Thomas
Prior to his arrival in NYC, Thomas learned to play growing up in rural Georgia. "Around my family, we had an old guitar. Played blues, John Lee Hooker, Howlin' Wolf songs, that was that," he recalls. "When I started trying to play, I started playing the blues. We'd try to do little gigs down there in the woods, little juke joints in the woods. That was the beginning of me really trying to play."
Thomas also listened to soul music and rhythm & blues on the radio, especially at night when signals from places like Nashville were clearer. His young band came in second in what Fred calls a "Sing Off" in Georgia. He says, "I sung every Friday evening in high school." In 1965, he moved to Brooklyn, where his cousin-in-law lived — and taught Thomas his first bass licks. The first song he learned was "Under the Boardwalk." The duo formed a group with Fred on vocals.
Thomas plays with his thumb, giving him a powerful tone, unusual among bassists, but that's how it came most naturally to him as he was learning. The technique, he says, allows him to "play intricate chords. I can hit it and tap it, or I can prolong it and the chord sounds better."
Underneath everything Fred Thomas says about music is the joy he takes from playing in a band, interacting with other musicians to find that groove.
Fred Thomas was born on June 15th, 1945.