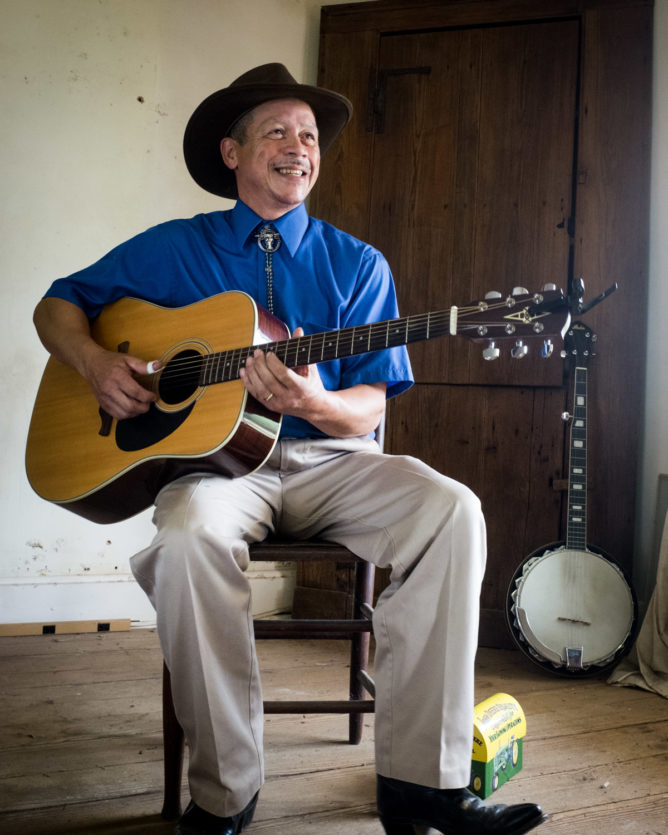 Jeffrey Scott
Blues
Jeffrey Scott is a cattleman, a hog farmer, a mortician, and a long-haul truck driver. He's also a fantastic bluesman. He doesn't play for fame. He plays because the blues is in his blood.
You'll never meet another Jeffrey Scott. A cattleman, hog farmer, mortician, long-haul truck driver and bluesman; it is hard to find anything the man can't do or hasn't already done.
For generations, Scott's family has lived in a town called Culpeper, nestled in the piedmont of Virginia's Blue Ridge Mountains. Of his five sisters and two brothers, Jeffrey is the only one who has chosen to stay. "When I was growing up, I decided, 'You know what? When I get grown, I'm leaving this town and I'm never coming back again," he recalls. "But I stayed because home is something you can always go back to. No matter what. Even if everything changes, you can still go back home."
"This is being in a relay race. You got to take this music that I'm teaching you, and you got to show young people how to play it. And when you can't go anymore, you can pass the baton on. You've got to keep this

music alive."
John Jackson
It seems that Scott, with his unique collection of skills and careers, has taken it upon himself to single-handedly carry on his family's traditions. He is the son of a farmer and a truck driver, and the nephew of John Jackson, the famed Piedmont bluesman, who was also a caretaker for the City of Fairfax's Cemeteries. Some of Jeffrey's fondest memories are of digging graves with his uncle.
"He would dig a grave for Robert Kennedy or whoever. It didn't matter. He always said he was doing the Lord's work," Scott recollects. As they waited for a funeral procession to come to a close, John and young Jeffrey would sit in John's truckbed practicing guitar and banjo, passing the time until they could re-cover a grave.
"'Son,' he'd tell me, 'This is being in a relay race. You got to take this music that I'm teaching you, and you got to show young people how to play it. And when you can't go anymore, you can pass the baton on. You've got to keep this music alive."
Jeffrey takes this charge seriously. "I don't care if you are Elvis Presley or whoever. The blues is the grassroots of all music," Scott asserts. "Slaves brought this music to America on those slave ships, and that was their way of communicating with each other. Music is a universal language. It doesn't matter what language you speak or where you come from. It doesn't matter who you are. And that's why Uncle Johnny told me, 'You got to keep this music alive. Everybody relates to music."
For Scott, this music is intertwined with his memories of family members who have since passed on. It is how he finds home and it is how he keeps their legacy alive.
"My Grandmomma was the oldest of 14 kids. Uncle Johnny was one of the younger ones. I do have the fondest memory of going up to Rappahannock County as a boy, and they would be cutting firewood, and we would sit around the wood pile and there would be nine, ten guitars. There would be an autoharp in the crowd, a kazu. We were all having fun playing music while they were supposed to be cutting wood! Or they would be out butchering hogs. And we'd be having fun playing music because we were waiting for Johnny, Ned, Freddy, Jack, Henry. All of them would be down the hill killing the hog, bringing it back up to us to skull and clean.
"But we had guitars, banjos, and everything. It didn't matter if we were cutting wood or if we were at church. We would go and play music on Saturday night. We were playing all those blues songs. My mom would get us up out of bed, make us go to church on Sunday morning. Well, we played those same songs in church on Sunday morning. But it was different words! We just changed the syncopation. And then all of a sudden on Sunday morning, that song was called, 'I Shall Not Be Moved.'
"Well, the night before, we would take that same song, the same tune, but we would say, 'Step Down Mama, and let me see what's going on.' I didn't realize until I got old enough to know that it was about the birds and the bees," he laughs.
When he was 18 years old, the future Executive Director of Music Maker, Tim Duffy, went to Culpeper to learn the Piedmont blues from John Jackson. Years later, Tim met Jeffrey in 2012 and invited him to come down for the Foundation's 20th-anniversary celebration. We've been partners ever since. At our mutual friend John Dee Holeman's passing in 2021, Jeffery and Tim decided it was time to record Scott's music and recorded his album, Going Down to Georgia on a Hog.
Jeffrey Scott was born on September 7th, 1965.