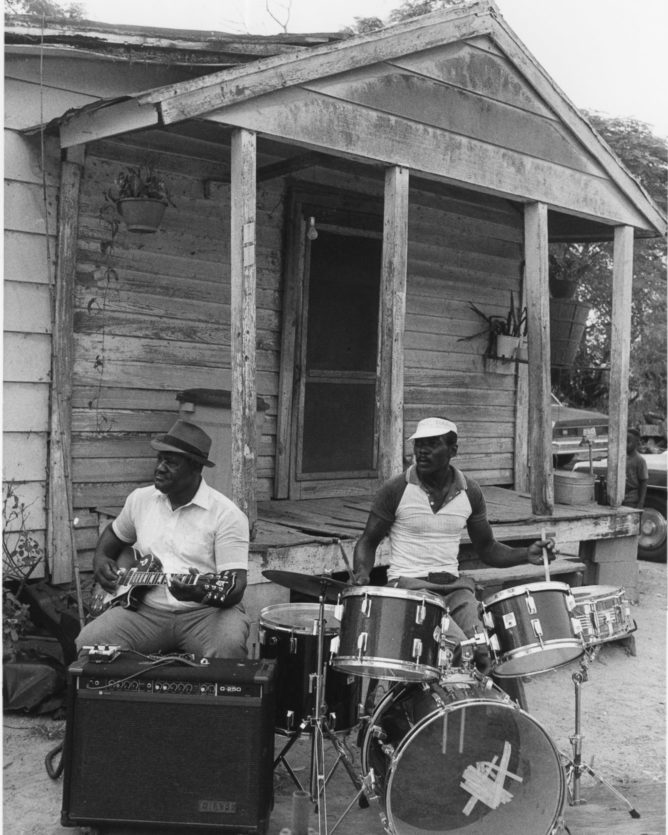 James Davis
Blues
Middle Georgia is home to a host of undocumented musical traditions, including a fascinating style called simply "drumbeat." James Davis was its master.
James Davis' Drumbeat: A Bridge Between Georgia and Mississippi Traditions
When serious blues fans think about undulating, unpredictable rhythms in the blues, they typically think of the music of the Mississippi Hill Country. Or they think about the fife-and-drum blues of the same area, exemplified by Othar Turner.
But they should also think of central Georgia, which is home to many undocumented musical traditions. In central Georgia, there is a form of the blues known simply as "drumbeat," which is related to the fife and drum bands that made up one of the oldest African American musical traditions.
In the two regions, enslaved people were more often permitted to keep and play musical instruments. John Finch's "Travels in the United States of America and Canada," published in 1833, documents the frequent use of homemade fiddles and banjos among the enslaved in central Georgia. The same was true in the North Mississippi Hill Country, and musicologist Edward M. Komara makes the argument that in areas where enslaved people were allowed to play music, the styles they created persisted longer.
"The people around here call it the old country drumbeat. They like that old

country-style playing."
James Davis
Georgia's drumbeat style directly correlates with the styles of North Mississippi, and perhaps the greatest practitioner of drumbeat was James Davis of Perry, Georgia. In one of our prospecting trips through Middle Georgia, in 1995, we stumbled on some simple flyers that promised "Drumbeat at the Turning Point." The Turning Point was a club in Warner-Robins, Georgia, where James played every Saturday night for many years. James played the old melodies of the fife with his electric slide guitar while his partner performed the old rhythms on a trap set.
In 2007, the year of James' death, we released a full-length album of his work called "Georgia Drumbeat." It remains one of the most unusual recordings in our catalog, but also one of the most interesting. GRAMMY winner Dom Flemons agrees, having recorded his own version of the title track for his 2014 album "Prospect Hill."
"The people around here call it the old country drumbeat," James once told the publication Blues Unlimited. "They like that old country-style playing. A lot of them say they'd rather hear my playing than hear them piccolos. I don't know what the drums do to people, but it looks like people just enjoy drums. Somehow, the drum just draws people. It always did, and I reckon it always will."
James Davis was born on August 31, 1931. He died October 2, 2007.
Top photo by Axel Küstner.