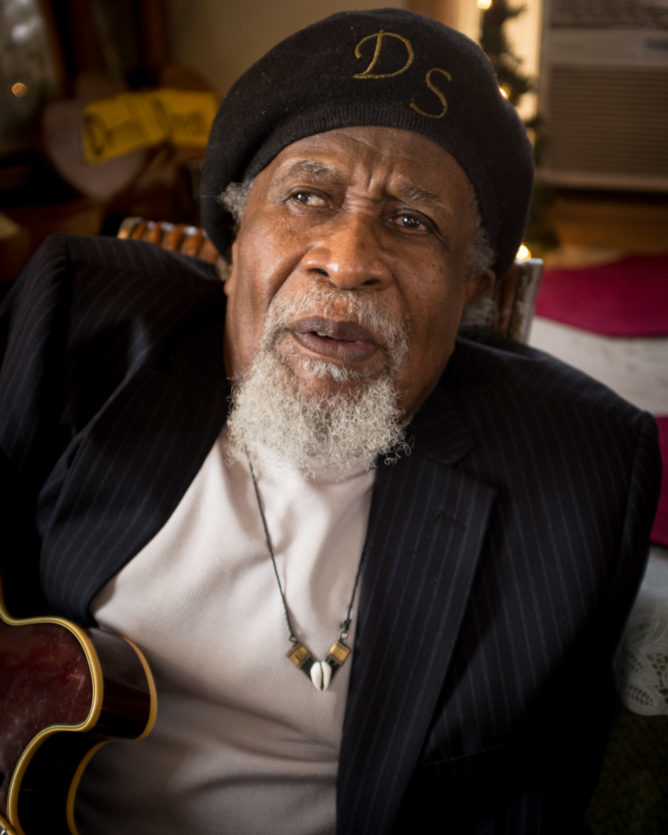 Drink Small
Blues
They call him the Blues Doctor. He was born into a South Carolina family of musicians and sharecroppers, but an accident at age 8 took Drink Small out of the cotton fields and set him on a decades-long, distinguished career in the blues.
From Sharecropper to National Heritage Fellow
It's not a stage name. He was born in Bishopville, South Carolina, to a mother named Alice Small. No one knows why she named him Drink.
Drink grew up in a family of musicians who were also sharecroppers. They worked picking cotton. But Drink's days of picking bolls off stalks ended when he was only 8 years old and was run over by a mule-drawn wagon. The accident set him free to follow a musical career that led him through the school glee club to gospel quartet singing and ultimately the blues.
"I can play all the styles: bottleneck, ragtime, Piedmont blues, Chicago blues. I can tear them up. I am the

Blues Doctor."
Drink Small
And no one can tell Drink's story better than Drink himself. 
"When I was in high school I organized a group called the Six Stars," he says. " I was ashamed to sing. I was playing instrumental songs like Blind Boy Fuller stuff. I played piano in the church. Then I began to start singing. I came up playing both blues and gospel. On Friday and Saturday night I would make $5 a night playing at house parties. That was more than a man plowing a mule all week was getting.
"I then went to school to be a barber, but I did not want to cut no hair: I wanted to cut up. I became a great guitar player. I joined the Spiritualaires. We recorded on the Vee Jay label. We played the Apollo and toured with Sam Cooke, the Harmonizing Four, and the Staple Singers. We were out there with all the big groups.
"They call me the Blues Doctor 'cause I can play all the styles: bottleneck, ragtime, Piedmont blues, Chicago blues. I can tear them up. I am the Blues Doctor."
The Doctor's playing over the years has earned him a W.C. Handy Award nomination, the Jean Laney Harris Folk Heritage Award, which represents South Carolina's highest honor for lifetime achievement in the traditional arts, induction into the South Carolina Music and Entertainment Hall of Fame and the South Carolina Black Hall of Fame, and ultimately a National Heritage Fellowship from the National Endowment for the Arts.
And even though Drink lost his eyesight in 2014, the Doctor is still in. Even though he is almost 90 years old, Drink Small still occasionally leads a three-piece band in South Carolina.
Drink Small was born on January 28, 1933.
Top photo by Tim Duffy.