Make It Funky: the Guitar Adventures of Robert Lee Coleman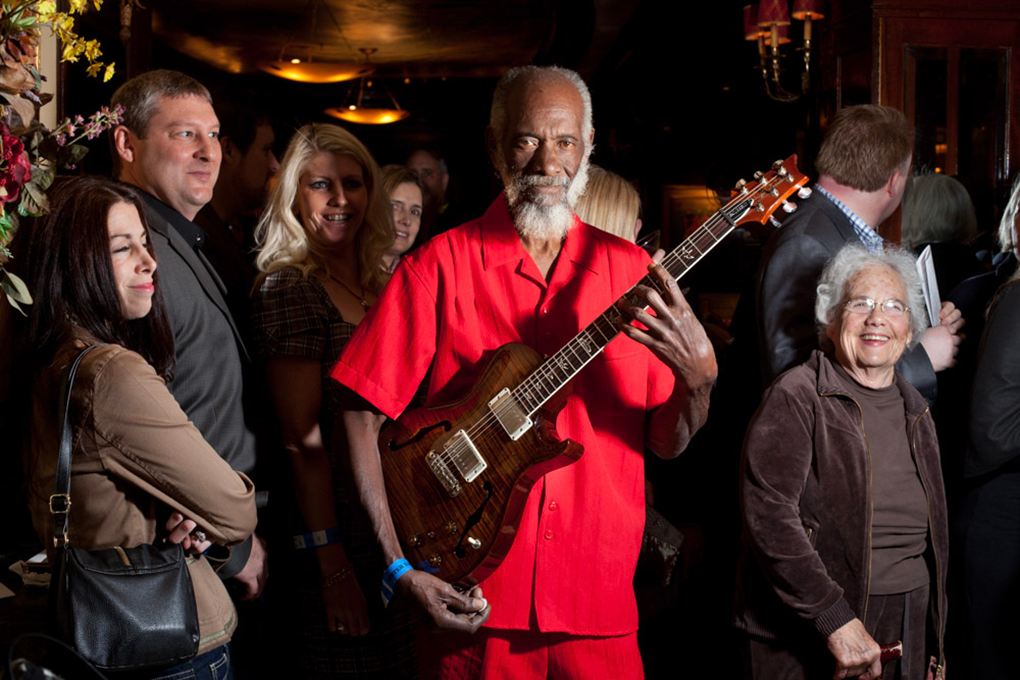 By Scott Zuppardo
When music fans think of Macon, Georgia, they instantly think of three musical legends: Little Richard, Otis Redding and the Allman Brothers Band. The more knowledgeable might also think of the other prominent artists who recorded for the Macon-based Capricorn Records in the 1970s: Percy Sledge, Kitty Wells, Bonnie Bramlett, Delbert McClinton, the Marshall Tucker Band and more.
But there are many other Macon musicians seldom spotlighted — people who came up playing in the churches, backyards and bars of the Middle Georgia city. Some of the lucky ones made it out of Macon on the strength of their musical prowess. And one of the greatest of these players is the longtime Music Maker partner artist, Robert Lee Coleman, who will join our Music Maker Blues Revue at the Telluride Blues & Brews Festival in September. Coleman will also perform at Georgia's Savannah Music Festival on September 24.
It was Coleman's playing in church that ultimately led him to stints in the bands of Percy Sledge and James Brown.
"I got about half of my musical career in church," says Coleman over the phone after a day of record-high heat in Macon. He honed his craft playing on Sundays in the house of the Lord and playing gospel music with the Silver Bells and the Morningstars. But on Friday and Saturday nights at barbecues, house parties and local watering holes, he was also cranking out his inimitable riffs. Clint Brantley was a local man with a keen ear whose principal claim to fame was his time as James Brown's manager. Brantley also tended his own club, where Coleman became a mainstay in his latter teens. It was at Brantley's club on 5 Street in 1964 where Percy Sledge first became privy to Coleman's guitar prowess.
"Percy came here doing his thing and saw the band I was with and some of them went that night, out with him, on the road," Coleman says. "Few days later, I got a call, and they sent for me. I stayed with him for six years." Coleman says he loved his time on the road with Sledge. "I learned a lot out there with Sledge, and I enjoyed it." But by 1969, Coleman grew weary of the road and was longing for home. But only a handful of months after he returned to Macon, the Godfather of Soul, James Brown, heard Coleman's licks. Brown soon invited Coleman to join his legendary band, the J.B.'s.
And Coleman knew, whether or not he was road-weary, that when James Brown calls, you grab the guitar and go.
"About 1970 James came here and picked me up," Coleman recalls. "I'm original J.B. Fred Wesley was my bandleader. Bootsy [Collins] had just left or been run off or whatever; I never did get the straight about that. I'm original, original J.B."
"That's the only lick he let me have. James tells you what to do. He was very strict. He didn't allow for much cutting up or anything

like that."
Robert Lee Coleman
Coleman wound up staying with Brown and the J.B.'s for more than two years. During that time, he was a loyal guitar sideman and received a writing credit for his lick on the legendry tune, "Hot Pants."
"That's the only lick he let me have," Coleman says, chuckling. "James tells you what to do. He was very strict. He didn't allow for much cutting up or anything like that."
That James Brown gave him writing credit for the song spoke volumes about how Soul Brother No. 1 viewed Coleman as a guitar player and a sideman. Coleman appears on two of Brown's studio albums — "Ain't It Funky" from 1970 and "Hot Pants" from 1971. He also appears on the 1971 live album, "Revolution of the Mind: Live at the Apollo, Volume III."
Given Coleman's time in some of the funkiest bands in history, I had to ask which bass player he loved playing with the most. He wryly gave me hell for putting him on the spot, then admitted, "Fred Thomas was the bass player when I was with James. I haven't played with him in years, but he was the best then. James loved him. He was the bass man and he was good, man!"
After all those years away from each other, Coleman and Thomas will be reunited in the Music Maker Blues Revue at Telluride. Coleman has been involved with Music Maker for almost 15 years, and for a good many of those years, he has toured with the Music Maker Blues Revue.
"They've helped me a lot," he says. "I love them; they're good people." He says the long-term association with Music Maker has changed his life considerably and that he's grateful for the relationship and friendship. Over the years, Music Maker has helped Coleman get a passport, move into a new home and pay utility bills. Since the pandemic began, he has received monthly sustenance support and COVID-19 relief support to help with the loss of gigs. Recently, when Coleman needed a new car, a Music Maker donor stepped in to make sure the guitarist had wheels. In addition, Music Maker introduced him to the legendary guitar maker Paul Reed Smith, who granted Coleman a high-end PRS guitar. Music Maker produced two albums of Coleman's own music — 2012's "One More Mile" and 2018's "What Left."
"I play every chance I get!" Coleman says. "I been writing, too. Yeah, man. I may sit and write five or six [songs] in one day and then not write nothing for five, six months. When I feel it, I write. The spirit moves me."