Bubba Norwood's Six Decades of Amazing R&B Drumming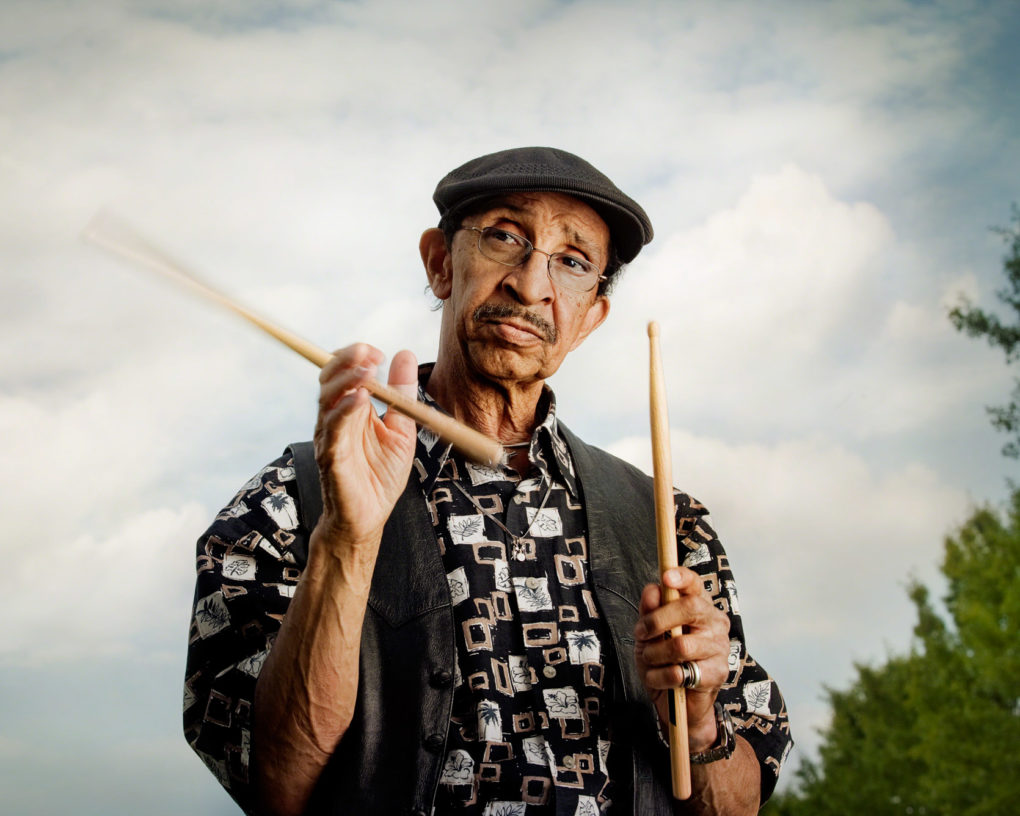 Photo by Jimmy Lee Williams.
When James "Bubba" Norwood graduated from Lincoln High School in Chapel Hill, North Carolina, in 1961, he was already a drummer, but he didn't think he was much of one. 
Ike Turner thought differently and hired him to play drums for both the Ike & Tina Turner Revue and Ike Turner's Kings of Rhythm. But young Bubba still didn't believe in himself.
"When I first got on the road with Ike and Tina, I wasn't really a drummer, nowhere close to being professional," he says. "I struggled. I had to work real hard." 
And one night in Houston, Texas, Bubba gave up. His six-decade career as one of the most masterful drummers in the history of R&B might never had happened had it not been for a guardian angel who showed up in the form of a cab driver.
"When I first got on the road with Ike and Tina, I wasn't really a drummer, nowhere close to being professional. I struggled. I had to work

real hard." 
Bubba Norwood
"I called this cab, and it came and got me, loaded up the drums, and was taking me to the airport," Bubba recalls. "He started talking to me, and I was telling him that I couldn't make it with Ike and Tina. And he said, 'Now, how you going to tell your people that when you get home? That you were a failure?' You know what he did? He talked to me for so long, he turned around and talked me into putting my stuff back on the bus and staying and fighting. If that ain't a guardian angel, what is it?"
A Young Man on the Road
Bubba Norwood turned 18 when he was on the road and recording albums with one of the most popular R&B bands in America. His confidence was still shaky, but after some time spent holding down the beat for the Turners' nine-piece band, he felt comfortable on the stages of legendary venues like the Apollo Theater in Harlem, the Uptown Theater in Philadelphia, and the Howard Theater in Washington, D.C.
"We had a band that could play anything," Norwood says.
During Norwood's eight-year stint with the Turners' band, he and other members frequently picked up additional gigs backing other major R&B and soul stars. By the time he left Turner in 1969, Norwood had played behind the likes of Little Richard, Marvin Gaye, Archie Bell & the Drells, Curtis Mayfield & the Impressions, Major Lance, and many others. 
Norwood didn't leave the Turners on his own, though. He exited with all eight of the band's other members. 
"We asked for a raise," he recalls. But Ike was too cheap to increase the band's pay. He was also, as we've learned through Tina's accounts of their history, a man who liked to get his way and was abusive when he didn't. Norwood says he found the recent HBO documentary, "Tina," to be an accurate depiction of his time in the band. And he was happy to see that "they had some nice shots of me in that."
"I'm going to tell you a funny story," Norwood says. "Actually, I was the last one to leave, because Ike and them, they were like a family to me. We had become a family, the band that left."
Norwood, as a result, did not want to face the emotional pain of telling Turner directly that he intended to leave.
"I had a skin problem at the time. So, I went to Ike and told him I couldn't go back on the road because I had to have treatments, and he didn't believe me," Norwood says. "The night before we were supposed to leave to go back on the road that next day, I stayed in downtown Los Angeles in a movie the whole night and that whole day. They had been to the hotel two or three times to pick me up, and they finally said, 'Well, he ain't coming.' I couldn't face him again. I was really scared. That's the reason I went to the movies."
All nine members of Turner's band stayed in Los Angeles and soon after formed an outfit called Sam & the Goodtimers. Sam Rhodes, the Turner band's bass player, moved up to be the front man, another bass player was hired, and the band was off and running.
Home to Carolina
In the 1980s, Norwood moved to St. Louis and joined guitarist Herb Sadler, another former member of the Turner band, in his R&B revue act, and later became blues musician Albert King's drummer through two tours. 
Then, in 1986, Norwood came home to North Carolina for good. First, he came home to be with his mother before she passed away, and soon after, other members of his family began passing away, so he stayed. 
But he never stopped playing drums. He played with several local outfits and wound up being a regular performer at the late Peter Kramer's "music barn." Kramer worked in the mental health field but was a voracious music fan. He owned 50 acres in Orange County and devoted the barn on that property to musical performances.
"It was like a club, almost," Norwood says. "I played with a bunch of groups out there. Harvey Arnold (another Music Maker partner artist) was one of them. Peter was in touch with Music Maker at the time. I had never heard of them. So, he told Tim Duffy about me. Music Maker had a New Year's Eve party at the Broadway Café in Durham on Broad Street. When he would do this yearly, he would have about all the artists that participated with Music Maker at the time. So, Tim, he called me, and I told him all about me, but when I told him my background, my history, I don't think he believed everything that I was telling him."
"We put on a show," Norwood says. "We became a show. Plus, we were the best backup band for any top artists that came out to L.A. that needed a band during the time they were booked there."
The Goodtimers, oddly enough, even went on tour backing the made-for-television band The Monkees.
"That was very interesting," Norwood says. "Very professional. And very good pay."
"That took me back, playing with Music Makers. I was playing so much with them, it reminded me of when I was on the road. It was a blessing, because I missed being out there in the professional field, and I got a chance

to play."
Bubba Norwood
Tim invited Norwood to play the party, anyway. 
"I played behind about eight artists, and I never had played with them before," Norwood recalls. "They were just amazed. The people I played with, all of them, they told me how great I played. Even the club owner at gave me $50 on top of the salary that I had offered to play for."
Thus began a relationship between Music Maker and Bubba Norwood than has lasted for 12 years now. Norwood has often served as the house drummer at Music Maker-organized performances in the Chapel Hill area. 
"That took me back, playing with Music Makers," Norwood says. "I was playing so much with them, it reminded me of when I was on the road. It was a blessing, because I missed being out there in the professional field, and I got a chance to play. I'm just so happy to be with them, because I really was doing what I did back in the past."