Ernie Vincent: the Master Bandleader of New Orleans Funk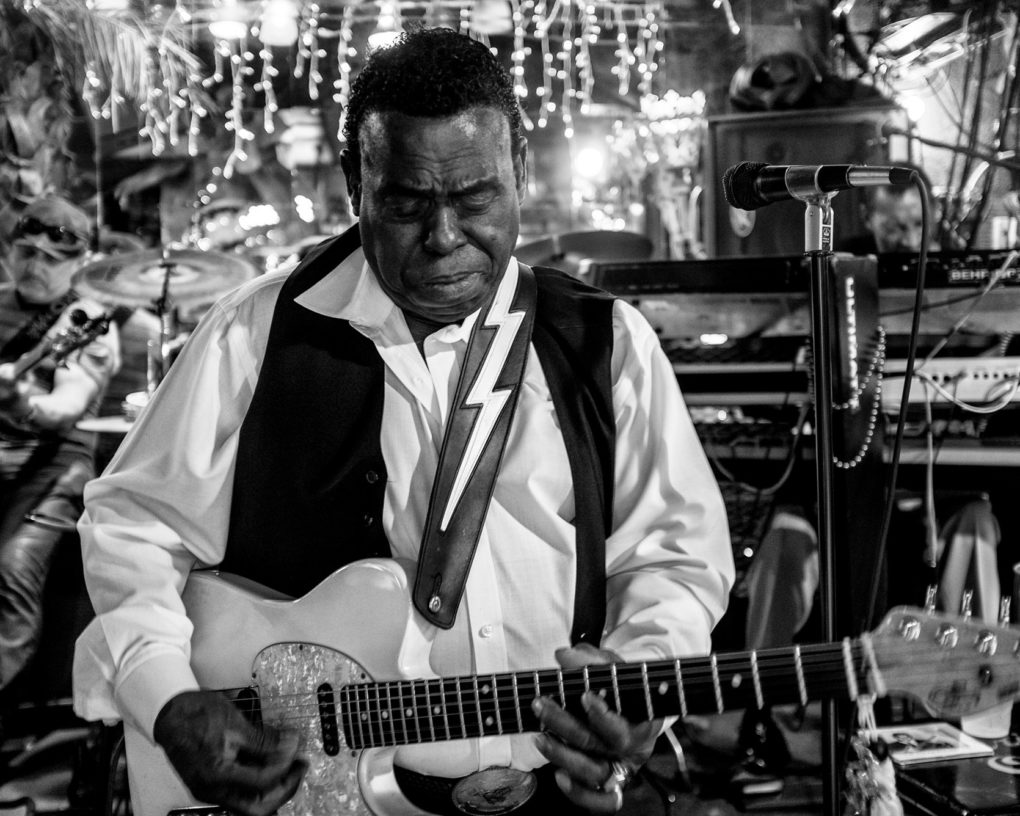 To hear Ernie Vincent and the Top Notes' 1970s single "Dap Walk" for the first time is like standing in a hurricane of funk.
"Hey, get up, brothers! Don't sit there with your head hangin' down," Vincent shouts. "Hey, get up, brothers! I know the ghetto's got your down. But there's something I wanna say to you!" Then, a horn section blasts a hot riff that leads into a ridiculously funky bass line. Vincent shouts again, "Hey, get up, brothers! Do any dance that's groovy to you! Yeah, man!"
Then, Vincent's own guitar blows in, the funkiest riffs you ever heard, his wah-wah pedal doing wondrous things with the sound, and the song continues with that guitar doing battle with the horns. It's three minutes of the most perfect funk you've ever heard. If you can keep from dancing to it, I expect you're probably dead.
"Dap Walk" and the countless other gloriously funky tracks Vincent has recorded over the years may not be the blues, but they come from that spirit. The ghetto may have you down, but we've got this music, and you can dance.
I didn't meet Ernie Vincent and begin talking to him about how Music Maker might help him until about 25 years after the release of "Dap Walk." I was in New Orleans. I just walked into a club and there was this guy playing such great funk. His band was so tight, and he was just killing it on the guitar.
I would later learn that Ernie was a master arranger, writer, and musicologist of the highest order.
Learning to Arrange
Ernie started his first band, Li'l Ernie and the Alpines, in his teen years.
"Every time we played, everybody jumped up and danced, you know?" Ernie told me a couple of weeks ago. "It was all good. It was fun in those days. The gigs started getting better and better, and I was just stuck playing music then. I still was working. Still had a little job on the side and stuff, but music was the thing that I couldn't stop doing. So I learned how to write little arrangements of all the stuff I had. Had to go through all the changes to make sure I was able to do them right — and the bars and the melodies and all that stuff, so I had to learn all that."
And the talents he developed in those years led him to build a hand-picked band called the Top Notes, players who could execute the unique brand of funk that lived inside Ernie's head. The Top Notes made plenty of records along the way that are now standards of the New Orleans canon, and it was the precision of that Ernie's arrangements that made him a go-to producer and arranger in New Orleans.
Over the years, Ernie has arranged and written songs for the likes of Ernie K-Doe, Alex Spearman, King Floyd, Eddie Bo, and Jessie Hill. He's backed stars like Joe Tex, Solomon Burke, and Mardi Gras Indian bands, including the Wild Magnolias and Big Chief Monk Boudreaux's Golden Eagles. He's been a staple at the New Orleans Jazz & Heritage Festival.
In all the years that Music Maker has worked with Ernie, dating back to the early 2000s, he's always been a genuine gentleman, one who happens to be able to play the heck out of the wah-wah pedal and the electric guitar. But most of all, Ernie Vincent is a consummate bandleader. He knows how to keep a band together and lead it. To me, Ernie's skills as a bandleader rank with the greatest ones who ever lived, including James Brown and Louis Armstrong.
Those skills shine brilliantly on a 2013 compilation album called "The Kolab Collection" on Ernie's own Kolab label. The performances by Ernie himself, plus great artists including Ernie K-Doe, Alex Spearman, Mathilda Jones are others, are all knockouts, and every song on it was written and arranged by Ernie.
"The people don't really realize that throughout my lifetime playing, it wasn't about making the money. It was about creating the atmosphere and creating

the history."
Ernie Vincent
It's Gonna Fly
As with so many of New Orleans' iconic roots musician, the pandemic has taken a huge toll on Ernie. Gigs have disappeared.
"I'm in dire straits a little bit right now, you know," Ernie told me. When Music Maker first began working with Ernie, we helped him recover royalties he was owed and have provided emergency grants in times of need. And another huge need arose recently, when the heating and cooling system in Ernie's house broke down. Music Maker is paying for it to be replaced, because we believe, as we always have, in helping our amazing partner artists when they need a hand.
Ernie still has songs and arrangements galore, ready to release and perform once the pandemic lifts and he can perform again. He's planning a second Kolab Kollection release and told me, "I think it's gonna fly."
Ernie has always been a staple of New Orleans' musical life and culture, and being a part of that big, beautiful spirit is still the thing that drives him.
"The people don't really realize that throughout my lifetime playing, it wasn't about making the money," he told me. "It was about creating the atmosphere and creating the history."
Throughout all the years of Music Maker, every one of our partner artists has told me stories about the drive they feel to make their art, how it's something that's part of their soul. That's why we pledge to always be there when folks like Ernie Vincent are in need.