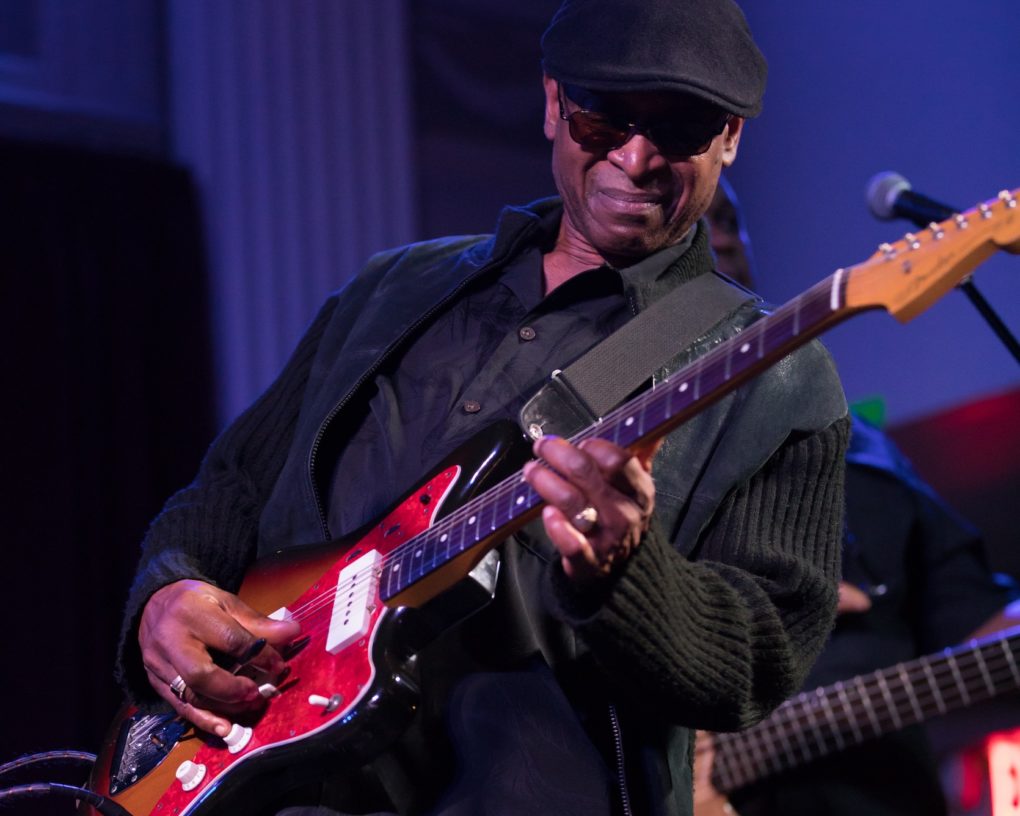 How an unlikely connection brought a Music Maker Artist to a national audience.
By Tess Stogner.
When Music Maker Artist Liaison and Producer, Ardie Dean called up Leonard "Lowdown" Brown on a Thursday, asking if he'd be interested in working on a project for Disney, Leonard was stunned. There was one catch, Ardie told Leonard: the project needed to be completed within no more than three days.
Without wasting any time, Leonard accepted the challenge. He hopped into his car and journeyed 12 hours nonstop from his hometown of Houston, Texas to Huntsville, Alabama to meet Ardie at Bobcat Jackson's music studio, Smoke Rise Sound, and get to work. On his arrival, the trio immediately began laying down guitar and vocals on the tracks. "He (Leonard) was so prepared, it went like clockwork," says Jackson. "That's what I love about working with Ardie: over the years he has just spoiled me rotten with over-the-top spectacular music."
The project's composer, Joe Trapanese, had sent Ardie a track titled, "America Hymn" with a note: "I wrote this piece for the piano that the producers liked, but I wonder what it might sound like for guitar and voice." The lyrics are inspired by the original poem, "America the Beautiful," written by Katharine Lee Bates in 1893. Bates was an established poet, educator, and fierce advocate for equality. Ardie and Leonard chose a stanza not sung by Ray Charles in his beautiful 1972 version for their rendition.
"We wanted something different and unexpected," explains Brown. "If you knew the song and you were singing along, you might think, 'Whoa, wait a minute. He's singing the wrong words!' It's an eye-opener." The stripped-back song packs a punch; Brown's soulful voice rings out, summoning the power in Bates' poetry:
America! America!
God shed His grace on thee,
Till souls wax fair as earth and air
And music-hearted sea!
"America Hymn' became chill-bump city with overwhelming power in 78 seconds
and we finished in TWO days–one day ahead of schedule!" says Dean.
On July 4th, National Geographic and Disney+ released a stunning miniseries, "America the Beautiful" by the producers of "Planet Earth." The journey across America's wild landscapes is narrated by Michael B. Jordan, and Brown's version of  "America Hymn" closes out the series like a benediction. ​​"When we recorded it, I really didn't think they would use it," says Leonard. "I really didn't. I just decided, 'I'll do it.' When Ardie first called me and told me about it, you know, when you hear a name like Disney, wanting you to do something like that, it's just kind of incredible."
How was Music Maker able to make the connection in the first place? Joe Trapanese, a longtime supporter of Music Maker, reached out to Tim Duffy with the opportunity, and Tim put Ardie on the case. "I just googled the guy," recalls Dean. "Holy crap, turns out he's a major film score guy in LA. And so I call the guy. I was surprised to hear that this orchestral classically trained heavyweight is a huge Music Maker fan. So we discuss his vision of needing a blues singer to lay vocals on a Nat-Geo Disney project. I chose our most soulful male voice and newest recruit Music Maker Artist, Leonard "Lowdown" Brown to be our voice." 
"People are sitting back in their living rooms and watching the show and at the end of it, they hear me. They don't know who I am but they can read the credits, get curious about it and say, 'I wonder who that

is singing."
Leonard "Lowdown" Brown
Thankfully, Brown's commitment to the work paid off. Not only did this marathon recording session result in more exposure for the artist, but it also provided him with the financial support needed to continue his craft.  "I'm just really appreciative that I'm being able to get involved in things that I know I would never get to without Music Maker. I'm just real proud of everything that's happened so far. It's still unbelievable to me, you know, I sit back and listen to it over and over again." He laughs. "People are sitting back in their living rooms and watching the show and at the end of it, they hear me. They don't know who I am but they can read the credits, get curious about it and say, 'I wonder who that is singing."
Leonard will be performing as part of the Music Maker Blues Revue at Telluride Blues & Brews Festival September 15-18.