"Deep In the South: A Music Maker Songbook" Available for Preorder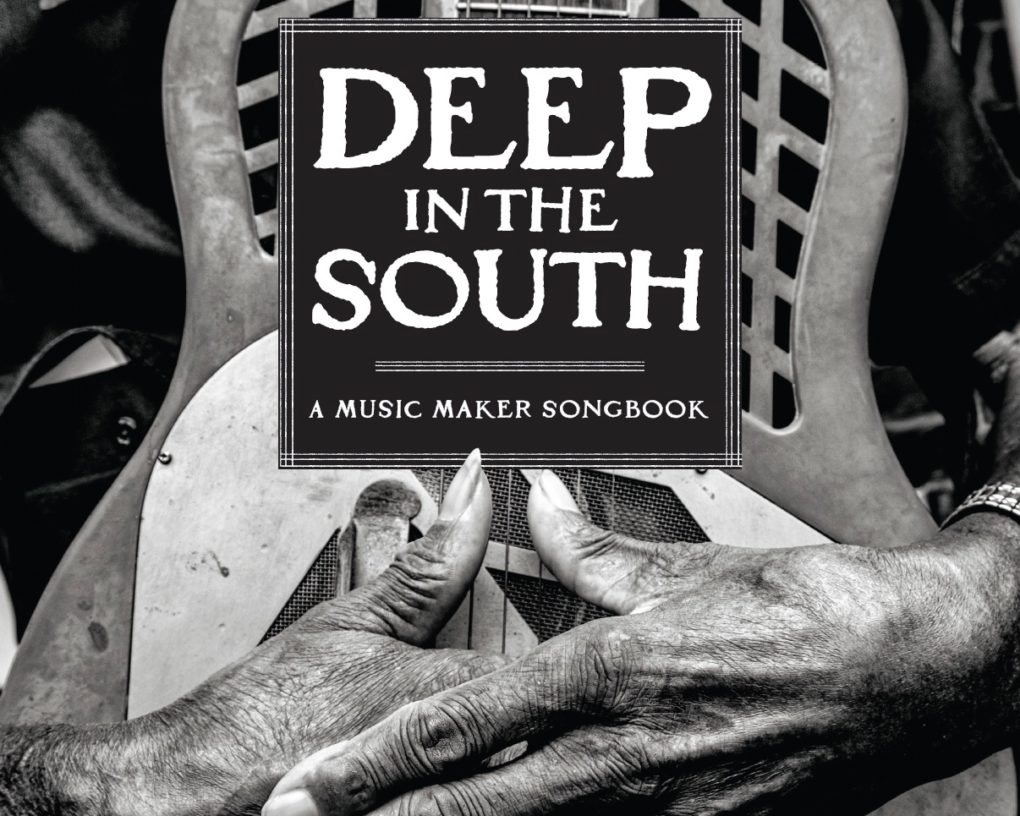 Songbook Cover, Photo by Tim Duffy
Set for release on September 20th, Deep In the South: A Music Maker Songbook is Music Maker's first ever songbook. Written by Director Tim Duffy, acclaimed journalist Chuck Reece, and acclaimed guitar teacher Earle Pughe, the compilation includes contributions from artists such as Etta Baker, Taj Mahal, Alabama Slim, Beverly "Guitar" Watkins, Robert Belfour, Guitar Gabriel and Little Freddie King.
Deep In the South: A Music Maker Songbook will take music fans on a musical road trip through the south. The book, which comes with an accompanying CD, encompassing guitar tablature for 27 songs, numerous photographs by Music Maker Executive Director and renowned photographer Tim Duffy, and 18 artist stories. Songs come from the repertoires of National Endowment for the Arts Fellowship recipient Etta Baker, whom NPR called "one of America's most influential guitarists… credited with helping to spark the folk music revival of the 1960s"; Blues Hall of Famer and Americana Music Association Lifetime Achievement Award winner Taj Mahal; inspiration for the founding of Music Maker Foundation, Guitar Gabriel; "masterful" (PopMatters) New Orleans blues fixture Alabama Slim; "queen of the blues guitar" (Guitar World), the "fiery" (New York Times) Beverly "Guitar" Watkins, veteran of the bands of James Brown, B.B. King, and Ray Charles; and New Orleans legend Little Freddie King, who has played every New Orleans Jazz & Heritage Festival but the first.
Guitar Gabriel, who contributed an introduction to the book assembled posthumously, said, "I have played so much guitar it could make your ass hurt. I'm good but I don't brag about it."
Tablature was transcribed by acclaimed New England guitar teacher and Berklee College of Music alum Earle Pughe, who has studied with Lou Arnold, Roswell Rudd, Chuck Winfield and Bill Mosely, and Charlie Banacos.
Reece has told a wide variety of Southern stories, starting at age 15 in his hometown of Ellijay, GA, as founding editor-in-chief of The Bitter Southerner, a publication he launched in 2013 that eventually gathered hundreds of thousands of devoted readers around the world, and most recently launching Salvation South in 2021. His obsession with music stretches from childhood memories of seeing his father sing in gospel quartets through living as a fan in two all-time great music scenes and now to delving into the world of Music Maker.
"I have played so much guitar it could make your ass hurt. I'm good but I don't brag about it. I know I am good. When you know something you do not have to ask nobody. As long as I feel it in my heart that I am good, I

am good."
Guitar Gabriel