Music Maker Blues Revue at Freight Train Blues
Location
Carrboro Town Commons
Date & Time
May 19, 2023 — May 19, 2023
6:30 pm — 8:30 pm EST
Use the next/previous buttons to view a series of images and captions.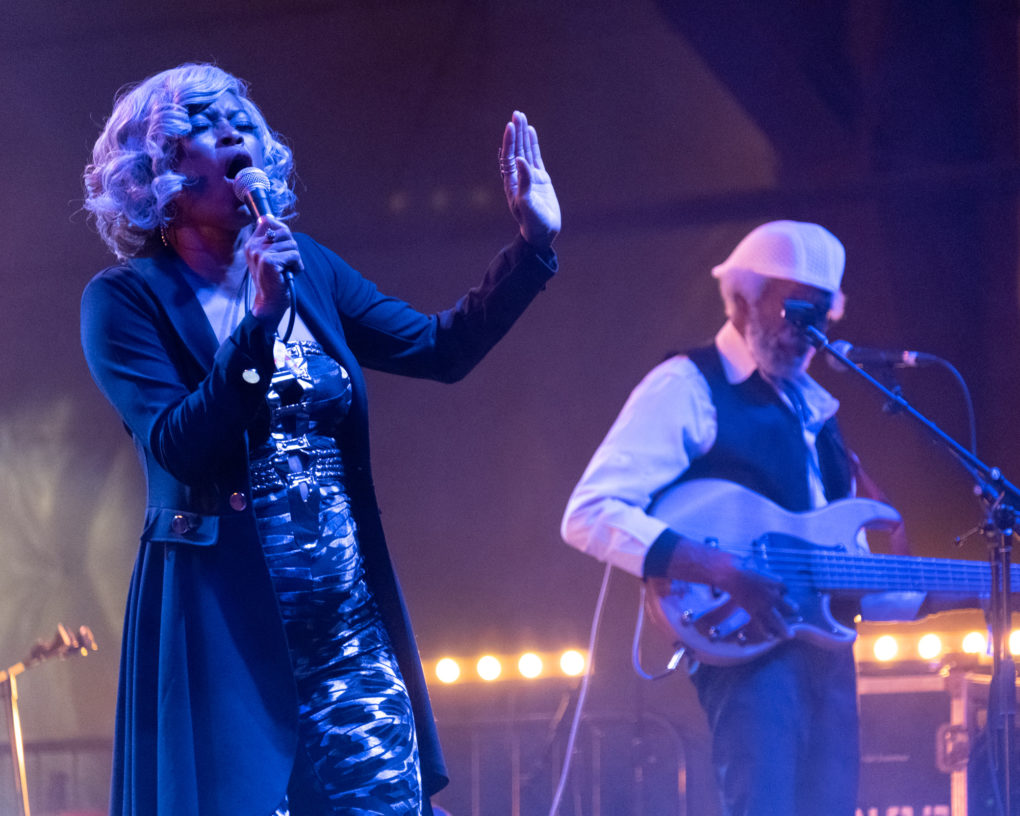 The Music Maker Blues Revue is an all-star band and a thriving musical institution. It was born in the early 1990s as a backing band for Guitar Gabriel, and quickly became a power cell of Music Maker Foundation's live presence. Featuring dozens of different Music Maker artists over the years—from Etta Baker and Macavine Hayes to Robert Lee Coleman and Pat "Mother Blues" Cohen—the Revue has played all over the world in every kind of venue. They've busked on the sidewalks of High Point, N.C., and received standing ovations at Carnegie Hall. From Argentina to Australia, Europe to Guatemala, and across the U.S., the Revue pleases all types of fans; "the boogiers and the bookworms," as drummer Ardie Dean puts it.
With her powerhouse vocals and an indefatigable spirit, Aretta Woodruff is taking charge of the Birmingham blues music scene. 20-plus years into her solo career, Aretta has been inducted into the Alabama Blues Hall of Fame by the Alabama Blues Society (2018), in addition to being elected the Blues Female Artist of the Year by the Alabama Music Awards in 2020. She has opened for artists including Denise LaSalle, Betty Wright, the Love Doctor, T.K. Soul, and many more. 
Charles "Sugar Harp" Burroughs plays the "down in the gutter, back-alley, storytelling" blues. When Charles Burroughs was eight years old his great-grandfather would simultaneously blow harp and strum a handmade guitar formed from an orange crate and broomsticks. Sitting on his lap, Charles said, "Grandaddy, I need to do that." In the 65 years since he first picked up the harmonica, he has more than earned his moniker. The Birmingham veteran released his debut album Sugar is My Name at the age of 75. Sugar Harp's songwriting and performing are comedic and "full of innuendo but always clever" (American Blues Scene).
Hermon Hitson boasts an impressive 50-year career, blending psychedelic rock, blues, R&B, and soul influences into an eclectic music style. The artist has worked closely with a number of notable artists, including Jimi Hendrix, James Brown, Joe Tex, Bobby Womack, and Wilson Pickett. He released Let the Gods Sing in 2022 with Big Legal Mess and Music Maker, and has been called, "the most consequential, influential guitarist you've never heard of" (Premier Guitar), and "The guitar whisperer" (Americana Highways).
As a teenager, Albert White began playing with his uncle, the legendary R&B performer Piano Red. Since then, the Atlanta-based guitarist has performed with Joe Tex, Ray Charles, and many other artists during his half-century as a blues and R&B musician. And for the last two decades, Albert White has been, in many ways, the glue that holds the Revue together. He's a killer rhythm guitarist — and a great soloist when asked to be. He makes everyone around him sound good.
Ardie Dean has been keeping blues time since 1969. He started out playing drums with Homesick James and then paid his dues on the Chitlin' Circuit leading the band for R&B singer Chuck Strong. Dean has performed at Carnegie Hall and played with legendary artists including Ernie K-Doe, Bo Diddley, Greg Allman, and Taj Mahal. Ardie has been the rock of the Music Maker Blues Revue for more than 20 years, providing the rhythms through his drum playing and serving as musical director of the whole ensemble. Music Maker's Producer and Artist Liaison, Dean has worked with artists such as Guitar Gabriel, Big Ron Hunter, Jerry McCain, Sweet Betty, Alabama Slim, Little Freddie King, and many more.