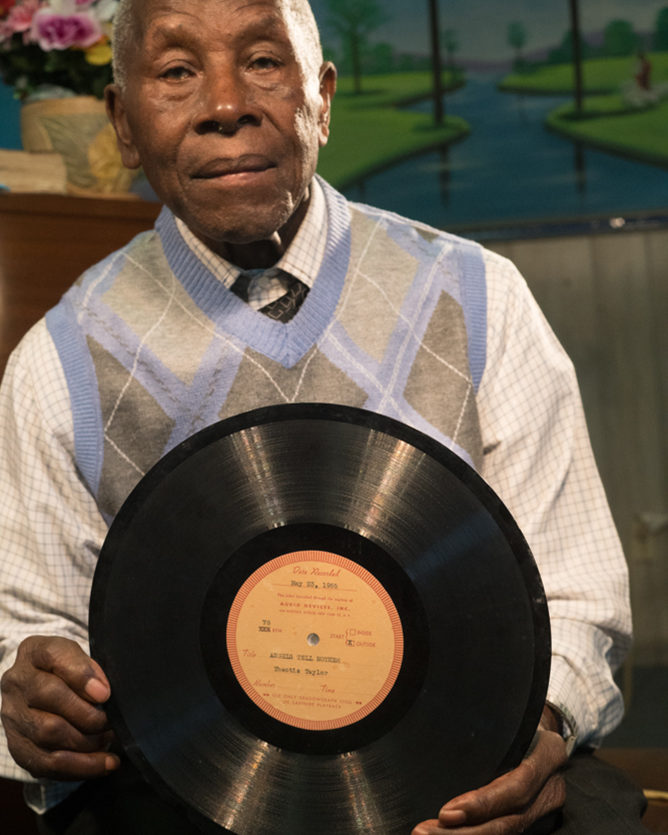 Brother Theotis Taylor
Sacred
Brother Theotis Taylor sang the gospel everywhere from the tiny churches of his southeast Georgia home to the stage of Carnegie Hall in New York, but he continued to make his living as a turpentine farmer.
Brother Theotis Taylor was a gospel singer and pianist from Fitzgerald, Georgia, in the southeast portion of the state. His parents, grandparents, and great-grandparents were all turpentine farmers, part of the now vanished industry that was the livelihood of many farmers in the Southeast until the 1970s.
But his love of old-time gospel music was where his heart stayed throughout his life.
Taylor began singing professionally in 1946 with the Georgia Harmoniers, playing guitar with them for five years until one night when the rest of the band didn't show up for their program at a Holiness church. Brother Taylor decided to split with the band to play alone. Although there was never much money to be made playing gospel programs, and turpentining remained his livelihood, Taylor went on to record singles with Savannah's Pitch records in the '70s, and play on stages from the Georgia Grassroots Music Festival to the Apollo Theater.
The highlight of his life came in 1990, when Taylor was invited to play the Weill Recital Hall at Carnegie Hall as part of a "Black Gospel Styles" show. Now lived into his 90s, continuing to preach and sing — but only if he could find a person with the right spirit to accompany him.
"You've got to be anointed to do it right," he said. "Anointed. It's got to come from above."