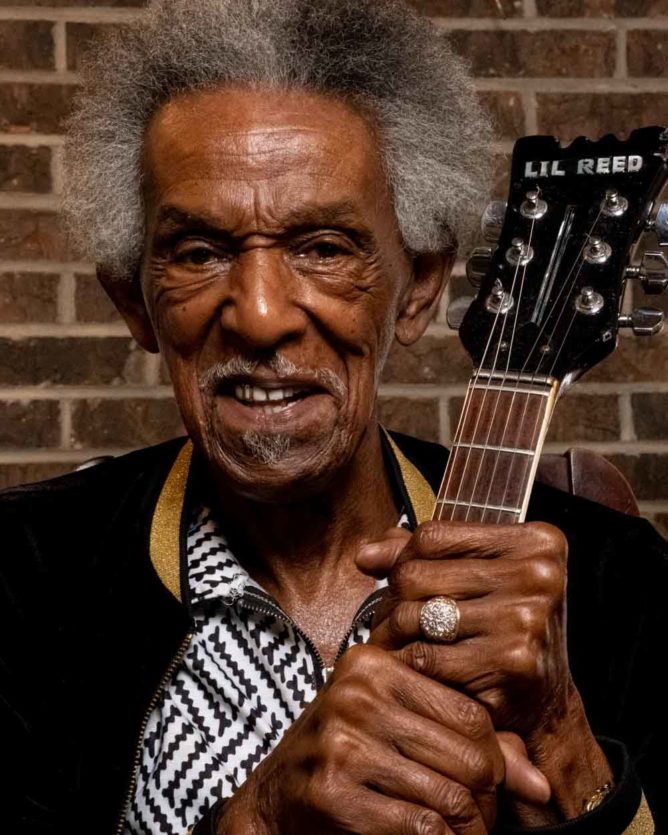 Lil' Jimmy Reed
Blues
Lil' Jimmy Reed began writing his own music the moment he picked up a guitar. Since then he has played across the world, from London to Jerusalem. But, when not on the road, he plays in nursing homes in his neighborhood in Enterprise, AL.
"To me, Blues music is everyday life. You live it."
For Louisiana bluesman Leon Atkins, better known as Lil' Jimmy Reed, that is a story 84 years in the making. His story began in Hardwood, Louisiana, a sawmill and cotton town along the banks of the Mississippi River. Lil' Jimmy grew up in Hardwood in a shotgun shack in the 1930s, across the street from a nightclub. He would listen to icons like Muddy Waters, John Lee Hooker and Jimmy Reed play the blues into the night and dream of following in their footsteps. When he was 16 years old, his father bought him his first real guitar and as Lil' Jimmy puts it, "My Daddy bought me a guitar on a Monday and Saturday night I was in the club playing."
Lil' Jimmy began writing his own music the moment he started playing. "Writing music ain't nothing but a rhyme. Especially with blues," Lil' Jimmy says. "Whatever you say the first time, you're going to say it again. Then you make it rhyme, and you got you a song."
He started out in Baton Rouge's blues scene, earning his moniker one night when he filled in for Jimmy Reed. His strong voice, whining harmonica and effortless guitar work epitomize the soul of blues music. Lil' Jimmy plays by ear; if he hears a song he likes, he can play it within five minutes.
Once, I played in England, and people were screaming and hollering. I said, "Damn, I'm doing good!" But what they were hollering about - the Queen had

walked in!
Lil' Jimmy Reed
After years spent making a name for himself in Louisiana, Lil' Jimmy spent 20 years from, 1972 to 1992, serving in the military. Through the VA Loan Program, he bought his home in Entreprise, Alabama, the town he has now called home for the past 40-plus years.
His impressive and tireless career as a musician and performer has only grown in his later years. Lil' Jimmy's talent has taken him around the world. He has toured across Europe several times, and when asked what locales stand out in his memory, he recounts, "I've played in Jerusalem, I've played in Israel… I've been everywhere except China and Japan. I've been all over the world. I even went to Russia." He finds his energy in the adventure of it, he tells me.
"Once, I played in England, and people were screaming and hollering. I said, "Damn, I'm doing good!" But what they were hollering about – the Queen had walked in! Yeah, she went up in the balcony. It was a big, old, pretty theater, so she went in the balcony. I didn't get a chance to see her because I was on stage and all the lights were in my face! But that's something I'll never forget."
His stories are evidence of a life well-lived in the focused pursuit of what he loves: playing the blues.
Now in his 80s, Lil' Jimmy has 37 grandchildren, 24 great-grandchildren, 14 great-great-grandchildren and 7 great-great-great-grandchildren. He plays most every day and when he is not touring, he makes regular rounds to a dozen nursing homes in the neighborhood.
"A lot of those people don't come out of their rooms till I come. I've even seen some of them leave the nursing home! Music is good for the soul. That's what keeps me going, the music."
Lil' Jimmy Reed was born Leon Atkins on July 14, 1938.
Top photo by Tim Duffy.