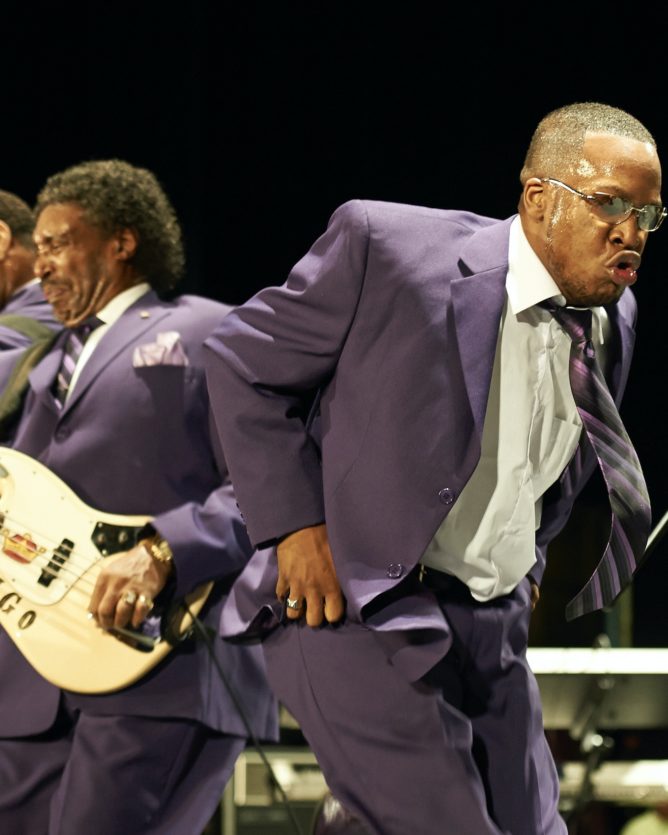 The Legendary Singing Stars
Sacred
The Brooklyn-Based group has carried the gospel tradition into the 21st century in the sixty-plus years since its founding.
When singers Billie Hardie and Tommy Ellison founded the Singing Stars gospel group in 1960 in Brooklyn, NY, all they needed was a guitar player. "Back in the day when we were first recording, you had a straight gospel sound," says Hardie, who now leads the group at 84 years old. "Now you have so much action into it; there wasn't always so much action in singing gospel." Currently, the group is comprised of eight musicians, including a bass player, drummer, keyboardist, and multiple guitarists.
In the decades since their founding, the Stars have gone by different names, changed their band mates, and cut several successful records. Hardie left to form his own gospel group in 1970, and rejoined the Stars in 2008 at the request of Ellison. He had been diagnosed with lung cancer and hoped that Hardie would carry on their group's legacy. Following his passing, the group renamed itself "The Legendary Singing Stars," memorializing Ellison and his musical impact.
Today, Hardie shares lead vocal duties with 21-year-old Michael Boone, who has been performing with the group since age 15 and grew up frequenting the Singing Stars' NC shows. Hardie calls Boone "the new Tommy [Ellison]," remarking on similarities in sound and look between him and his predecessor. Despite a 63-year age difference, the two vocalists have great chemistry on stage and share a similar vision and talent. "He's doing a marvelous job,"says Hardie.
Hardie writes every song he sings, and follows a strict rule when creating music: it must have a message. "If there isn't a message," he says, "it's not worth singing." Hardie is proud of the Singing Stars' records and remains adamant about the value of gospel music today.
While the Singing Stars live in different parts of the country, they come together to play shows. Hardie is grateful for his career and for the opportunity to perform; he says the Stars are "not too good to talk to anyone." Moreover, after two years off during the pandemic, he's pleased that the group has maintained its devoted audience. "If it weren't for the public," he says, "there wouldn't be the Singing Stars."