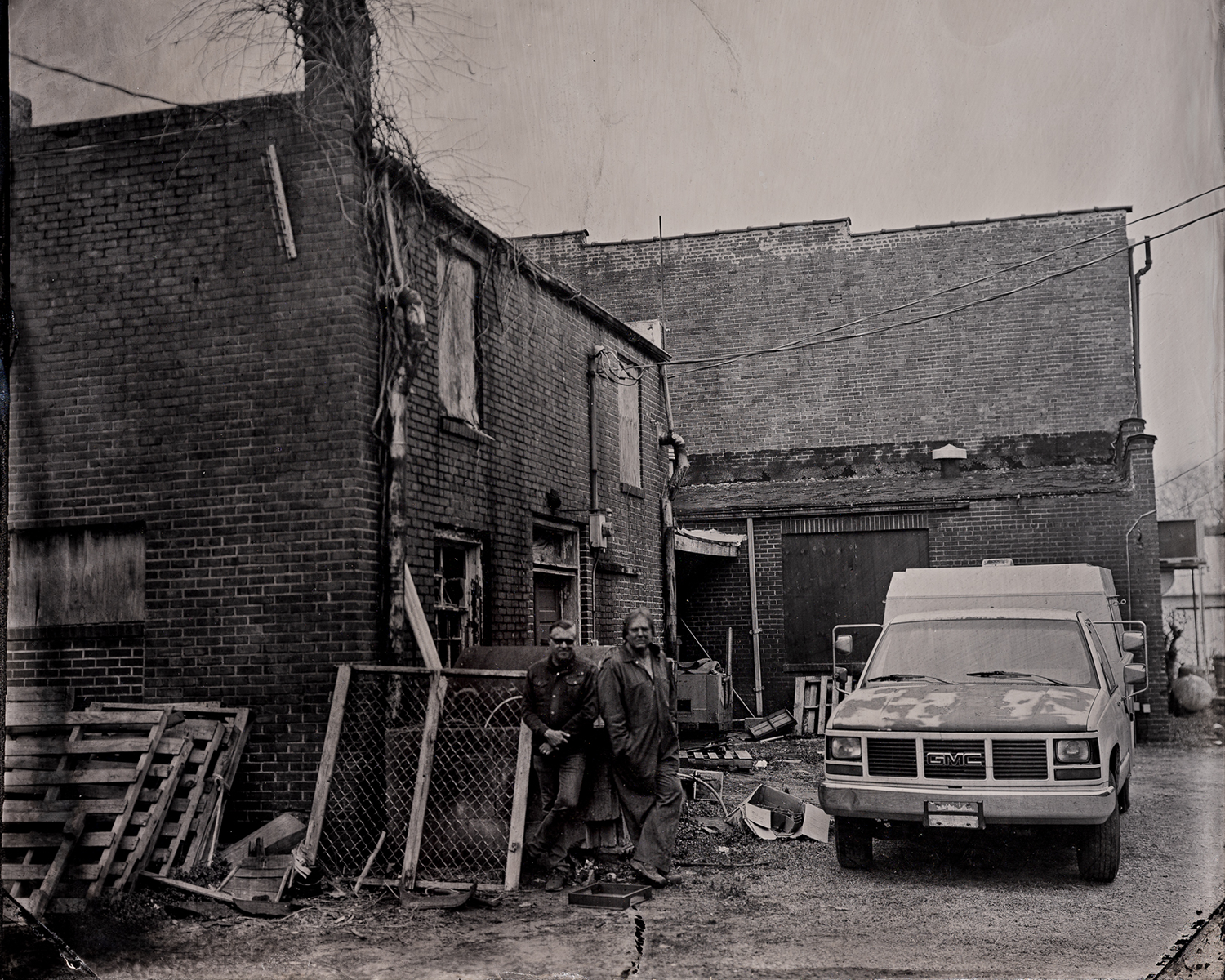 Bruce Watson of Big Legal Mess Records and Tim Duffy of the Music Maker Foundation
By Chuck Reece
How the Music Maker Foundation helps artists has always included recording. Only by capturing the music and then releasing it can we make it possible for the world to hear. The record spreads the word about the artist and serves as the basis for us to help them get live gigs, which are always their greatest source of income.
But that chain of events can happen only if a record label is involved, and over the last 20 years, Big Legal Mess Records, a Memphis-based label, has been a steadfast partner of our foundation.
The partnership began with a collaboration 20 years ago to release a collection of recordings by George Mitchell, a Georgia-based record producer and music historian. Over the years, Mitchell recorded blues artists such as John Lee Ziegler, Othar Turner, Sleepy John Estes, R.L. Burnside and Precious Bryant, among others. In the early days of Music Maker, the foundation was working with a record company to get Duffy's field recordings out to the public, and he arranged for that company to buy Mitchell's recordings. Then, after that company fell into bankruptcy, Duffy worked with Big Legal Mess to help the label acquire the Mitchell recordings.
Tim Duffy, Music Maker's co-founder, says the partnership with Big Legal Mess began to flourish in a major way in 2005, the period leading up to the 2006 release of the Carolina Chocolate Drops' first album, "Dona Got a Ramblin' Mind."
"With the Carolina Chocolate Drops, I was selling records, but I didn't have a distributor," Duffy says. "And if you're independent, finding someone to distribute is like grabbing a brass ring. And Bruce called me up and offered me help."
Music Maker went on to sell 30,000 copies of that debut album.
The relationship has continued in this fruitful way in all the years since. On his expeditions around the country, Duffy identifies undiscovered artists, exposes their work to Watson, and a new record might be the product of that process.
Another discovery in this process was Robert Finley, a blues guitarist born in Bernice, Louisiana. in 2015, Duffy discovered Finley busking on the street in Helena, Arkansas.
"He took some video of it and sent it to me and was like, 'You've got to hear this guy,'" Watson recalls "And Robert Finley happened to live in north Louisiana where I spent my teenage years, so it's kind of a good excuse to go down there and visit my father, he still lives there, and check on Robert. And Robert was just so charismatic. And we put him on a bus and brought him to Memphis and made the record."
That first album, "Age Don't Mean a Thing" helped make the connection between Finley and the Black Keys' co-founder, Dan Auerbach. Auerbach's Nashville-based record label Easy Eye Sound has released all of Finley's output since then.
Music Maker and Big Legal Mess' latest collaboration focuses on the sacred soul style of gospel music, highlighted (so far) by the release of the "Sacred Soul of North Carolina" compilation. That album came out on Big Legal Mess' gospel subsidiary, Bible & Tire Recording Co. 
As that collaboration continues, you can look for new recordings from Dedicated Men of Zion, Johnny Ray Daniels and Faith & Harmony. 
The collaborations are all built on a foundation of mutual respect between Big Legal Mess and Music Maker. Big Legal Mess admires Music Maker's dedication to its mission of supporting artists, and Music Maker marvels at BLM's ability to build huge audiences for obscure blues artists.
Consider the work of the late R.L. Burnside, often considered the king of the Mississippi hill country blues. 
"I toured with Guitar Gabriel alongside R.L. Burnside, and he was just another obscure blues act," Duffy says. "But these guys made him huge. I mean, it was amazing what they did to make him seen. They can look at artists and take a different approach. They can come up with a way to make R.L. Burnside a known thing.
"I mean Hill country blues is a thing now," Duffy continues. "Until they came out with R.L., no one even knew what Hill country blues was. What Bruce is doing now with sacred soul, no one knows what sacred soul is, but with any luck, it could be known all around the world."
After 20 years of collaboration, Bruce Watson still feels excited about working with Music Maker, too. 
"Hill country blues is a thing now. But until they came out with R.L., no one even knew what Hill country blues was. What Bruce is doing now with sacred soul, no one knows what sacred soul is, but with any luck, it could be known all around

the world."
Tim Duffy
"I firmly believe in Music Maker's mission — what they do to help these artists," Watson says. "It's like we do the same thing in a different way. Obviously, we're trying to monetize it for ourself and the artists, but with Music Maker, we've recorded people who would've never gotten any kind of notice or recognition at all if we wouldn't have recorded them. And we're still doing that. I firmly believe in the mission that Tim and Denise do with Music Maker — to see how how much of a change it makes in someone's life just to have some decent teeth or being able to see or having like a home with a roof on it.
"Tim was telling me yesterday that he was getting ["Sacred Soul of North Carolina" music director ] Alice Vines' heater fixed, and she needed a new roof," Watson continues. "All that stuff is just so important. And that's what I love about Music Maker."