Unheard but Fearless: Since Our Beginning, Music Maker Artists Have Always Taken Leaps of Faith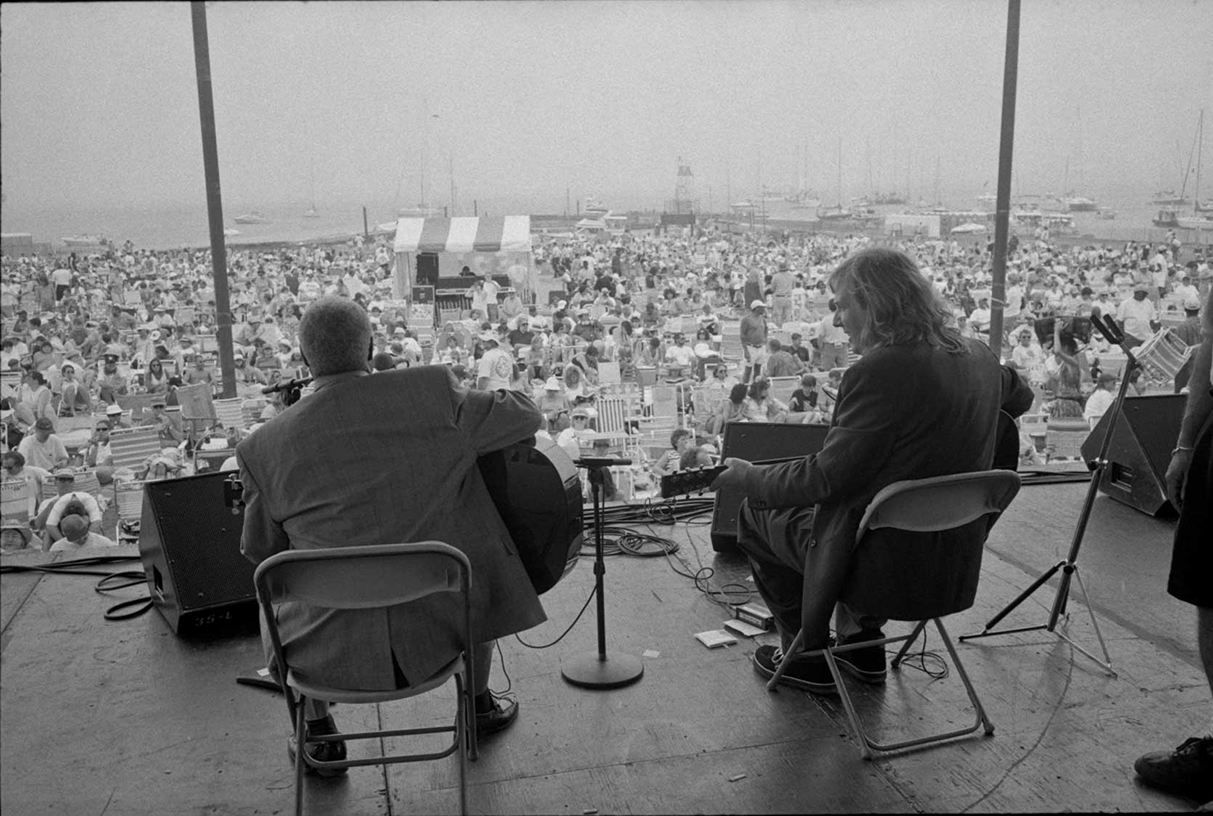 Cootie Stark and Tim Duffy on stage at the Newport Rhythm & Blues Festival
As we neared the end of our year at Music Maker, I sat down with one of our co-founders, Denise Duffy, to talk about her memories — spread out over more than a quarter-century — since the foundation began its work.
I wanted to explore Denise's memories because after a few months of working with her, I've discovered that she is the collective memory and emotional core of Music Maker. Whenever I have a question not only about how Music Maker works, but also why it works, Denise is my first stop.
The foundation often speaks about its insatiable desire to search out the unheard musicians who keep American musical traditions alive — and its equally insatiable desire for equity, our need to make sure the work of our partner musicians live on for future generations and that poverty does not crush them.
"Cootie would just take these leaps of faith — a blind man in his '70s, running off with us and our kid — and we had a

wonderful time."
Denise Duffy
Music Maker finds unheard musicians and helps keep them and their music alive, but my December conversation with Denise revealed that the secret sauce in the Music Maker method is the fearlessness of the artists we work with.
"Their fearlessness is something," Denise says. "When I first met many of these guys, I was 30, 35. Everyone's kind of intrepid at that age but the older you get, sometimes you do become less adventurous, more fearful because you realize how fragile it all is."
In many cases, Music Maker has discovered artists when they are late in their lives. There are many stories of them recording their first albums or going on tour for the first time in their 70s.
Music Maker was founded in 1994, and one of its earliest partner artists was the late Cootie Stark, a blind blues player whom co-founder Tim Duffy discovered playing on a street corner in Charleston, South Carolina. Stark quickly became part of the Music Maker family.
"I think most of my best memories are around traveling with the artists and spending extended periods of time with them," she says. "And I think a lot about all the time we spent with Cootie in the summer of '97. We spent six weeks together and Lucas (the Duffys' first child) was a baby. Someone offered us a cottage in East Hampton, and we had to make the choice really quick whether to take it. Cootie was playing the Newport Rhythm & Blues Festival, and we had gigs out on Long Island and some other New England things to do. And someone offered this two-bedroom cottage, and it was Tim and I and this baby, and we called Cootie because we didn't know how else we were going to get Cootie up there. We just invited him to spend the summer with us."
"It was a whole new world for him," Denise continues. "He got a weekly gig playing in this jewelry gallery. Cootie would just take these leaps of faith — a blind man in his 70s, running off with us and our kid — and we had a wonderful time. And experiencing the world with Cootie was different because of his perspective. He was blind. and I'd really never spent a lot of time in my life with people with those sorts of challenges, and it was really great to see him experience the world using all his other senses. And he was such a kind and generous man. He was just so open and fearless, and that made such a huge impression on me, how fearless he was."
Dr. Burt, another early Music Maker artist who, like Stark, saw his career take off when he was in his 70s, became another in the long list of musicians who left their homes for the first time thanks to our foundation.
"He just played in his community. He had never been paid to play," Denise says, "But he was incredible and talented. His first real gig was the Byron Bay Blues Festival in Australia, one of the biggest stages. On the stage over was R.E.M. It was just crazy. But they make these leaps of faith."
The trip to Australia, when Dr. Burt was 72 years old, marked not only the first time he left the United States, but also his first airplane ride.
Denise also cherishes the anniversary reunions of Music Maker artists, where their fearlessness turns their music electric. As Music Maker artists hit the road together or record together, they form tight bonds. The players are just as fearless when it comes to playing together with musicians they don't even know, and the music they make in the process can be transcendent.
"There's just so many instances of being completely transported by the music, and that's what you're in it for," she says. "I can reflect on different artists and remember how I was moved musically at different places and transported. I could sit here and make a list of probably 50 of these times. Wow, what a gift."