If We Don't Document This Music, No One Will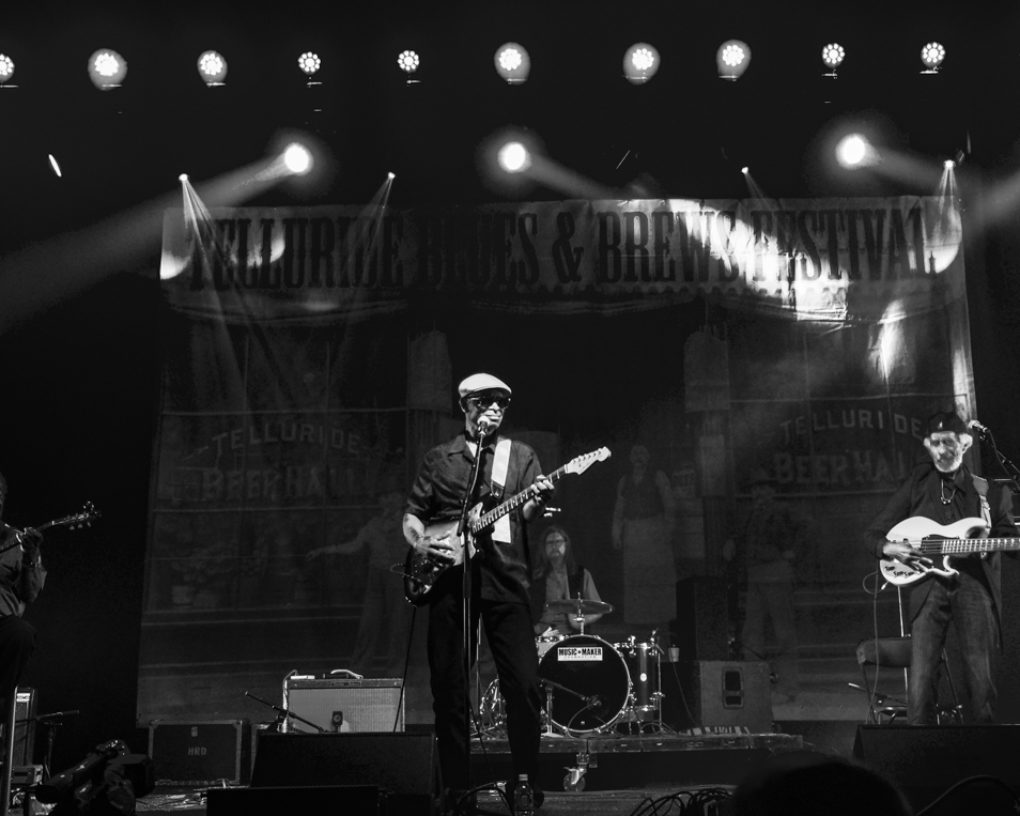 Leonard "Lowdown" Brown with Albert White and Fred Thomas at Telluride Blues & Brews September 2022. Photo by Tim Duffy.
Dear Friends of Music Maker,
Thank you for tending the roots of American music. Your appreciation for these treasured songs, and for those who sing them, is what sustains our rich musical culture. We hope you will renew your support of Music Maker this year, so that we can assist more artists and amplify their voices.   
The essence of blues and roots music is hard to put down on paper. To capture the spirit of traditional music, one must immerse themselves in it completely. At Music Maker, we face the challenge head-on, working tirelessly to cultivate synergistic partnerships with artists who create traditional American music. By fostering trust, we work with partner artists to amplify their voices and create broader access to our nation's hidden musical treasures. 
Given the steep lineage of oppression in the Southeast, many artists come from broadly underserved populations. Difficult socio-economic circumstances present daily challenges. Music Maker aims to remove these barriers, offering financial and personal assistance so that they may prioritize their noble roles as purveyors of an endangered art and language. 
The reasoning behind our work is simple: If we don't document this music, no one will.
We are incentivized by the urgency of an aging population of storytellers. Music Maker seeks out senior artists who exhibit excellence in their craft by carrying forward an authentic tradition. They learn the music within their communities, often with songs and instruments passed down from family members.
Saving our culture means bringing forth tradition for emerging generations. And this is not possible without proper documentation.
This year we released eight CDs, spanning from a decade's old unreleased treasure from barrel house piano player Albert Smith, to Sugar Is My Name, the Music Maker debut from blues entertainer and harmonica aficionado Sugar Harp. You wouldn't know it listening to Sugar Harp's new record, but the musician has faced many obstacles this past year. Amidst the release of his record, unexpected major costs of repairing his car and installing a new roof on his house put Sugar Harp in a tough spot. Thanks to your support, we were able to help Sugar out, with a working vehicle and a safe space to live, Sugar was able to continue performing.
On September 20th we released, Deep in the South: A Music Maker Songbook. The book and accompanying CD will take you on a musical road trip through the South, with tablature and song notes to guide guitarists, as well as stories about the artists whose songs are contained, and photographs that set the scene. This project will ensure that the songs of our partner artists can be passed down to future generations and live on for posterity.
The voices of our partner artists are a part of the history, soul, and collective experience of America. And the time to preserve what they do, to record it and help them perform it, is now or never. Music Maker has established the industry relationships and logistical infrastructure to discover these artists, support them as they find their own career footing, and give them the opportunity to reach audiences worldwide.
The needs of the hundreds of artists we serve are simple but critical. Nearly 90% of the musicians we support are people of color living on less than $18,000 per year, and 80% of them are over the age of 65. Music Maker has been there to assist with their healthcare quality and life necessities, paying for medical bills and home repair so they can focus on the beauty they have to offer the world, instead of being consumed by a struggle for the essentials.
Your donation today will ensure that traditions are not lost, that communities will continue to value and cultivate their musical heritage and share it with the world. 
Please do your part by renewing your support and keeping this music alive. "Deep in the South: A Music Maker Songbook" is the perfect gift for any music fan or guitar player; order your copy at www.musicmaker.org. Thanks to your generosity, Music Maker can give musicians a hand up so that they can share their talent with the world. Your gift will not only change the lives of musicians today, it will preserve the vitality unique to our American musical heritage, ensuring it lives on for generations to come.  
 Sincerely,
Timothy and Denise Duffy
Co-Founders