Tales From the Road: Our Alabama Travels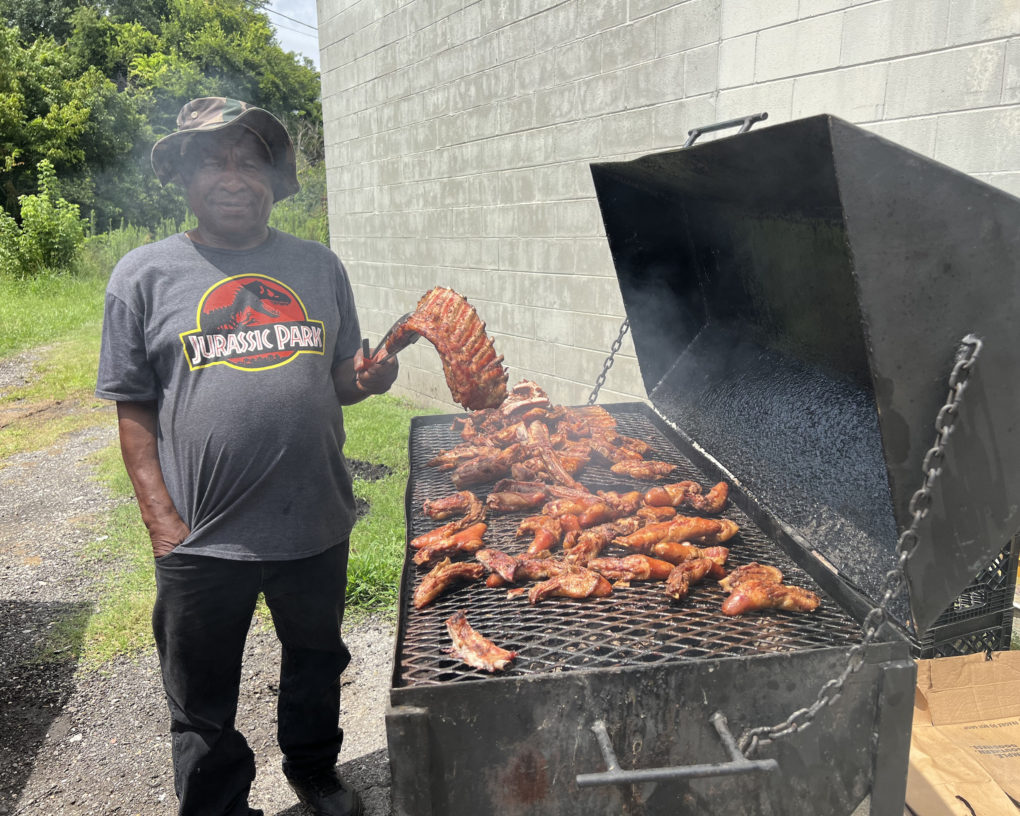 Billy Hicks cooks ribs and pig tails on the smoker in Clinton, AL. Photo by Gabi Mendick.
By Gabi Mendick.
In August, Music Maker took a field trip to Georgia and Alabama to meet, document, and discover a few of America's musical treasures.
Wednesday, August 24th
Wednesday morning at 8am–a late start for a Music Maker field trip., Music Maker Executive Director Tim Duffy, Selden Leonard, a recent college graduate and family friend of the Duffy's, and I, pack up Tim's Suburban with all of the microphones, tripods, lights, and miscellaneous gear we're hoping we'll get a chance to use, and hit the road.
Along the way we pull off at a rest stop for a "flat meat" sandwich. I tell Tim I've never heard someone refer to cold cuts that way and he explains that's what touring musicians call it. When you're on the road and not big-time enough to eat proper green room meals, all you get is the compact, preserved flat meat. Tim opts for a protein powder shake.
After lunch, we keep on keeping on to David Bryant's house in Oxford, Georgia, just east of Atlanta. I'm immediately drawn to David's garden; three kittens run around the greenery decorated with found objects. The inside of his home is also full of antiques and photographs. David leads us to a small nook in the back of the house, a gallery of family photos: his mother, Music Maker partner artist Cora Mae Bryant, his brother Tony Bryant, his grandfather,  guitar legend Curley Weaver, and many others.
David holds his family and his musical heritage close. But when David picks up a guitar, a sound resonates that is all his own. He may play a standard blues or gospel song, or make up a lighthearted tune on the spot. His playing is avant-garde, dissonant, and pretty weird. But his strumming is grounded by his honest voice.
David has an eye for overlooked gems. He collects buttons and jewelry, sentimental objects and discarded items that live in the bottoms of pockets and corners of drawers of his friends and family. He gathers and arranges the objects within ornate frames forming one-of-a-kind collages. David sends us off with about ten pieces of his original artwork.
Thursday, August 25th
On our way towards Birmingham from Atlanta we ring up Dennis Mitchell, a young (by our standards at least) R&B and gospel musician who wants to get into the blues. We're flattered that such a cool cat wants to meet us, and when we suggest a coffee shop Dennis invites us over to his place instead. Our friend and Magic City Blues Society Vice President, Roger Stephenson, who introduced us to Dennis (and many other great Birmingham musicians) meets us there.
As we pull into the driveway Dennis is set up in the garage, already playing guitar. Dennis fills us in on the southern R&B circuit that he tours, filling huge venues.
Between chatting and getting to know one another, Dennis holds a guitar in his lap. When he casually plays a few licks you get a taste of his talent; he can really shred.
Seldon, being the Long Island foodie that he is, has his heart set on one thing and one thing only when he crosses the Mason-Dixon line: barbecue. The journey begins at lunch on Thursday. After surveying Dennis and Roger on their favorite spots, Roger takes us to Bob Sykes in Bessemer, Alabama. In addition to serving delicious ribs, the institution presents an annual BBQ and Blues Festival, now in its 11th year. We even get a BBQ rundown from owner Van Sykes, who explained that the smoke should be subtle, contrary to what you might think. The smoker shouldn't be closed, forcing itself into the meat.
Full up on pork and the sweetest, brightest red velvet cake, we drive to Clarence "Bluesman" Davis' house in Union, Alabama. When we arrive, Clarence has only recently returned from dialysis. He seems worn out when he sits back in a reclining chair. But less than ten minutes later, Clarence reaches for his guitar and starts playing energetically. His song "Facebook Blues" makes me crack up every time, it begins, "Baby, do me a favor/Keep my business off Facebook."
That night Selden and I head to the original Dreamland in Tuscaloosa, another barbecue joint mentioned by some of our friends and independent research. When we arrive the doors are locked. Another couple who has made a pilgrimage to the restaurant on a road trip is on the phone with the staff on the other side of the door. The couple convince them to open up and feed us their smoked chicken and ribs coated in a sweet and tangy sauce.
Friday, August 26th
In the morning we head back to Clarence's house to interview and photograph him before he goes to the hospital for dialysis. Though Friday is usually a day off, he rearranged his treatment schedule so that he can play at the Black Belt Folk Roots Festival the following day. Clarence has been on dialysis for a few years now. That condition, coupled with the pandemic, have thrown a wrench in his ability to travel and perform outside of his hometown. But we come to know that Clarence is a true community musician. Within a ten mile radius, Clarence contributes so much to his community and culture. Clarence describes his introduction to the blues at seven years old. Every afternoon at 1pm he would listen to a blues show on WRAG in Carrollton, Alabama, "before Sonny Boy Williamson even had a record, I heard him blowing harmonica on WRAG."
Clarence tells us about his years working on farms. He's grown just about everything: corn, peas, butterbeans, and so much more. On his land today he has a grove of blueberry bushes. He doesn't sell the berries, but neighbors and friends come around to help themselves when the fruit is in season.
On our way out Clarence gives us his insider tip on where to find the best barbecue. Go straight on 22, turn left when you hit 88, then go straight for a couple of blocks until you get to 14 (or something like that). After barely getting lost, we pull into a gas station where Billy Hicks is grilling in the parking lot. Billy is immediately friendly and open, showing off his ribs and pigtails. Billy is an old classmate of Clarence's. He too is from a musical family; his father was a harmonica player and his daughter, who we meet inside the convenience store, sings in a gospel group. We enjoy some ribs: they are dry, salty, and fall off the bone. Billy walks us to an unassuming brick building next door. We don't ask any questions and follow along. We step into a hair salon, where another one of Billy's daughters is halfway through braiding a woman's hair. Just like the gas station where Billy barbecues, this business has no signs, no branding, no hint at what's inside. If you're not from the community, the only way to find these gems is by word of mouth, by spending time in the place and making friends, which is easy enough to do here where everyone is especially kind and open.
Following our third rib tasting in two days, we head back into Union, and hang out at the general store while we wait for Clarence. Everyone knows everyone here. A few people sit on the porch, others pull up in the parking lot and chat through their car windows, staying in the comfortable A.C.. One man, who is back in town for a wedding, shares his souse meat and Ritz crackers with Tim and Selden.
We get back to Clarence's in the late afternoon and set up a sound system in Clarence's expansive yard. Rob Harris, a guitar and bass player from Birmingham, arrives to treat us to a few songs. Rob is an interesting guy; he tells us he joined the Navy strategically with the goal of making it out to California. At one point, he had to complete a form with his preference of where to be stationed. At the last moment, he filled in the box for the East Coast, figuring it was some sort of mind game or trick question. Well, Rob figured right, and was shipped off to L.A. where he served for X years. There, he also immersed himself in the R&B music scene, finding plenty of work playing behind up-and-comers and stars. Several years later, when Rob's mother got sick, he picked up and moved back to Birmingham, abandoning all he had built in L.A. Today, Rob explains that it took leaving Alabama to appreciate his home, the culture, the people, and the music where he grew up.
As Rob tells stories, he speaks about those he admires and learns from, and regularly motions to Clarence. At 77, Clarence represents the older generation of true bluesmen to Harris.
Saturday, August 27th
The first day of the Black Belt Folk and Roots Festival is unforgettable. Beyond the music, what sticks with me is the overwhelming friendliness and kindness. Throughout the day, I speak to just about everyone in Eutaw, from musicians, to attendees, to vendors.
Saturday is the blues day and the festival kicks off with Clarence Davis. Clarence has played at every single Black Belt Folk and Roots Festival, now in it's 47th year. Other performers include Terry "Harmonica" Bean, whose solo harmonica playing captivates the crowd for a full set, our friend from Montgomery, Lil Lee, one of my favorite discoveries who came up with Willie King, Willie Halbert, and many more.
The dance floor is also a sight to behold, dominated by an 89 year old and others nearly three times my age with more than three times my dancing skills. You have to see it for yourself.
Saturday night we visit Archibald & Woodrow's BBQ—not to be confused with Archibald's, in Tuscaloosa. Between myself, Tim, and Selden, we sample the ribs, chicken, catfish, and wings, and after a long day in the sun, it truly hits the spot.
Sunday, August 28th
With a few hours of free time, Tim takes us on an expedition to Macon, Mississippi.
About seven years back, Tim photographed a small cinder block building wrapped in murals depicting the history of slavery. On one side large black letters read "Noxubee County African Historical Museum." Tim doesn't remember the location of the building, so prior to our trip I did some sleuthing. A quick google search came up short of anything at all. But the Noxubee County Historical Society led us to a short stretch of road, "The museum is on HWY 14 (going from downtown Macon toward Hwy 45)." When we arrive on Highway 14 in Macon, we don't see anything. We walk around and pop into a couple of gas stations, but none of the locals of this small town have any clue what we're talking about. Our third time driving down, Tim spots a corner of the building, now blocked by another small, defunct barbecue dive.
What feels like the joy of completing a treasure hunt is accompanied by some disappointment.The murals are faded and the building has not been preserved. It is surrounded by overgrown grass, and one side completely blocked by the new building.
We drive back to Eutaw for the gospel day of the Black Belt Folk & Roots Festival. The atmosphere of the festival is completely different today; we've really just gone to church. Dancers don't groove, but the crowd stands at their seats swaying, hands shoot up in the air in praise. The first group spans generations, with two little boys up on stage singing along, I can both see and hear how this music is passed on.
We have a long drive back to North Carolina to reflect. After a few days, I feel a longing for Greene County, Alabama, for the generosity, kindness, pride, and rich culture of its community. And the barbecue.
Best barbecue in Alabama, according to –
Gabi: Billy Hicks
Tim: Bob Sykes & Billy Hicks
Selden: Bob Sykes
Clarence: Billy Hicks
Roger: Saw's BBQ
Dennis: Jim n Nicks
Rob: Laquest BBQ