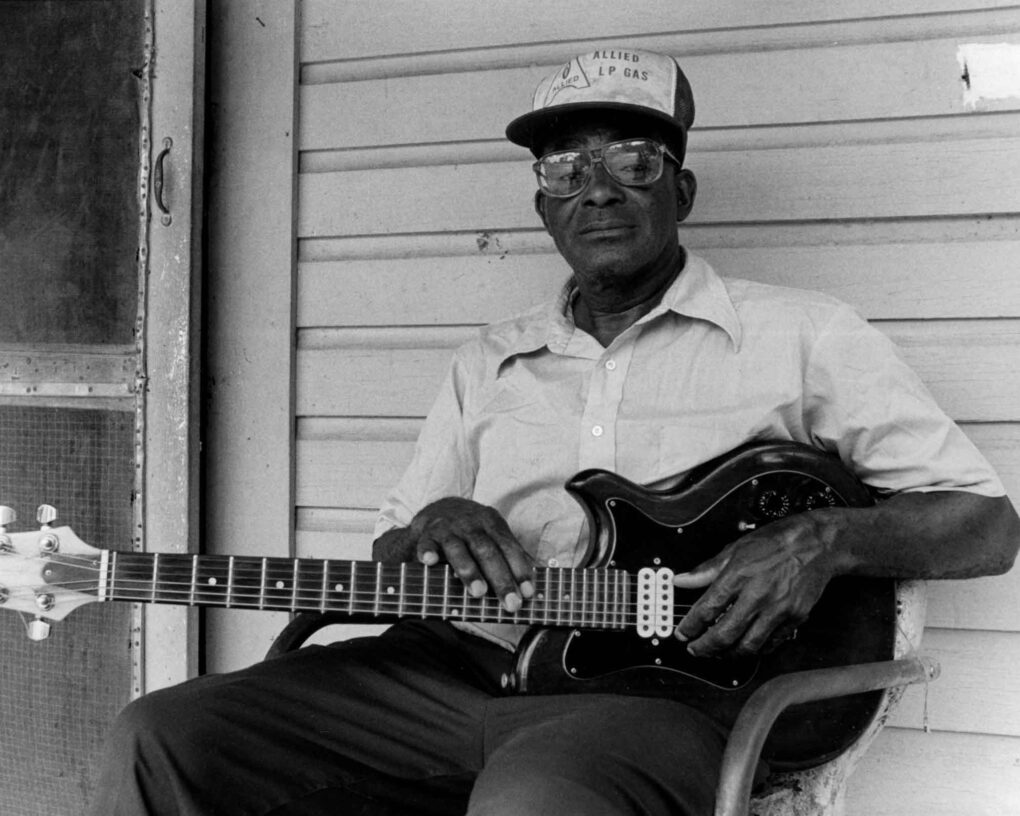 John Lee Zeigler, circa 1990. Photo by Axel Küstner.
By Max Brzezinski
While contemporary American folklore was coalescing in the early 1960s, teenage George Mitchell circuited the South, recording with the likes of Will Shade of the Memphis Jug Band. A legendary figure in roots preservation, Mitchell's vernacular photographs and recordings of R.L. Burnside, Jessie Mae Hemphill, Fred McDowell, Sleepy John Estes, and more are essential. If you don't believe me, just listen to the immense George Mitchell Collection: Vol. 1 – 45 box set put out by Fat Possum in 2008. Or look at his many collections of photographs, which journey from the streets of Atlanta to the lean-tos of Northern Mississippi.
When Music Maker founder Tim Duffy was just getting started, he looked to George Mitchell as both model and guide. In those early days, Duffy followed paths first broken by Mitchell. As a result, the many MMF recordings, photographs which followed all owe a debt to Mitchell's work as inspiration and example.
So it's only right that Music Maker Foundation give back to Mr. Mitchell. In late 2023, when storm surges from Hurricane Ian flooded Mitchell's Fort Myers, Florida home, MMF provided him with money to go towards repairs. The worst hurricane to hit since Katrina, Ian devastated Southwest Florida, killing 149. Mitchell says the water got so high, that "everything but the ceiling was underwater." The family car, too, was completely submerged.  High winds tore out many usually pliant and long-rooted palm trees, which Mitchell saw floating down what he calls "a river in the road." An older home with good bones, the Mitchell's house was not impacted structurally, but sustained heavy water damage. The shelter he and his wife, Cathy, went to "was in even worse shape than home."
Luckily for posterity, Mitchell says he "had taken care of all the important [archival] materials ahead of time." One tape he does think was destroyed, however, was an early '60s recording from Memphis with the aforementioned Will Shade on harmonica, his young friend Charlie Musselwhite on guitar, and Mitchell himself playing the oil can jug bass for the first time (sources tend to agree he didn't sound great). This washed away tape, he says charmingly, was "a loss but not a great loss," with a slight touch of relief in his voice. Read also: Singing Through the Storm
When our conversation turns to an artist recorded by both Mitchell and MMF's Tim Duffy, Georgia guitarist John Lee Zeigler, Mitchell's self-effacing tone persists. Mitchell recorded Zeigler's fantastic sides for 1980's compilation Georgia Blues Today, performances over which music writers have understandably waxed poetic. But here Mitchell's quick to talk about his "biggest regret": not recording Zeigler's follow-up to his Georgia Blues Today work. Zeigler had wanted to make a full-length LP of his own. Mitchell encouraged him to get some newer material together, which he did. But Mitchell soon found himself overextended, Zeigler took sick, and the album never came together.
Music Maker finally picked up some of these dropped threads in the early 1990s, with Zeigler recording dozens of tracks with Tim Duffy. While this work was not the record Mitchell and Zeigler planned back in 1980, it's easy to consider it the older and wiser manifestation of its spirit. Songs like "Goin' Away" and "Pretty Shoes" feature a gentler, more wistful combination of Zeigler's fragile falsetto and hypnotic slide guitar than listeners last heard on Georgia Blues Today.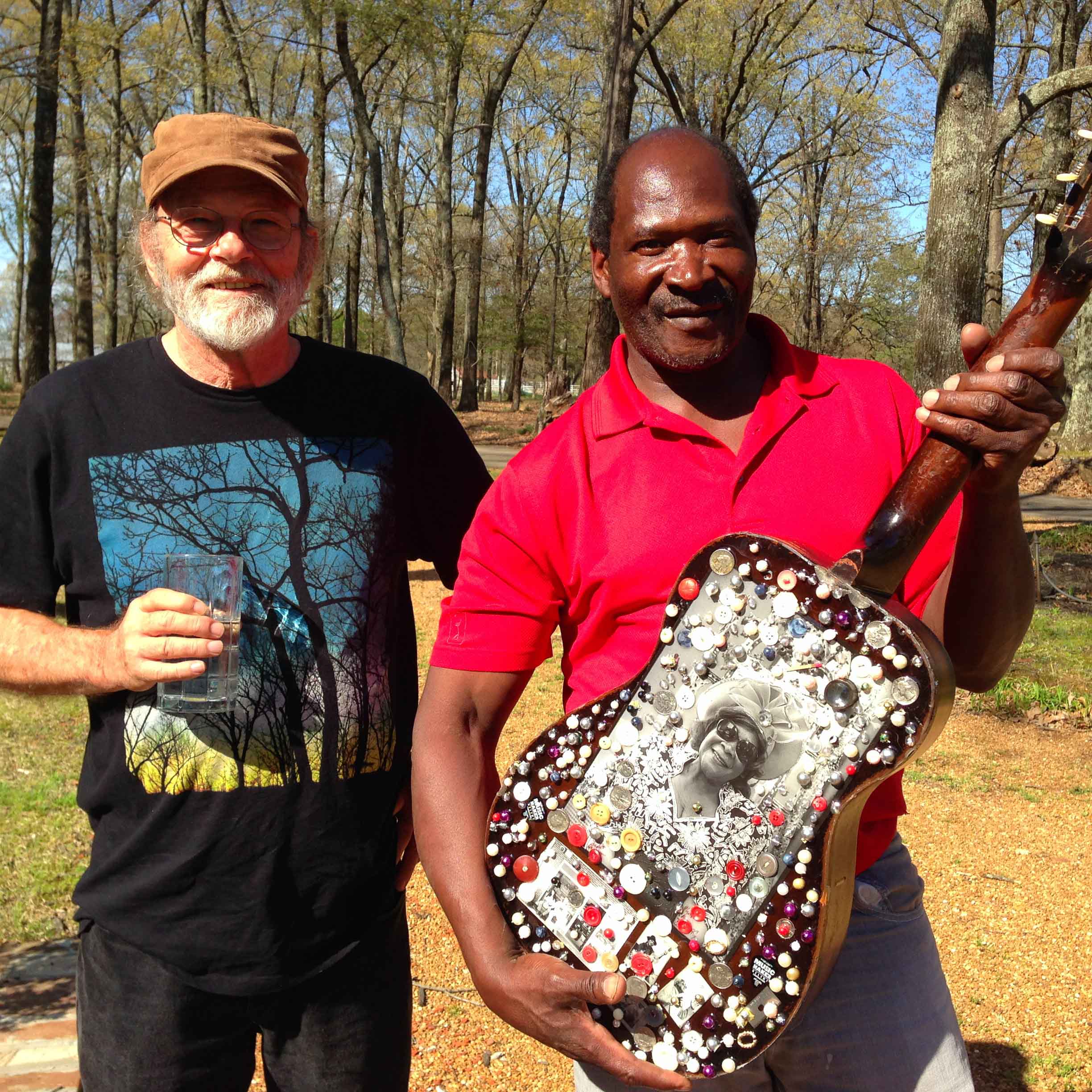 "Time passes," Mitchell says matter-of-factly: "genres like the blues are not an organic part of culture anymore." This belief, perhaps, fuels his appreciation for the work of MMF and others who provide material relief and musical support to roots artists. Near the end of our talk, Mitchell relishes the fact that Tim and MMF "still finds good folk to play and record," within the rapid churn of today's amnesiac ways. Coming from Mitchell, a genuine trailblazer, we count this high praise.
Your support makes it possible for us to give back to pathbreakers like George Mitchell, whose work contributes so much to our cultural heritage. Please consider making a donation to our Sustenance Program today so that we can continue this work. Thank you.