Hermon Hitson's Latest Record, "Let The Gods Sing"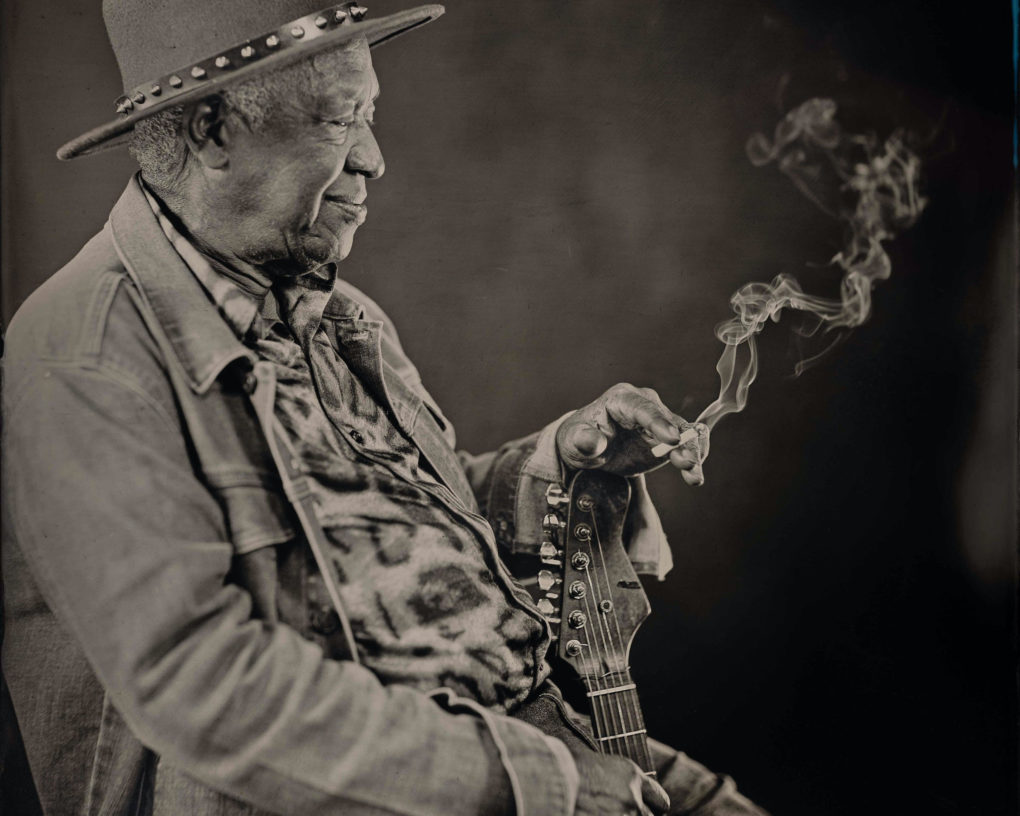 By Tim Duffy
I invited Hermon to play with the Music Maker Revue at the Telluride Blues and Brews Festival in September of 2022. I enjoyed my time with Hermon immediately. He has a very peaceful, magnetic presence. I noted that he did not touch his guitar while hanging around at the condo, but when he stood on stage, his playing was explosive.
How did I not know of this man who spent three years with a young Jimi Hendrix on the Southern Chitlin Circuit and had Jimi play bass on his record, who had played with Joe Tex, The Tams and countless others. When I got back from that festival every other word out of my mouth was Hermon Hitson for the next couple of months.
Thankfully my friend Bruce Watson of Big Legal Mess Records in Memphis, TN was intrigued. He offered Hermon a couple of days in his studio with his house band. That December Hermon and I traveled down South and stayed above the studio in a guest apartment where I heard the philosophy of Hermon; his life as a Black Nationalist, his time with the Nation of Islam, studying to be a minister with Muhammad Ali, his years as a street painter, years as a commercial actor after bumping into Jane Fonda on the street. The black night club scenes in Miami, Atlanta, Detroit, Los Angeles, Chicago, Birmingham, Houston, Harlem. Jamming with a young Duane Allman, Jerry Garcia, the names of musicians I revered and knew little about went on forever.
Then there was the philosophy, bible stories, all from a perspective of someone who had lived a very hard life, had grown up without a father, picked cotton as a boy in Florida to help support his family, had found opportunity in music, had come close but not close enough to gain wider recognition, without bitterness, full of peace, love and contentment with the music he shared.
Then there were the sessions. This album was recorded in two four hour sessions, a couple songs were done twice but most just once, a few others did not make the album. Hermon commanded this tight Memphis band and took them on a journey. Thankfully Bruce and guitarist Will Sexton were at the helm to capture it and mix and master this spirited record.
Hermon and I stay in touch on the phone every couple of weeks, and I was so glad when he came up to North Carolina to perform at our Freight Train Blues series in May. He came in a day early, and we just spent our time in my studio, talking, picking up on the conversations we had in Memphis. I asked Hermon if I could take his photograph, and thankfully he said yes. I only took a couple, but when this image appeared in its magical way as it does when you develop tin types, I was stunned. This was the Hermon I first met, who I was sitting with that day, a peaceful gentle spirit who is content with this time here, not scared at all about what is next, enjoying each moment, happy to share his music at any time, any place.