After Disaster, She's Still Singing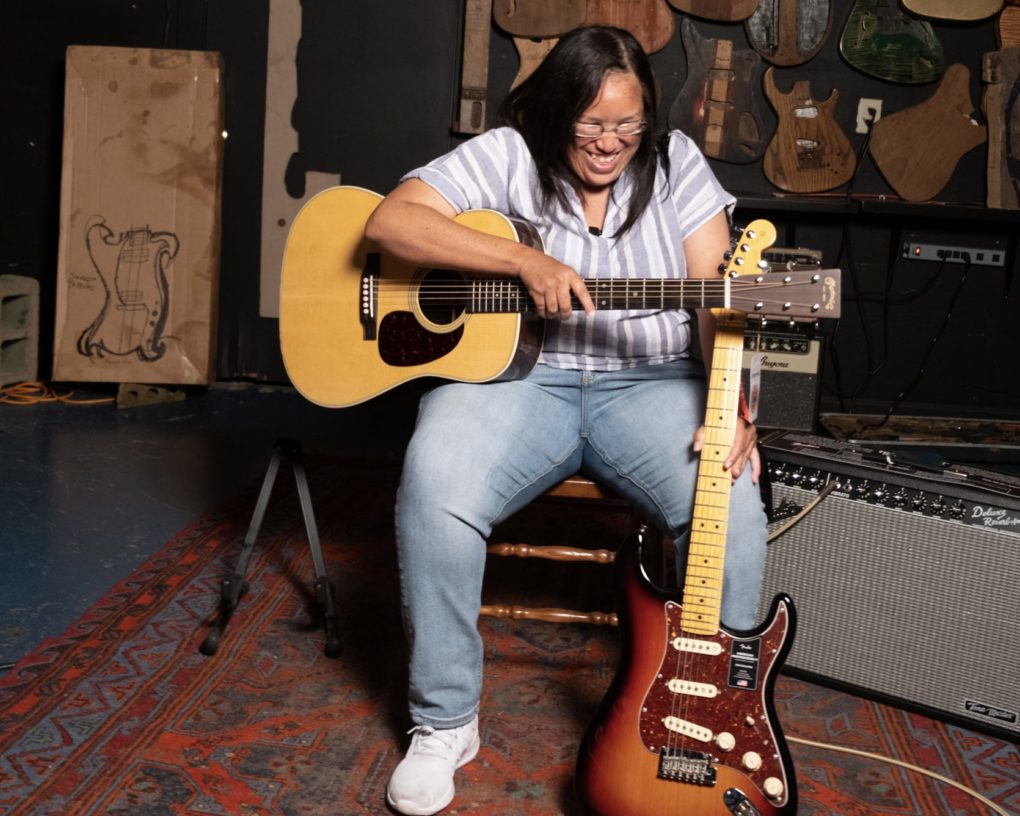 Gail Caesar at Music Maker studios with a Martin, a Fender American Stratocaster, and a Fender Deluxe Reverb Amp donated to her by Music Maker. Photo by Tim Duffy.
By Tess Stogner.
It was the morning of July 1st in Pittsville, Virginia. Gail Caesar was in her kitchen washing dishes when she smelled smoke. She alerted her mother, and the two started searching for the source. With no fire in sight, Gail's mother opened the back door to see smoke rising up from underneath the house. They immediately evacuated and called 911. Gail only had time to grab her one-year-old niece, her pocketbook, and her phone.
By the time the fire department arrived, the house was in smoke and flames. The furnace had exploded and the firefighters were knocking out the entire underpinnings of the house to put out the fire. Gail and her mother watched as the fire spread and consumed their home. The firefighters staved off the flames long enough to allow Gail and her mother to quickly re-enter the home and collect their birth certificates and important documents. Everything else went up in smoke.
"I didn't know what to think," recalls Caesar. "I had to think about how would we start over and get a new home, try to rebuild."
Gail lost more than her home that day. The loss of her two guitars and amplifier meant the loss of her livelihood as a musician. She shares, "I called Music Maker and I told them about the fire and the guitars and they called me right back and said, 'We can get you some guitars. What would you want? What do you need?' So I told them, 'A Martin, a Fender American Stratocaster, and a Fender Deluxe Reverb Amp.' I had a Blueridge, but I had always wanted a Martin my whole life."
Gail has been playing her Piedmont-style blend of bluegrass and the blues, learned from her uncle Joe, since she was 10 years old. Supporting Music Maker means giving an artist back her sense of agency as she rebuilds her life. "It means a great deal," says Gail. "I've been playing my whole life; it brings me peace and comfort."
Gail, her niece, and her mother are living with family in North Carolina for the time being. "We're making the best of it," she says, "but there's no place like home." Gail is currently working on a new album with Music Maker, set for release this winter. "It's songs that I've been playing over the years, old country blues I like to sit around the house and play. I had cousins that played, and uncles that played it. I hope people like it, I like it, I hope people can listen to it and enjoy it as much as I do."
Please consider making a donation to support musicians like Gail Caesar.