A Dose of Blues Medicine from Dr. Bones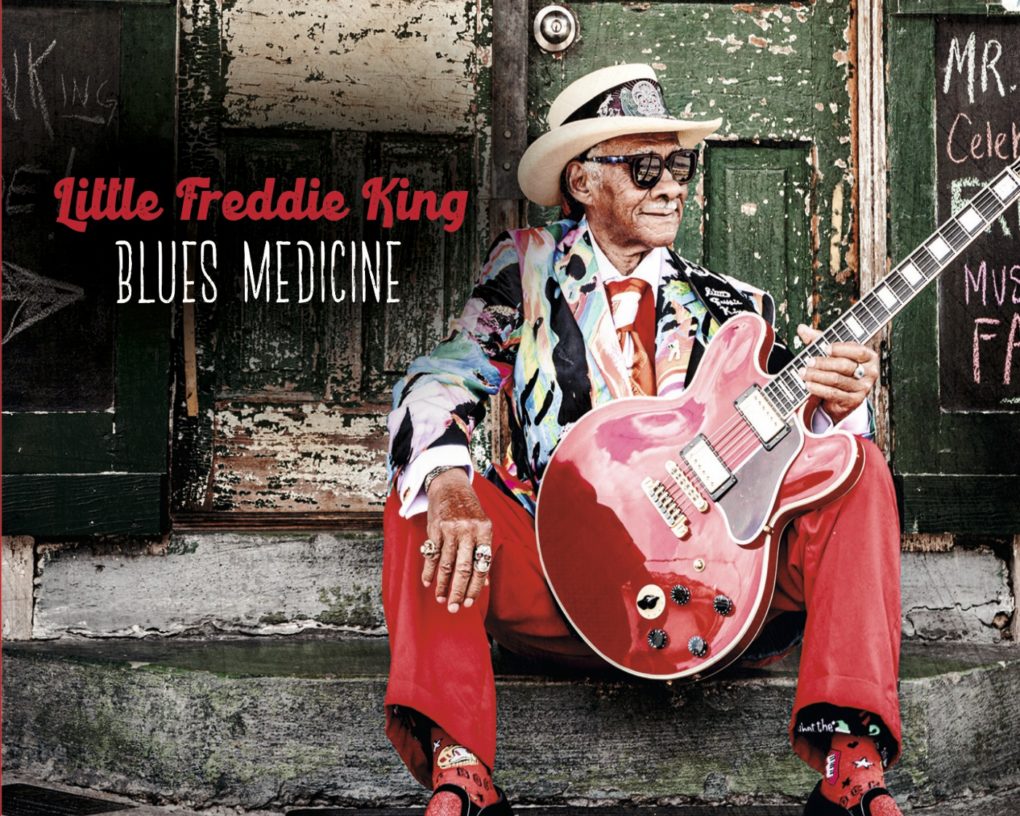 Little Freddie King sits on the stoop of B.J.'s Lounge. Photo by Tomas Orihuela.
By Tess Stogner.
At 82 years old, Little Freddie King has lived many lives and gone by as many names. He is an enigma, an artist, a survivor, a storyteller. His latest album, Blues Medicine, is a testament to the trials and triumphs of his colorful life and 67-year career; indeed, in his songwriting for the album, he looks back at his life as "Da King," New Orleans' reigning bluesman.
King has dueled death countless times and to date has not failed to outpace his opponent. He's survived three shootings, several stabbings, escaped Hurricane Katrina on bicycle (or as he calls it, his two-wheel Cadillac), and overcome addiction. King says of his younger self, "I did everything the devil wanted me to." The album's title is a tribute to how his music has saved him:
"Blues is a great dose of medicine, better than any doctor's prescription. It comes from the whole soul and body, it heals you. Just the same as the Holy Ghost. You know about the Holy Ghost? 
When I be half-dead and feeling bad, I get on stage and start playing. When it hit me I don't have no control, it just lifts me up. Picks me all up. It's better than any pain pill. That's why they call me Dr. Bones. That's my nickname."
"Blues is a great dose of medicine, better than any doctor's prescription. It comes from the whole soul and body, it heals you. Just the same as the

Holy Ghost."
Little Freddie King
Born in 1940 as Fread Eugene Martin, Freddie was raised by the cotton fields of McComb, Mississippi. The blues are in Freddie's blood: his father was a talented guitarist, and he is cousin to the Lightnin' Hopkins, called one of the greatest blues guitarists of all time by Rolling Stone*. Freddie was inspired to follow in their footsteps; Freddie fashioned his first guitar from a cigar box, haywire, horse hair, hickory branches and pine board. Tragedy struck when Freddie was just seven years old and his father died unexpectedly, leaving him, his mother and two sisters fatherless. "I had to take his shoes and do the man's work that he was doing," King shares. In his blues ballad, "Father-Less," he laments his wayward backlash to his family's sorrows: "When my father left, I become to be a bad boy / My mother tried her best, but things 'round home was a mess."
At 14 years old, Freddie first tried his luck by hopping onto a moving train headed to New Orleans, all his possessions stashed in a flour sack. As the train approached his destination, Freddie knew he had to make a break for it before he could be detected. He leapt from the car while the train was still in motion, and, "spun around like a spinning top. I tore all the bark off my hands and knees. Tore all my clothes off. That's something I'll never forget," he laughs, "First time, you better believe, the last time, too."
Freddie took up with his older sister and brother-in-law, and found work at a gas station. He doesn't regret his premature departure from McComb. New Orleans, with its inimitable flair, has always been where he feels most at home. "I love it here, and been here ever since," he states.
One of the pivotal characters in King's story is his late ex-wife, Amy. The two met in a bar in 1975, and married soon after. Theirs was a relationship with real commitment and love, but also scarred by jealousy, addiction and violence. Freddie has the literal scars to prove it. In '86, Amy stabbed him and shot him seven times in the stomach, convinced he was cheating. She was arrested, but never prosecuted. Amy passed away almost two decades ago now, and he sings her farewell in "Crazy Woman."
The trials of King's past inspired his hard-driving, harmonica-wailing song, "Don't Worry About Me." The number was co-written with his drummer, manager and friend of 27-plus years, "Wacko" Wade Wright. "I'm going to Chicago, buy myself a gun / 'cause all the other men got one," King snarls. "We were gonna name every city where you can get yourself a gun, where shootings are a problem, but the song would be too long," says Wade. 
Louisiana ranks second in the nation for firearm mortality rates at 26.3% (behind Mississippi at 28.6%). This year alone, there have been 188 reported homicide incidents involving a gun, and 337 non-fatal shootings in New Orleans.** Freddie has lived this reality: "How well I know about gun violence!" he attests. "I'm toting a .357 Magnum explosive in my back right now. Doctor couldn't take out. Yeah, I was shot seven times, so I know about the gun violence."
The album tells the harder truths of Freddie's life without flinching, but matches those tales with upbeat blues numbers. King rallies for his faith in the drum-thumping, "Dust on the Bible." A Baptist, Freddie says his religion "means everything in the world to me." He sings of love in the smooth-talking, "Caress Me Baby," and relishes the feeling of freedom he's found in bicycling on "Two-Wheel Cadillac." 
"I got me a 2022 two-wheel Cadillac, electronic," Freddie shares. "Goes 25 mph, I keep it on 16, go slow. When I first got it, I was pressing all the little buttons on the little computer on the handlebars. I said, 'They done sold me something that ain't no good, it don't move.' So the Good Lord told me to get on there and sure enough, when I got on there, it scared me. I had to watch which way I was going!" 
On the album's cover, King sits comfortably on the weathered stoop of B.J.'s Lounge, a Burgundy Street dive bar King calls his second home. He is clad in all his regalia; his signature panama hat and shades, a watercolor suit jacket, traffic-light red pants and dress shoes to match his Gibson Lucille B.B. King electric guitar. "They used to call me Cheyenne Bodie, cause I'd dress all western," he shares. "These days, I want to shine out, to flash out real loud, where everybody can see the colors." Like his style, his music has evolved over the decades, and Blues Medicine epitomizes all the grit, pizzazz and hard-won talent of the veteran bluesman.
Freddie's life has taken him to places many of us cannot imagine. He and Wacko recollect their favorite performances together. An encore from an audience of 90,000 at the Montreal Jazz Fest in 2014—"That was a wang-dang-doodle, I'm telling you," says Freddie—performing during the midnight sun of Holland, streets flooded with festival goers in Rio de Janeiro. These days, however, they keep it local. "When we get there, its inspiration," says Wade. "You see the people there, they waiting for ya, they know ya."
Despite–or maybe due to–the odyssian life of Little Freddie King, the octogenarian has as much joie-de-vivre as ever. "The Good Lord and performing keeps me going," Freddie believes. "If I don't do that, I'd just freeze up and die before God gets ready for me. I like seeing all the fans, it really gives me courage and makes me happy."
In November, Little Freddie King is set to receive the Lifetime Achievement Award from Offbeat Magazine. He calls himself "the last button on the coat," an expert in a dying field. Wacko calls him, "the most under-recognized guy in New Orleans." Years ago, when he was starting out, his fans would ask him how he was related to B.B. King and Freddie King. "We no kin and all," he'd inform them, "but we know each other real well." He recalls, "I'd go other places and they keep asking me. So they say, 'Well, I tell you what we gon' do, Freddie, we gon' make you be a king.' I say, 'How you gon' do that?' They say, 'Well, we gon' call you Little Freddie King." Freddie told them, "Whatever you call me, I'm gonna answer to it."
**Center for Disease Control and Prevention, New Orleans City Council Criminal Justice Committee