Freight Train Blues with the Sacred Soul of North Carolina Revue
Location
Carrboro Town Commons 301 W Main St, Carrboro, North Carolina
Date & Time
May 20, 2022 — May 20, 2022
6:30 pm — 8:30 pm EST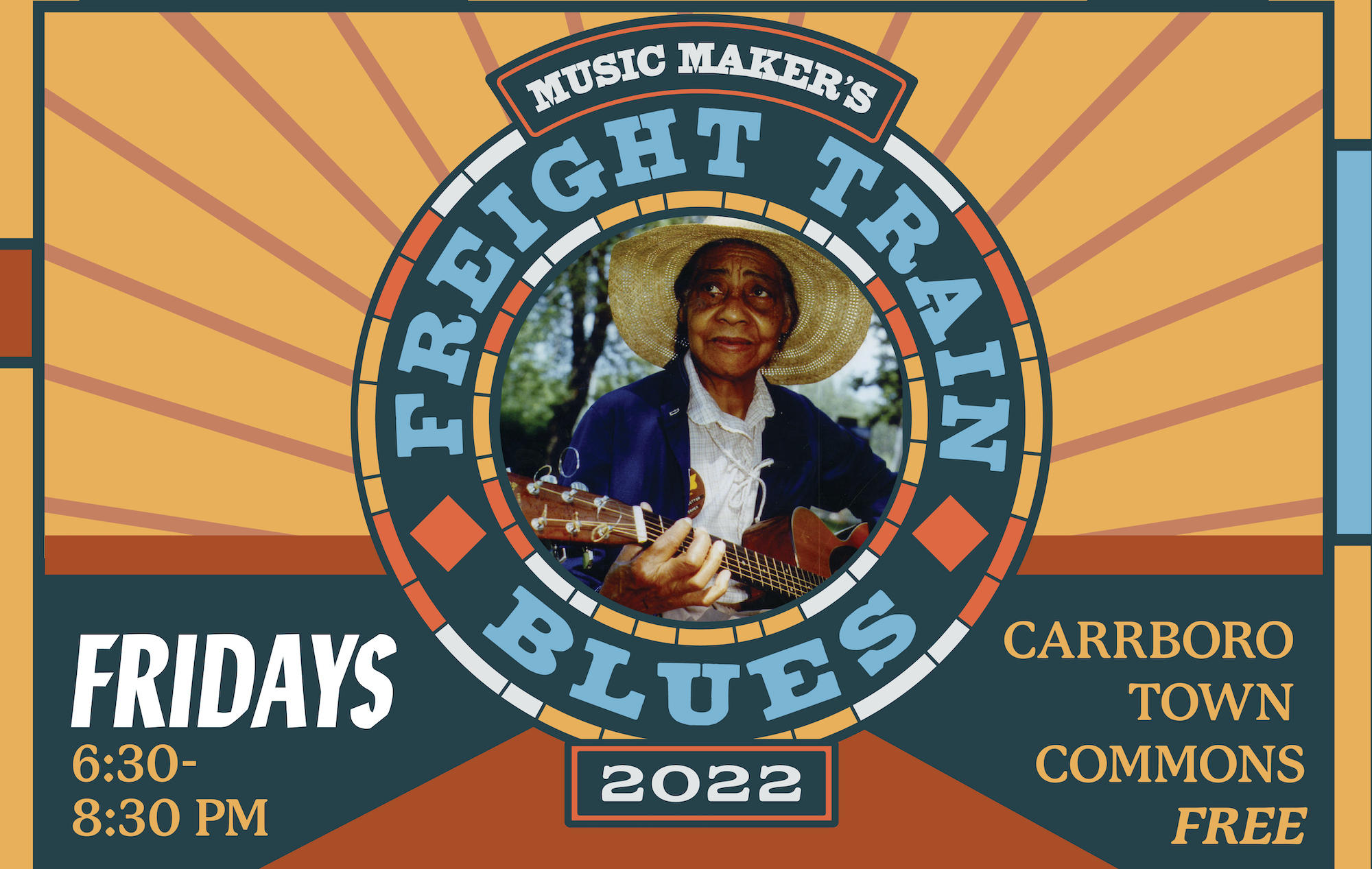 Join us from 6:30-8:30 pm on May 13th – June 10th, 2022 for five Friday evening concerts featuring incredible roots musicians steeped in the diverse traditions of the Carolina Piedmont!
Freight Train Blues celebrates the life and legacy of Piedmont blues legend Elizabeth "Libba" Cotten, born in 1893 in Carrboro, NC. Some of her best known compositions, like the now-standard "Freight Train" and "Shake Sugaree," have been canonized into the repertoires of American popular culture, with the latter interpreted by Bob Dylan and Taj Mahal. Her enduring legacy was featured earlier this year in a piece from Good Morning America, who said she was "a master storyteller."
Freight Train Blues honors Elizabeth Cotten's contributions to American roots music by highlighting the cultural significance, diversity, and vitality of her North Carolina community and its connections to artists across the nation.
May 20th will be a Sacred Soul of North Carolina Revue featuring a tribute to the Weaver Gospel Singers presented in partnership with the Marion Cheek Jackson Center. Performers include Bishop Albert Harrison & the Gospel Tones, Big James Barrett & the Golden Jubilees, The Johnsonaires and The Glorifying Vines Sisters
Sponsored by Town of Carrboro Cultural Resources, Recreation & Parks Dept., Carrboro Tourism and Development Authority, Music Maker Foundation, WUNC 91.5FM, and The Judy Weinstock Real Estate Team. 
Weaver Gospel Singers Tribute
Surviving members of the Weaver Gospel Singers — in song and with an oral history – will pay tribute to group leader Susie Weaver, who passed away in 1984. Mrs. Weaver's original song "Freedom Comes To Chapel Hill" was recorded live at First Baptist Church in Chapel Hill, North Carolina by JCP Records during the Civil Rights era. In addition to singing Rev. Sister Susie Weaver was active in the Civil Rights movement. and co-owned and operated the Chapel Hill Funeral Home with her husband, Mr. Bynum Weaver. The music will be accompanied by praise dancer Joshua Weaver, Mrs. Weaver's grandson. This set is presented in partnership with the Marian Cheek Jackson Center.