Freight Train Blues with Harvey Dalton Arnold and Hermon Hitson
Location
Carrboro Town Commons 301 W Main St, Carrboro, North Carolina
Date & Time
May 13, 2022 — May 13, 2022
6:30 pm — 8:30 pm EST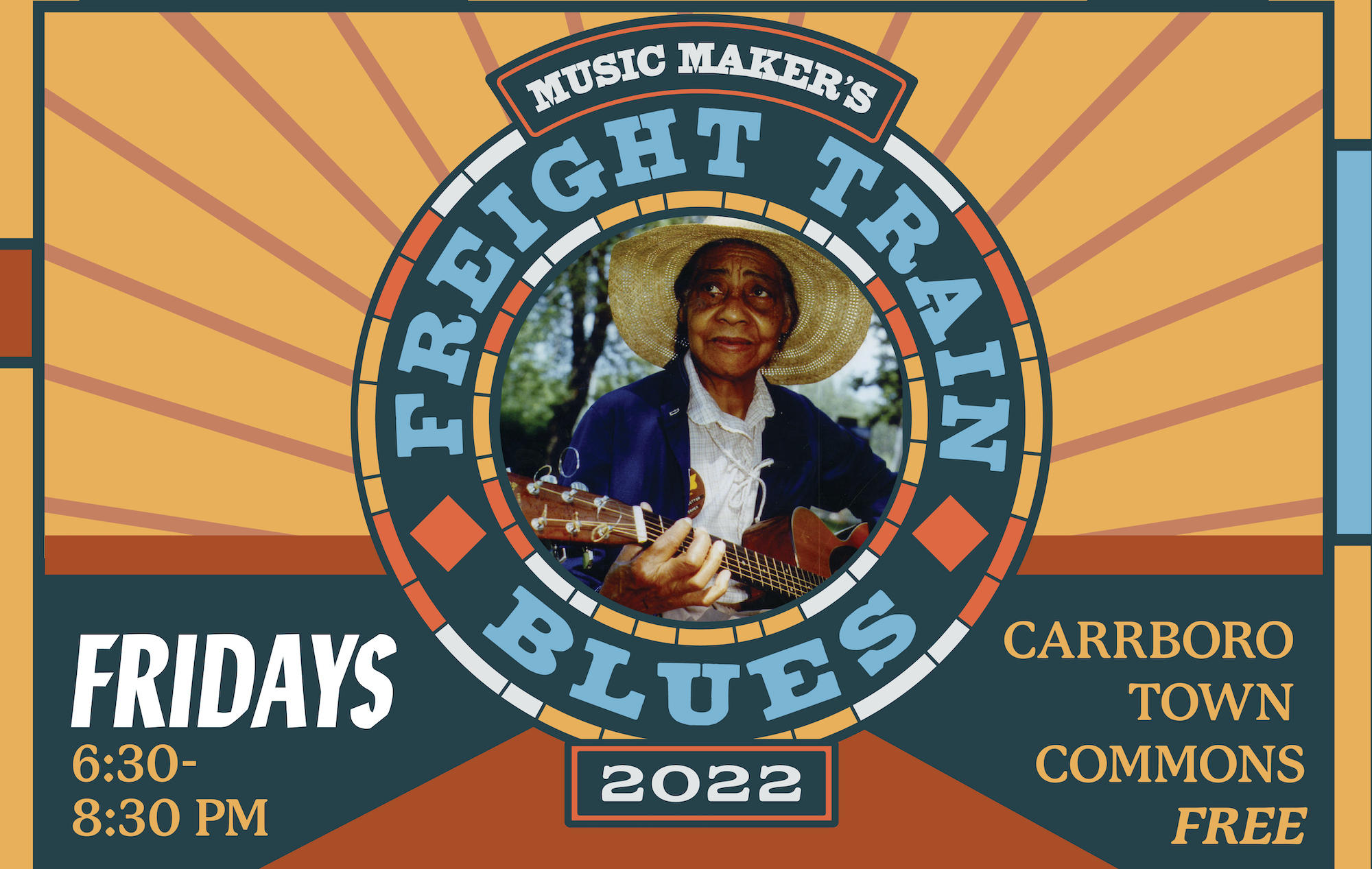 ATTENTION
Due to Thunderstorms in the forecast, Freight Train Blues is moving to the Cat's Cradle main room Friday, May 13. All are welcome! Show starts promptly at 6:30pm. See you there!
Address: 300 East Main St, Carrboro, NC
Join us from 6:30-8:30 pm on May 13th – June 10th, 2022 for five Friday evening concerts featuring incredible roots musicians steeped in the diverse traditions of the Carolina Piedmont!
Freight Train Blues celebrates the life and legacy of Piedmont blues legend Elizabeth "Libba" Cotten, born in 1893 in Carrboro, NC. Some of her best known compositions, like the now-standard "Freight Train" and "Shake Sugaree," have been canonized into the repertoires of American popular culture, with the latter interpreted by Bob Dylan and Taj Mahal. Her enduring legacy was featured earlier this year in a piece from Good Morning America, who said she was "a master storyteller."
Freight Train Blues honors Elizabeth Cotten's contributions to American roots music by highlighting the cultural significance, diversity, and vitality of her North Carolina community and its connections to artists across the nation.
Sponsored by Town of Carrboro Cultural Resources, Recreation & Parks Dept., Carrboro Tourism and Development Authority, Music Maker Foundation, WUNC 91.5FM, and The Judy Weinstock Real Estate Team. 
Harvey Dalton Arnold
Harvey Dalton Arnold is a North Carolina bred southern gentleman who took to the musical road in his teens. While playing bass for a band in Florida, he received an offer to audition for the now legendary southern rock group The Outlaws on a Saturday night. By the following Saturday, he already had a stadium gig under his belt opening for Johnny Winter and Lynyrd Skynyrd. He toured extensively and participated on classic albums with The Outlaws from 1976 through 1980. Always having a love for the blues, Harvey's first solo release was a blues album. His brand new effort "Stories To Live Up To" on Music Maker Recordings is a collection of songs and stories that showcase his writing and influences.
Hermon Hitson
Hermon Hitson is unique in the truest sense of the word. No one else is like him. No other human has the wild mix of experiences that make up Hermon's life. Over a 50-year career, he's played with the likes of Jimi Hendrix, James Brown, Joe Tex, Bobby Womack, Wilson Pickett, Garnet Mimms, Major Lance, Jackie Wilson, the Drifters, the Shirelles, Hank Ballard & the Midnighters and many others. As a result, Hermon's music is a mind-bending mix of psychedelic rock, the blues, rhythm & blues and soul music.