Freight Train Blues with Music Maker's Blues Revue featuring Gail Ceasar, Tad Walters, & Little Jimmy Reed
Location
Carrboro Town Commons 301 W Main St, Carrboro, North Carolina
Date & Time
June 10, 2022 — June 10, 2022
6:30 pm — 8:30 pm EST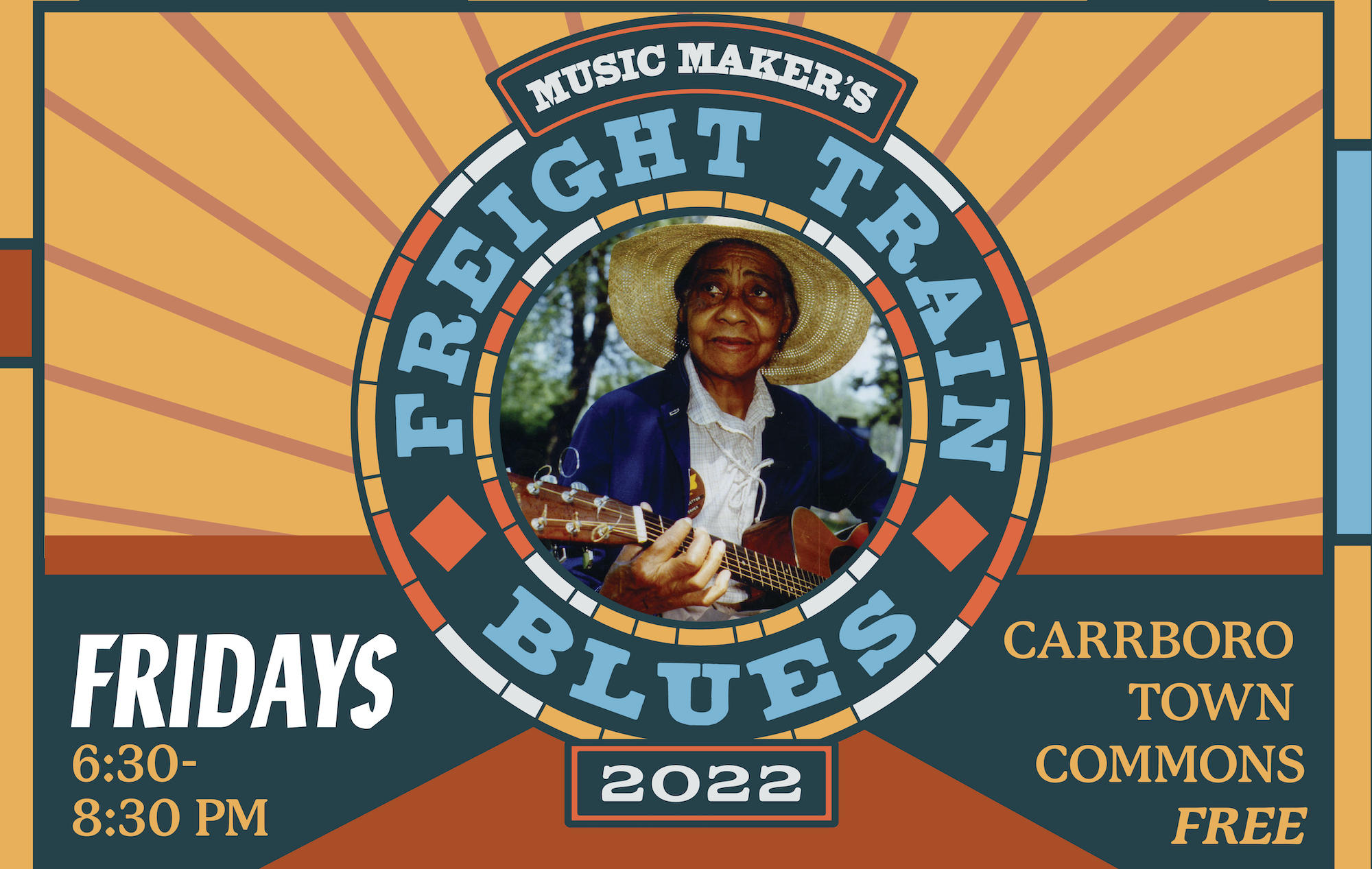 Join us from 6:30-8:30 pm on May 13th – June 10th, 2022 for five Friday evening concerts featuring incredible roots musicians steeped in the diverse traditions of the Carolina Piedmont!
Freight Train Blues celebrates the life and legacy of Piedmont blues legend Elizabeth "Libba" Cotten, born in 1893 in Carrboro, NC. Some of her best known compositions, like the now-standard "Freight Train" and "Shake Sugaree," have been canonized into the repertoires of American popular culture, with the latter interpreted by Bob Dylan and Taj Mahal. Her enduring legacy was featured earlier this year in a piece from Good Morning America, who said she was "a master storyteller."
Freight Train Blues honors Elizabeth Cotten's contributions to American roots music by highlighting the cultural significance, diversity, and vitality of her North Carolina community and its connections to artists across the nation.
Sponsored by Town of Carrboro Cultural Resources, Recreation & Parks Dept., Carrboro Tourism and Development Authority, Music Maker Foundation, WUNC 91.5FM, and The Judy Weinstock Real Estate Team. 
Gail Ceaser
The roots of Gail Ceasar's' music run deep into the Virginia soil. After Music Maker met and began working with the great blues guitarist Boo Hanks in Virginia, we began doing more fieldwork in that state and soon met a blues player from Pittsylvania County named Pete Witcher. We returned several times to record Pete, and every time we visited, Pete made a point of taking us to see his niece Gail Ceasar. He was so proud of her guitar playing. She plays with incredible precision.
Tad Walters
Born in Canton, Ohio, and raised in Raleigh, North Carolina, Tad Walters began playing the guitar at age 12. As he was developing his guitar skills, Tad picked up the harmonica a couple years later at age 14. He was influenced by the likes of Blind Boy Fuller, Robert Lockwood, Charlie Patton, Robert Nighthawk, and John Jackson, among others, and began his professional music career with the Bob Margolin Band in 1996. In that four year period he traveled the world with the band and played with musicians like Pinetop Perkins, Hubert Sumlin, Billy Boy Arnold, Cary Bell, and others. In 2001, Tad joined the Big Bill Morganfield band and stayed until 2004. Tad is now teaching guitar and harmonica lessons and concentrating on Piedmont blues and old-time jazz with Dave Andrews.
Li'l Jimmy Reed
Li'l Jimmy Reed calls himself "the last of the original Louisiana bluesmen," playing a music that is a wild outcry against segregation, poverty, and hard, back-breaking work. Sadly, most of the great musicians who created this vibrant, influential music have passed on, leaving only their recordings to testify to their genius. But Reed's career stretches back to the time when rhythm and blues was just bursting onto the popular music scene, and he is still with us, playing better than ever. Reed was born in a shotgun shack in Hardwood, Louisiana, a small cotton and sawmill town on the Mississippi River.